The Grinnell College student accused of crashing her car into the back of a Vivek Ramaswamy presidential campaign vehicle on Thursday afternoon said it was an accident, not the purposeful crash national media, notably conservative outlets, first reported it to be.
Celia Meagher `23.5, the accused student, also said she was not affiliated with a protest group that engaged with Ramaswamy in Grinnell and that she did not leave the scene of the crash.
The Republican presidential candidate was in Grinnell to record a KCCI "Coffee with the Candidates" roundtable discussion with three undecided Poweshiek County Republican voters at Saints Rest Coffee House.
In an incident that has since been covered by major national news outlets, the S&B exclusively interviewed Meagher. She provided a perspective on the Oct. 5 incident that differs from current media reports. Meagher said that the information she could provide was limited by the insurance process.
"It was not an intentional accident whatsoever," Meagher said.

A media release from the Grinnell Police Department states that they have not found any evidence to substantiate the current narrative of this incident being intentional.

"
It was not an intentional accident whatsoever.
— Celia Meagher`23.5
"It was truly just an accident. We were completely unaffiliated with the protestors, " said Nic Grofsorean `24, Meagher's partner, in response to media characterization which he says is inaccurate.
Grofsorean was in the passenger seat of Meagher's vehicle at 12:55 p.m., the time of the incident with Ramaswamy's 2023 Ford Expedition. The campaign vehicle had no occupants when it was hit.
An Associated Press (AP) news article on the incident has been published with the headline, "Protestors angry about Ukraine aid comments ram his empty car in Iowa, Campaign Says." The AP story has now also been published by the Washington Post, Yahoo News and U.S. News and World Report.
It cites Ramaswamy's campaign saying that, "protestors upset about Vivek Ramaswamy's remarks on aid for Ukraine yelled and swore at the presidential candidate in Iowa on Thursday before jumping into a vehicle, ramming a campaign car and speeding off."
Fox News also reported this incident as a "hit-and-run."
Meagher said that, following the crash, "We [Meagher and Grofsorean] just moved over and waited for the police."
"We [the campaign] never alleged it was a hit and run," said Tricia McLaughlin, Ramaswamy's spokesperson, when asked for comment by the S&B.  McLaughlin also shared the police report, which cites the damage amount at $600 per each vehicle estimation. 
Ramaswamy is a billionaire and the youngest GOP candidate in the 2024 election, at 38 years old. He describes himself as an "outsider" and "self-made entrepreneur who puts America first." As a candidate who has recently gained traction for his divisive stances on continuing fracking and fossil fuel production, changing the voting age to 25 conditionally, not backing additional U.S. aid to Ukraine, the militarization of the southern border and repealing the Affordable Care Act. 
Ramaswamy has recently surged in the polls, edging out Florida Governor Ron DeSantis. As of Oct. 5, Ramaswamy is polling at 7.3 percent nationally, behind Donald Trump, DeSantis and Nikki Haley, according to FiveThirtyEight.
"
We were completely unaffiliated with the protestors.
— Nic Grofsorean `24
His visit to Grinnell earlier on Thursday was planned as part of a running KCCI series dubbed "Coffee with Candidates." In a televised interview that will air on Oct. 12 at 6:30 p.m., he met with three undecided Republican voters from the local area.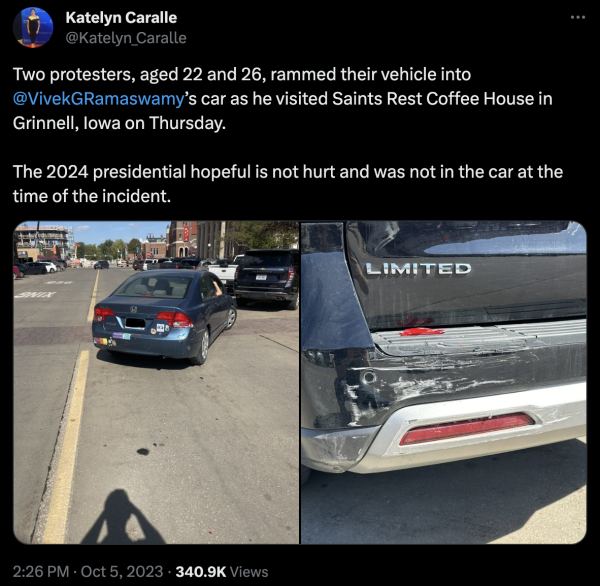 Daily Mail political reporter Katelyn Caralle appears to have been the first to report on the accident. "Two protesters, aged 22 and 26, rammed their vehicle into @VivekGRamaswamy's car as he visited Saints Rest Coffee House," the tweet reads. At the time of writing this article, the tweet had gathered over 344,800 views.
In a tweet now pinned to his X, formerly Twitter, profile, Ramaswamy said, "Had a civil exchange with protests today, right before two of them then got into their car & rammed it into ours. Those two should be held accountable, but the rest of the peaceful protestors shouldn't be tarred by the behavior of two bad actors."
Grinnell Police Department corroborated the accidental nature of the incident in a media release, stating, "It was reported on social media that two protestors intentionally rammed into the Ramaswamy vehicle and fled the scene. Our investigation has revealed no evidence to substantiate that information."
Meagher said that she received a $210.25 traffic summons for unsafe backing.
The S&B was at Saints Rest, while media carrying the initial AP story or spreading a photo of the damaged campaign car on social media were not.
This is a developing story. The Grinnell Police Department said a criminal charge is an accusation and the defendant is presumed innocent until and unless proven guilty.
Update 10/6 1:30 p.m. – Vivek Ramaswamy's campaign is standing behind their initial account of the incident. The AP story, also published by the Washington Post, Yahoo News and U.S. News and World Report, has updated their initial account to reflect the information in the Grinnell Police Department media release, which corroborated the accidental nature of the incident.