Bob's Underground reopens with renovations
Music, laughter and the occasional toppling of Jenga blocks once again bounced off the colorful, eclectic walls that characterize Bob's Underground, following the space's temporary closing last semester at a re-opening celebration on Tuesday, April 25. 
The event featured games, painting, and two student musical performances. Daniel Stewart `26 and Caitlin Ong `26 performed several original songs and covers. The duo have played sets at several Bob's open mics before the temporary closing. Stewart, whose musical influences range from Fugazi to Elliott Smith, said he enjoys the casual atmosphere of performing in Bob's, because it makes the stage accessible to any students who want to share their art.
"It's really a student-run space, like, I can't have my own recital because I'm not a music major… If I'm not in an ensemble, I can't perform in Sebring-Lewis or any of those spaces," Stewart said. "So that's just a good reason I keep coming back." 
Ong said that the performing space that Bob's offered helped take some of the stress out of entering as a first-year musician, while larger events could be more intimidating for new performers.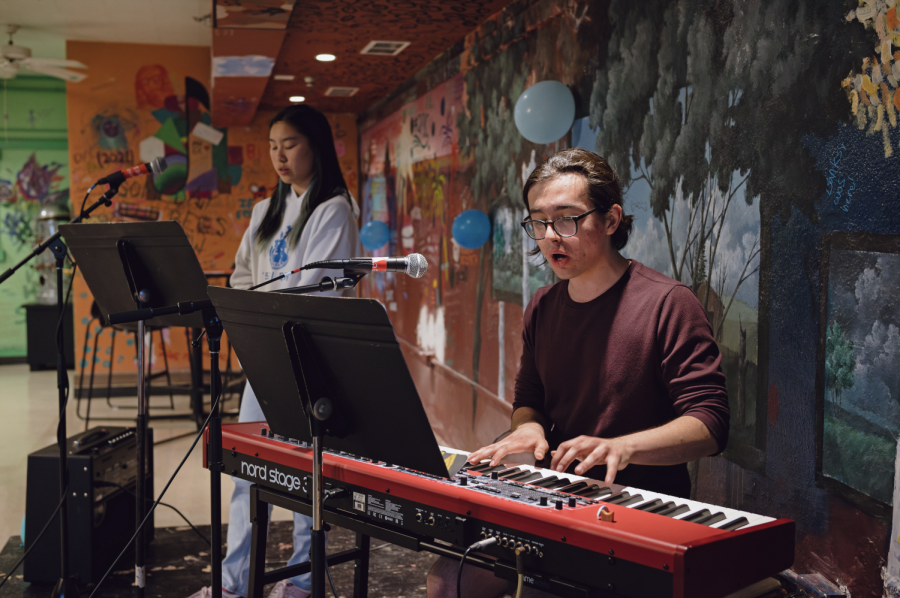 "Regardless of the instrumental or how professional… it is, it's really nice to have a kind of casual environment that's, like, no pressure. It's not a big school-wide thing. I kind of like the smaller atmosphere," Ong said.
Bob's Underground temporarily closed in the beginning of spring 2023, as part of an agreement with Facilities Management and other leadership groups on campus, according to Alyson Won `25, a member of the student organization Friends of Bob's. One of the reasons for this was that the water to the space had been shut off due to structural issues with the plumbing of the café. According to Won, this made it difficult to host events like painting the walls, which is an important tradition of Bob's. 
The cafe re-opened with new tables, chairs and a working sink, as well as wheelchair-accessible ramps to the stage, to better accommodate those with mobility issues. Making the space accessible to students is a priority, according to Megan Szalay `25, another member of Friends of Bob's.
"As it's a new space to most, we want to bring awareness first and foremost," Szalay wrote in an email. "We prioritize community involvement, inviting students to participate in the wall art with painting events and encouraging them to share their talents at open mics." 
In addition to planned events, Bob's can be reserved using 25Live on a first-come, first-served basis, to host their own events or gatherings. The function of Bob's as a gathering space fills an important gap in campus spaces, according to Won. 
"At one point, I was told that Bob's was the only non-academic or resource-based student space on campus," Won wrote in an email. "Our goal with open hours is to really keep Bob's as a blank canvas, open to students to choose what they do in the space. To me, the most special thing about Bob's, especially post-renovation, is the fact that people have access to a space that is uniquely creative, open, and historic."
Dozens of students attended the re-opening event to play games, listen to music and enjoy the space. The event was a success for Friends of Bob's, and seeing students enjoy the space and talking to attendees was very exciting for Won. 
"I'm so proud of my team for coming together and putting on an event of this caliber, to the student musicians who added to the artsy, creative energy that we've worked so hard to re-introduce and re-imagine for the space, and to the students who came and showed up for Bob's," Won said. "Bob would be proud, and so am I."