While Grinnell's water polo club invites anyone of all skill levels to come practice, a competitive streak still runs in both the women's and coed teams's histories. Just this past spring, the women's water polo team, the Fireballs, finished first in the Women's Heartland Division. The coed team finished first in the Men's Heartland Division earlier in the fall. 
Although last year's captain, Luke Klein-Collins `23, has since graduated from the College, newly implemented leadership said they still intend to dominate in the pool. John Clewett `26, one of three co-captains for this year, said his goal for the upcoming seasons is a simple one — to keep winning.
Clewett attributed the club's past successes in conference tournaments and games to the large member overlap the teams have with varsity swimmers. But current co-captains of the club said they want to change this dynamic. 

"What we're trying to do this year is definitely just more of bring[ing] people in," said co-captain Kade Dolphin `24. "It doesn't really matter who they are or what skill they have."
Clewett pointed out that the swim teams often already spend large chunks of time together, and with a potential water polo club with fewer varsity athletes, the club sport could be more interesting for everyone involved. 
"I just think it would be that much more fun if we had a bunch of different people and got to know more people," Clewett said. "It's always good to have diverse perspectives."
The club held their first official meeting of the semester with new members on Monday, Sept. 11. Clewett said the first couple of meetings have been spent catching everyone up to the same level and teaching the rules and techniques of the sport. 
"My goal for this season is to just get more people on the team and get involved with water polo," Dolphin said. "Then I think the competitiveness will come after we go through the basics and introduce everyone to the amazing sport that is water polo."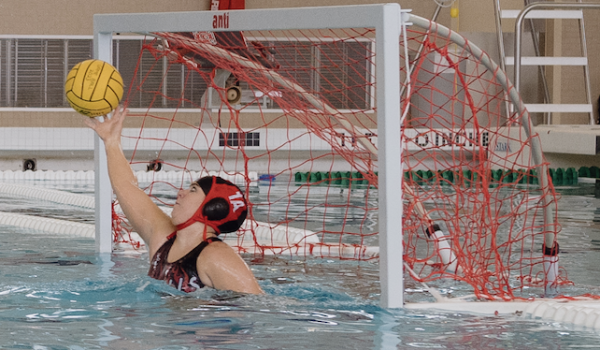 Jack Yanoshik `23.5, a high school swimmer, had the chance to revisit his past hobby at the first meeting of the year. 
"A lot of my friends had graduated, and I needed something to do with my time," Yanoshik said was one of the reasons he joined. "I'm just excited to be a part of something."
Morgan Trujillo `27, a varsity swimmer, was encouraged to join the team by other swimmers, but she emphasized the easygoing nature of the club. "I'm not good at any other physical, on-land sports. But I can mess around with water polo, and it works well. It's not too serious, and it's a fun little sport."
Another newcomer to the club, Luke Byrnes `27 highlighted the water polo club's welcoming atmosphere so far. "It's not a matter of how impressive. It's just trying to learn a new thing," he said.
"Everybody's pretty uncomfortable in the deep end of the pool, so it's nice to kind of level the playing field a bit," Byrnes said.