When Grinnell College athletes arrived on campus for the start of their fall semester during the week of August 13, they were greeted with a heatwave. Amidst temperatures reaching over 100 degrees Fahrenheit and intense humidity, athletes still showed up to practice. 
"We were warming up and already drenched in sweat," Quinby Rainey `27, an athlete on the cross country team, said. "I couldn't even tell if it was water from the humidity or just sweat. We ran around the lake and it felt like all of us had just jumped in—it was so bad." 
"It was tough," said Alyssa Trapp `26, an athlete on the women's tennis team. "I'm from the Midwest and I don't think I've ever really played in heat like this before." 
The coaches of the football and cross country teams addressed how they adapted practices to make playing safer for the athletes on their teams.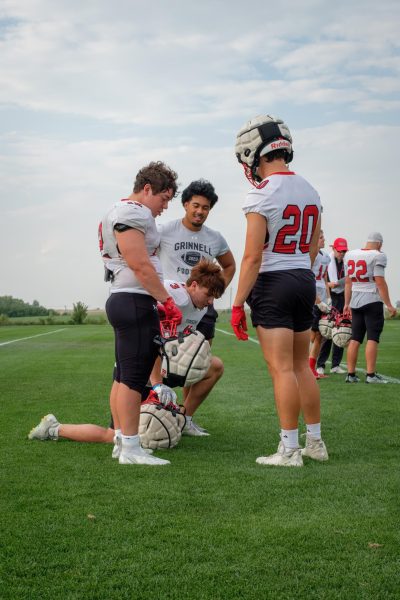 Brent Barnes, head football coach, alongside the football coaching staff and athletic trainers, made adjustments to practice in order to accommodate for the heat. More water was made available during breaks, practices were shortened or rescheduled to the morning instead of the afternoon and players were allowed to practice with only their helmets or shoulder pads rather than full pads. 
"A lot of this was handled days or hours ahead of time when we knew this was going to be an issue," Barnes said. "I knew one practice was going to be a bit longer, so we went helmets only and made it more of a walkthrough." 
Keegan Parrott, assistant cross country and track and field coach, said that he and Sarah Burnell, head cross country and track and field coach, "thought about the athletes' safety and were never going to put them into a situation we thought was going to harm them." 
Parrott and Burnell moved practices from 4:15 p.m. to 6:15 a.m. and canceled practice on the first day of classes. 
"We also made sure to run by effort and to emphasize that," Parrott said. "If you are focusing on the effort level, that is going to be all inclusive. It is going to take into account the effort your body is putting out to get your core to a safe temperature, allowing you to keep going."
Meredith Neid `24 and Betty Lin `25, two of the women's ultimate frisbee team captains, discussed the challenges of introducing new players to the team during the heatwave. 
"We had a lot of events planned for the first week back on campus. We wanted to get more players on the field and for everyone to help get the frisbee community to be visible," Neid said. "That ended up being quite difficult because of the heat. We had to move our scrimmages around."
"People could barely stand outside, so having people run outside was a big ask. Less people were able to show up than in years past in large part because of the heat," she added. 
Even though frisbee practices were still held, the captains implemented precautions such as shortening practice times, giving players more breaks and supplying water.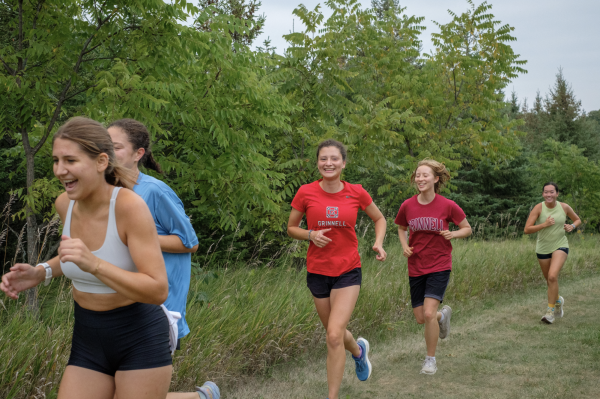 "Physical health is the most important thing," Lin said. "While we still want people to have a lot of fun, we care about their bodies."
Despite the challenges of the heat, some athletes, like Eleanor Elliott-Rude `25 on cross country, found the heat bearable. 
"I am from Iowa, so I like running in the humidity all summer. I think it helps to adapt to it. The team is really positive and optimistic, so you get through. It's definitely easier with people because you are distracted, which is nice," she said. 
Similarly, Andrew Kozhaya `25, defensive line on the football team, talked about how the heatwave was beneficial in order to prepare for the team's game against Lyon College in Arkansas on Saturday, Sept. 2. 
"I personally don't think the heatwave was a huge part of our practice. It definitely made it a little tougher, made everyone a little more tired, but I think it was really good because it helped us prepare for this week's game," he said. 
Overall, the athletes said they expected a similar response by the coaches if another heat wave were to occur. 
"When I'm on the court I'm focused even though it's hot," Trapp said. "This is probably the worst it's going to be all season, so if I can get through this, I can get through anything."