Bouncing across sprawling forested islands, Destany Best `25 quickly found herself enchanted by the serene beauty of Indonesia during her summer internship at a local conservation center.  
Although she's a French and computer science major, Best chose to follow her passion for nature and biodiversity this summer, studying the profound effects of human disturbances and habitat degradation in Indonesia.
One of the unforgettable moments of her summer was an encounter with an orangutan named Atlas. Just as her team was boarding their flimsy wooden boat in Borneo, Atlas approached Best and swiped some of her shrimp crackers before sending her on her way. "If I'm in your space, I relinquish my rights," said Best. 
Living off the grid and without Wi-Fi, Best had to find innovative ways to keep herself entertained, such as making a makeshift nylon leash to walk a goat she lovingly named … Zeke.
However, it wasn't just nature that drew Best in. She said that the rich cultural tapestry of Indonesia and the "genuine warmth" of the people she met there left an indelible mark on her heart. Immersed in this melting pot of cultures, Best embraced and learned the Indonesian language, bridging the gap between her and the locals.
Reflecting on her summer journey, Best's advice is crystal clear –– "Don't be afraid to try new things."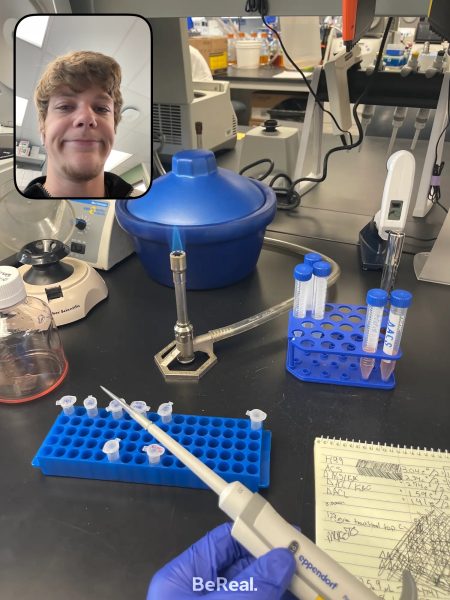 When Andrew Fuller `24, a biochemistry major from Monmouth, Illinois, found himself in Iowa City for the summer, he knew he was in for a ride. Thanks to Mark Krysan `24 and his Grinnell alum father, Damian Krysan `84, Fuller secured a spot in the esteemed fungal drug development lab at the University of Iowa's Department of Pediatrics to tackle neglected tropical fungal diseases.
Fuller's time in the lab was nothing short of eye-opening as he delved deep into the mysteries of Leishmaniasis, a potentially fatal fungal disease. The current class of antifungals for Leishmania is prohibitively expensive, so the pressure was on to come up with a cheaper alternative that could save millions of lives 
Outside of the lab, life had its quirks. Fuller found himself rooming with a 42-year-old medical student. "He's like twice my age, bro! But the guy was super cool," said Fuller.
In his endeavors, Fuller discovered something along the lines of Leishmania's enzyme activating in a starvation mindset, a potentially revolutionary discovery that could shed light on effective means of treatment.
One of Fuller's takeaways from the experience was a newfound appreciation for the intricacies of drug development. "I've realized how much of a miracle the COVID vaccine was," Fuller reflected. "Drug development is hard, time-consuming and insanely expensive."
Grateful for the alumni connections that opened doors for him, Fuller's parting advice resonates with young scientists in Grinnell and everywhere –– "Real science isn't always as intensive as classes. Be easy on yourself."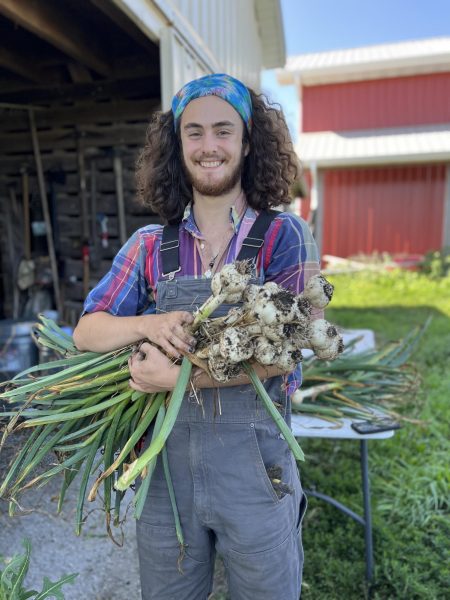 Jasper Gray `24, a computer science enthusiast from Mississippi, ventured this summer to a place far off the grid: the Mustard Seed Community Farm, located just north of Ames. Inspired by Jesus's teachings about voluntary poverty and altruism, the volunteer-based farm embraces a monk-like philosophy and donates a whopping 66 percent of its proceeds.
Harvesting produce and collecting germination data, Gray's summer was eventful. They couldn't help but chuckle recalling their friend Lorenzo's morning run – disrupted when an evidently irritated goat decided to chase Lorenzo.  "If anything's going to motivate me to run, a goat chase will do it," Gray mused.
Gray tried the "old man of the woods," an edible mushroom that undergoes a stunning transformation: from white to red when sliced and exposed to air, and pitch black when cooked. Its taste? "Absolutely amazing!" Gray said
But beyond the physical exertion and the tasty mushrooms, Gray's experience brought profound realizations. They emphasized the value in understanding where our food comes from, a sentiment they say is often lost in today's tech-driven world. 
Living off the grid with no internet also taught Gray that one "can find happiness and fulfillment in so many other areas and walks of life rather than sitting at a computer," advice that rang clear for them, as they used to spend "hours and hours" behind a screen.