"I'm not happy" says Sophie Wojdylo '22 after sub-par performance at DIII Region 2 dive event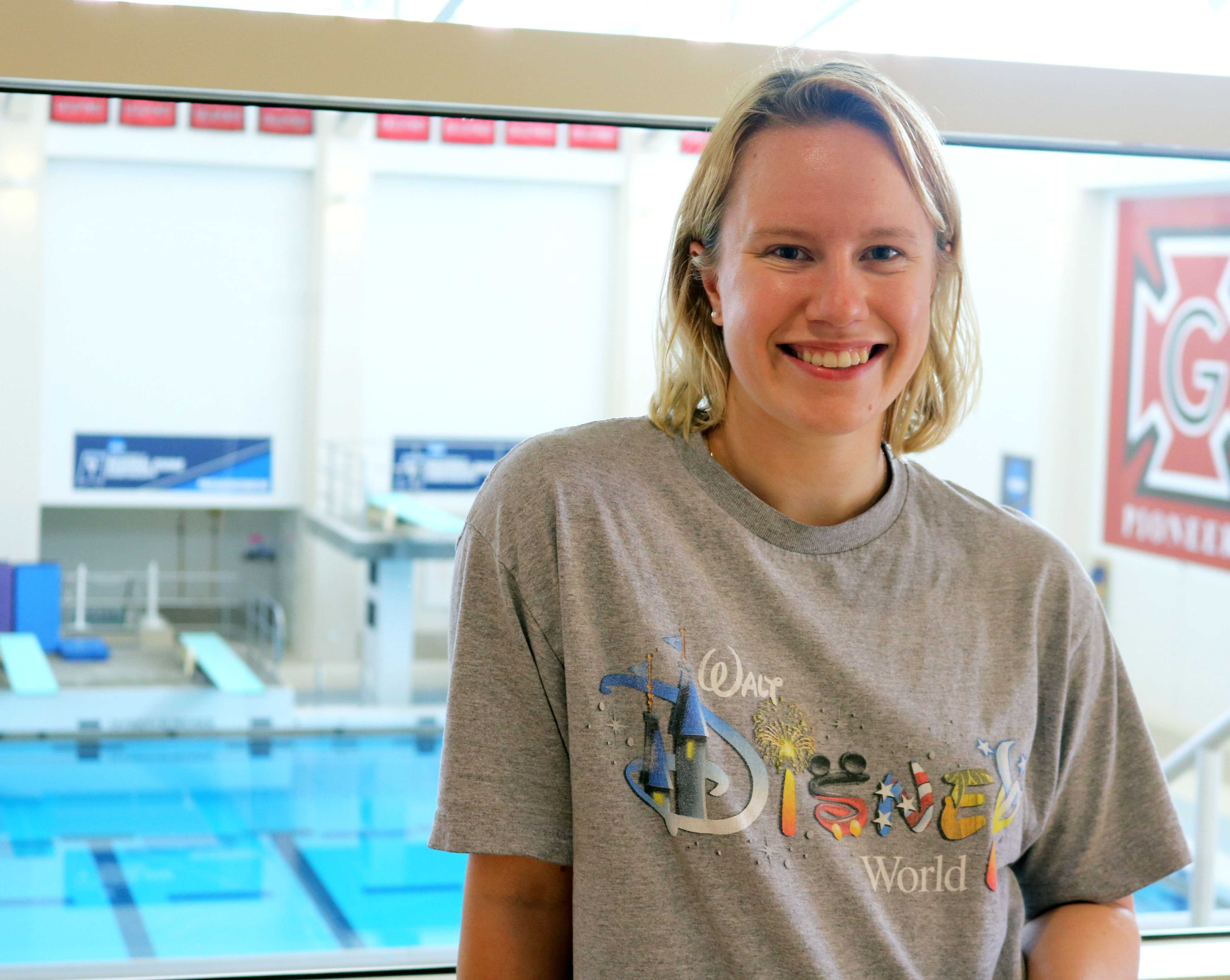 After missing over a year and a half of her diving career due to the pandemic, Sophie Wojdylo `22 dove her final competition at the NCAA Division III Region 2 Diving Championships. She placed 11th on the 3-meter event and 16th on the 1-meter event. 
"To have so many years of my life just come to an end, it was very emotional. It was really hard," said Wojdylo. She's been diving since just before her freshman year in high school. 
"I'm not happy with either of the [placements] because I know I could do better. I have done better in the past. But you got to realize that you're being judged by people who see different thing. … Once I realized I didn't care about where I placed, I just wanted to have fun, be myself."  
Between flight cancellations and a late arrival, Wojdylo was exhausted when it came time for her events.  
Her first event was from the one-meter board, which she says is her worst board. She was happy to get it over with and be able to rest up for her 3-meter. 
"I really like 3-meters. My baby. The three-meter is the board that I really love," she said.  
She attended the competition with her coach, Mike Retelsdorf, and her teammate Maria Eure `23.  
"I really rely on her [Eure's] support during meets. I can get into my head really easily, and she brings me out of that, like you know what you're doing, you can totally do it, you're totally fine."  
During her second year, Wojdylo noted that she, "was not doing well with [her] mental health." 
"I was having a hard time balancing social Grinnell, education Grinnell, diving Grinnell and then COVID, and we had to leave," she said.  
Throughout the 2020-2021 cancelled season, Retelsdorf remained a lifeline for Wojdylo even though she always practiced independently from the team. 
But when she came back for her fourth year, he pushed her to come back and helped her recuperate after so long without structured dive practice. 
"He was a main reason why I felt comfortable enough to come back: because I knew I had his support and that it was more of a working relationship. … He would trust that I knew what I was doing, because I've been doing this for a long time, and I would trust that he would support me," she said. 
The dive team is small, made up of only six members, one abroad, said Wojdylo. She had to take on the responsibilities of being a leader for the team, even though she had not dove consistently or been on a team since COVID hit.  
"Me and Maria Eure tried to create a more welcome environment and have that more family style team dynamic … we really bonded together," she said. 
The strong bond between the others on the team is the thing she says she'll miss the most. 
"It's really sad to not see my diver family every day and to be able to go and dive and have fun on the boards … I can, but it's different without the organized setting. Bittersweet," she said.