SPARK pitch contest funds three innovative community projects
Five Grinnell College students will be receiving funds from the Wilson Center to implement projects of their own design to help the Grinnell community.
On Monday, April 24, Grinnell students gave presentations for this year's Wilson Center SPARK pitch event. Students, who could be in groups or do an individual presentation, pitched their ideas to a panel of judges, and the top three presentations will receive funding to help implement their solutions to community issues while working with community organizations.
In an email to the S&B, Monty Roper, SPARK challenge coordinator and associate professor and chair of anthropology at Grinnell, wrote that the pitch night itself went well with over 30 people in attendance to view 7 different presentations. 
"The seven pitches went smoothly, and the judges asked great questions," wrote Roper.
According to Roper, at least one group member must be enrolled in the class WIL: 110-01 for two credits, WIL: 100-01 for a half-credit or WIL: 110A-01 for audit to present a project. Students then worked with a community partner to identify a problem and create a solution, which included developing a budget that could be implemented to help solve the problem. Finally, students pitched their idea to a panel of judges who then decided which projects would receive funding. The judges for this year's presentations were Rachel Bly, Grinnell College assistant vice president for auxiliary services, Jeff Dickey-Chasens, job board and career site consultant and founder of JobBoardDoctor LLC, and Germaine Gross, Grinnell College vice president for finance and chief financial officer.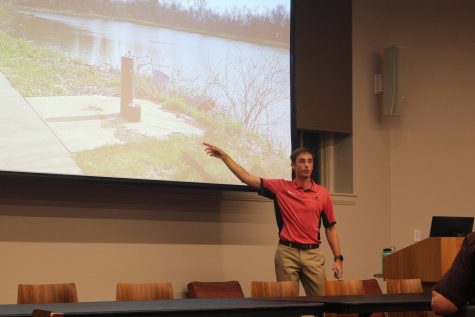 This year, first place went to Caroline Cassidy `25, who partnered with the Grinnell Area Chamber of Commerce to implement a project that would allow dining dollars to be used at off-campus restaurants. Cassidy will receive $8,000 to implement this idea. 
The second-place award, which will receive $3,086, went to Elisabeth Kille `23, Isabelle Kolleth `24 and Jiayi Chen `23 who partnered with Drake Community Library to implement the idea of building an accessible workstation at the library. 
The third-place award, with a funding amount of $2,200, went to Nam Do `25 who partnered with the office of sustainability to implement a sustainable move-out program.
"I noticed that there wasn't clear guidance on how to move out of dorms. So I reached out to the office of sustainability and decided to solve it and design a move-out system for the College," Do said.
The other participants were James Snyder `26 who presented on a broken drinking fountain at Arbor Lake and a plan to fix it while partnering with the Grinnell Department of Parks and Recreation, Writam Pal `23, who presented on increasing student engagement through Anthology Engage and partnered with student affairs, Aysha Simmonds `23 who presented on Lift It while partnering with the office of student involvement and Aruan Shaukenov `25 who presented on Grinnell Calendar and partnered with the disability office.
Many of the participants said they thought the competition was fun and a good way to be involved in the community, said Kille.
Pal said that he decided to participate in the competition because he felt like he could make an impact on the community before he graduated at the end of this school year.
Other students decided to participate because their project could actually be implemented in the community. Simmonds said, "I've participated in Pioneer Weekend, and I was like, 'Maybe I should participate in something that I can actually implement.'"
Do, who received third place in the competition, said that he participated because he is passionate about the environment and sustainability. 
The winning students and their community partners will begin to implement their ideas next semester. Cassidy said in the presentation that hopefully by next semester, dining dollars will be possible to use at a number of off-campus restaurants.