Dari Barn, the beacon that signals the coming of spring
Dari Barn recently emerged from its annual winter hibernation, much to the delight of Grinnell College students and town residents alike. Located on 6th Ave., the small walk-up ice cream shop offers locally sourced soft-serve ice cream, a rotating menu of frozen yogurt flavors and handmade hot food selections. 
Ginette McFarland, 47, has been working at Dari Barn since she was 14 years old. On June 1, 2012, she bought the business from her aunt and uncle, Pat and Bob Slagle. The Slagles previously owned Dari Barn for 25 years before they made the decision to sell it. 
"My aunt and uncle really wanted it to stay in the family," McFarland said.
Along with her job as the sole owner of Dari Barn, McFarland works as an emergency medical technician (EMT) out of Brooklyn, Iowa. A few years back, Dari Barn became her "full-time gig" — to her, the ice cream shop was a welcome respite from healthcare. 
"We always joke with the boys and girls and team that no one's dying here," she said. "Everyone's happy. We're getting ice cream."
"EMS [emergency medical services] especially can be really stressful," she added. "And you see a lot of things in the emergency room, so coming here and just making people happy with ice cream is a lot less stressful."  
McFarland said she uses a community-first approach in her business. With Dari Barn's soft serve coming from Des Moines, and its fresh beef only a short drive from Malcom, McFarland said that despite the fact that buying local is often more expensive, she will continue to do so. 
Even the shop's four farm animal statues that customers are greeted with when walking up to the window to order were locally bought by McFarland. Elsie the cow was her first purchase, named after the dairy company Borden's cow mascot. She continued the 'E' alliteration with each animal she bought — Elmer the pig, Eugene the sheep and Elvira the goat, her favorite. Right now, McFarland said she is in the market for a chicken statue to join her throng of barnyard animals. 
McFarland also contributes to a wide variety of local charity events and organizations through Dari Barn. In June of 2017, she participated in a campaign called Cones for Helmets which provided a coupon for a free ice cream cone for kids wearing a bike helmet. 
"We really like supporting the youth," McFarland said. "I think that to us is what we really like to support and provide — that opportunity for kids to come here and be able to enjoy ice cream."     
Even the ice cream they serve takes on a personal, local touch. Dari Barn's cyclones — soft serve ice cream with mixed-in ingredients — are appropriately named after the Iowa State University Cyclones, which McFarland's aunt and uncle are fans of. The popular Jessie cyclone, too, was named after one of McFarland's coworkers in the emergency room who came up with the recipe combination — cheesecake bites, strawberries and whipped cream.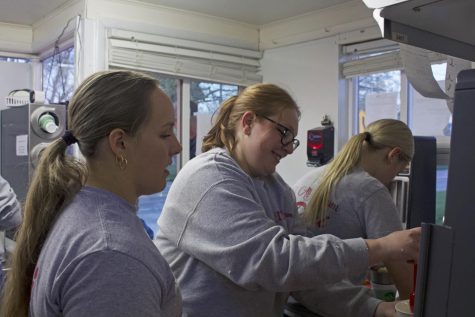 During her first year at Grinnell College, Jane Hoffman `25 visited Dari Barn with a group of friends on the Friday after the first week of classes. When she saw the hiring sign, she applied and interviewed, saying she "really connected with Ginette and the other employees" immediately. 
"What I really love is there's this sort of multi-generational aspect of working there, both between the different employees and also between the clientele," Hoffman said. 
McFarland and Hoffman both said they believed Dari Barn's team has grown over time to include a wider background of employees. Hoffman described it as a "micro-community" between college students, high school students and older adults who all work there.
Although Dari Barn has changed over the 33 years McFarland has worked there, a large part of it remains rooted in tradition. McFarland said many customers have urged her to place indoor seating or to open the shop year-round, but she does not see herself ever entertaining these suggestions in the future.
"There's something to be said to being closed over the winter," she said. "That anticipation of 'spring is here. Dari Barn is opening.'"