Garrison, Bakopoulos to leave Grinnell College
Grinnell College English professors Dean Bakopoulos and John Garrison will leave Grinnell College at the end of the spring 2023 semester. Both are Guggenheim fellows at the College, recipients of a selective grant given to individuals who excel in the arts.  
Bakopoulos, the current director of Writers@Grinnell and Writer-in- Residence, will end his 12th year teaching at the College to be associate professor of screenwriting at the University of Iowa's department of cinematic arts starting this fall. 
Living just outside of Iowa City and having worked as a visiting professor for the university before, Bakopoulos has already familiarized himself and become friends with some writers in Iowa City he greatly respects. He described the university as idyllic for writers as an institution invested in creative writing and home to the premiere Iowa Writers' Workshop.  
During Bakopoulos' time at the College, he mainly taught fiction writing and screenwriting. In the last four to five years of his writing career, he pivoted from novel writing to screenwriting, a change he cites as a mid-career shift.
The demand for creative writing and expression at the College is high, according to Bakopoulos. Because he is one of the only fiction writers in the department, he said his classes would often fill beyond the maximum occupancy. In the 2014-2015 academic year, for example, he said over 100 students tried to register for his 200-level Craft of Fiction seminar.  
In the past, he had gotten job offers from institutions with established creative writing programs, and he chose to continue teaching at Grinnell. He said he leaves with nothing but fondness, and his departure from the College was not an easy decision to make. 
Although Bakopoulos said that the English department is not currently headed in the creative writing direction, he feels that the College is poised to have one of the greatest creative writing programs in the country at the undergraduate level.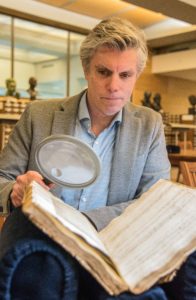 Garrison, who specializes in Shakespeare and Renaissance literature and is chair of peace and conflict studies, is ending his sixth year at the College, the last of which he was on sabbatical. Moving forward, he will be living and teaching high school English classes in Southern California to be closer to his family. 
During his time at the College, he has taught many first-year students through Introduction to Shakespeare and tutorial classes, led group Mentor Advanced Projects (MAPs) almost every summer and taught at the Newton Correctional Facility as a part of the Liberal Arts in Prison Program.  
His desire to be in the classroom began in his high school English classes, he said, where he gained exposure to world-broadening books and developed a lifelong love of discussing literature with others. 
"That for me is a certain kind of vision of heaven, or a perfect afterlife — just talking with people about what they think about different kinds of books or texts that I've read," he said.  
During his sabbatical during the 2022-2023 school year, he completed a book about how Shakespeare's sonnets reveal different ways that memory works called "The Pleasures of Memory in Shakespeare's Sonnets."  He has also written books on the theme of pacifism in relation to Shakespeare and what Shakespeare thought would happen after death.  
In late February of 2023, Garrison delivered the ninth annual Grinnell Lecture and is the first professor of English to be chosen to do so. He explored Rita Dove's "Shakespeare Says," a poem that he said is an example of how people can repurpose Shakespeare to tell their own stories. 
At the time he delivered the Grinnell Lecture, he did not know that he was going to leave the College. Still, he said that the significance of high school English classes has been recurrent in his overall writing and thinking.  
"There's a part of the Grinnell lecture that talks about my own experience in high school and how meaningful English classes were to me in terms of me being able to sort of find my own place in the world," he said.  
Steve Andrews, chair of the English department, wrote in an email to the S&B that the department will submit two replacement position proposals — a fiction writer who may assume Writers@Grinnell directorship and a specialist in Renaissance and Milton studies.  
As of now, two professors who are already on term contracts with the College will fill the departing professors' positions. Sherif Abdelkarim, professor of English, will teach Intro to Shakespeare in the fall of 2023 and a seminar called Studies in Shakespeare in the spring of 2024. Santiago Sanchez, Mellon Postdoctoral Fellow in English, will teach Craft of Fiction in the fall and spring and a fiction seminar in the fall. Carolyn Jacobson and Hai-Dang Phan, both professors of English, will direct Writers@Grinnell in the fall and spring, respectively. 
"As difficult as it may be to do, I try to separate the persons from the positions," Andrews wrote. "The positions will be filled, the persons are irreplaceable. The loss of two such consummate teachers, mentors and colleagues will be felt for a very long time. Dean and John raised the bar for all of us — and helped us fly a little in the process."   
Editor's note: This article has been updated to reflect that Bakopoulos and Garrison are not the only two Guggenheim fellows at Grinnell College at the time of publication. Professor David Campbell, biology and environmental studies, received a Guggenheim Fellowship for general nonfiction in 1989. The S&B regrets this error. Updated May 2, 2023, 5:30 p.m.