Cribz: Editors in Chief air their dirty laundry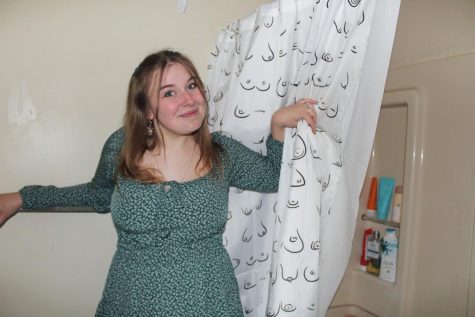 Allison Moore `24
The Boob Abode
Sometimes, it is difficult for college residences to feel like homes. Just a single loop through apartment 3 of 1215 Elm St. reveals that Allison Moore `24 and Kayley Ronnkvist `23 were the right duo to take on the challenge. Every object in sight has a story and interpersonal connection.
The living room is the first room every guest must walk through. The windows let in a large amount of natural light that falls directly on a table covered by an unfinished puzzle. Three small frog figurines rest and sunbathe on the windowsill furthest to the right. There is a carpet in the center of the room with a couch on one side and a stereo speaker on the other.
Connected to the living room is the kitchen. On the wall above the stove hangs a small farmhouse figurine and poster with advice for bartending. The fridge is decorated with flowers that Moore said she crafted herself with the hope of making it feel more like home. A clock stuck at 4:41:44 hangs beside the fridge, perpetually frozen in time.
The prized possession of the home is in the bathroom — a white shower curtain featuring breasts of different shapes and sizes protects the floor from excess shower water. "I love taking people in here. I try to find my own [breasts] on it, and then everyone else has to find their own," said Moore. "There's two GWSS [gender, women's and sexuality studies] majors in this apartment, so I thought it'd be fitting. And Kayley did not object."
Even with Ronnkvist away from the home at the time of this visit, there are still signs of her everywhere. With chicken rain boots by the door, a small plastic chicken on a living room shelf and a chicken-patterned water bottle beside the sink, Ronnkvist's appreciation of this domesticated jungle fowl species shone through.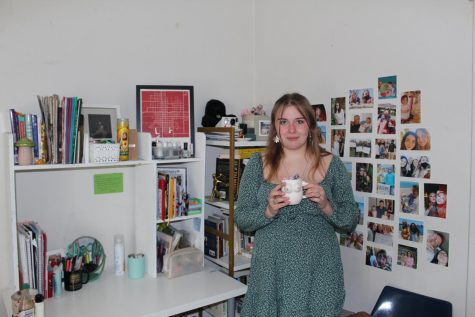 Moore's bedroom is decorated with countless gifts, memories and mementos. Pinterest inspired her wall decorations, which include letters, pieces of art and music posters. The nightstand by the door to Moore's room is the resting place of miscellaneous but sentimental items. There, a Keith Haring doll protects a plastic potted plant, which in turn shades two little rubber duckies.
A Lizzo prayer candle on the nightstand looks longingly across the room at a glass DIY Lizzo album cover on the desk. "My other friend made me that after we graduated high school because I'm obsessed with her music, and her message and everything about her, so she watches over me," said Moore as she blew layers of dust off of the album cover. "She wrote me a little note on the back because we used to sing the song a bunch." On the vertical organizer beside her desk rests a mug that matches her shower curtain, filled with DumDum lollipops.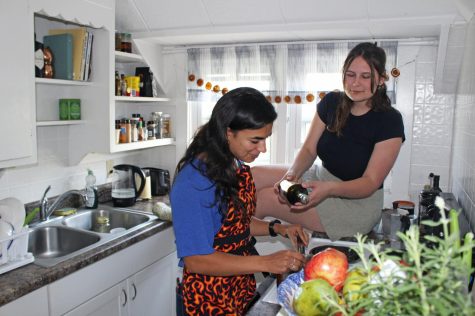 Nadia Langley `23
The Bed & Breakfast Penthouse
The dark secrets of the apartment highest above the Carriage House Bed and Breakfast on Broad Street have still yet to be revealed to Nadia Langley and Athena Frasca, both `23, residents of this humble abode. Their aesthetic is a mix of cottagecore, dark academia and "sporto" that combines to create a bright and welcoming home.
The front door opens directly into the living room. A blanket-covered couch rests against a long wall with a comfortable armchair to the right. Normally, Langley can be seen sitting in that chair knitting. However, these are dangerous times, Langley said. Buried somewhere in the chair is the last needle Langley needs to finish knitting her current sock project.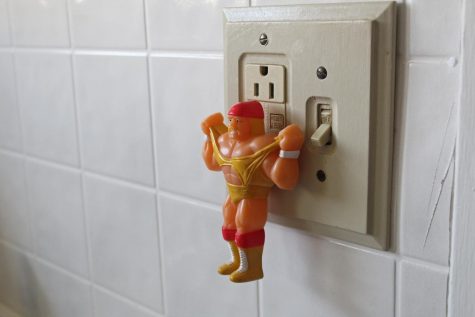 "I've been shoving my hands down the sides of it, and I can't find it," she said. "I'm really scared."
"I think it's embedded in your body somewhere," said Frasca.
"It's probably in my butt. I didn't realize this was becoming a horror story!" said Langley.
The furniture all faces a television that rests on top of a small bookshelf. "The Suzanne Collins Hunger Games follow-up is mine," said Langley. "Most of them are Athena's. A few of them are some that I gave her."
Frasca said, "Nadia has a super cute tradition of giving me a book, and then she'll write a note on the inside. It's detailed with page numbers and what happens in which chapter. It's so nice. It's so cool."
The residents of the Carriage House Bed and Breakfast penthouse are avid readers. In addition to the living room bookshelf, a copy of Sarah J. Maas' "A Court of Thorns  and Roses" keeps a Hulk Hogan nightlight company in the restroom. Langley said that she strategically placed it in front of the toilet with the hopes that guests would exit the restroom and ask her about it.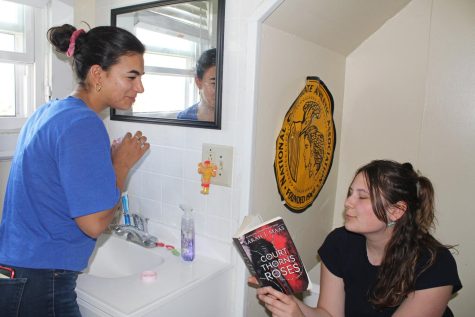 Langley and Frasca said that they enjoy sharing their home with guests for post-improv get-togethers, games of salad bowl and dinners in their compact kitchen. On top of their microwave rests a bowl of fruit, at the bottom of which lays an apple that Frasca has held onto since May of 2022. The window next to the stove, as well as all other windows on that side of the building, have a lovely view of the large crane at Grinnell's downtown construction site.