The Latin American Ensemble held their first concert of the semester last Thursday, Nov. 16 at 7:30 p.m. that showcased music from the Yucatán region of Mexico. The group, directed by Gabriel Espinosa, performed 15 songs from Mexican and Latin American artists, meant to engage and bring the culture of Latin music and dance to Grinnell audience members. 
The ensemble has 11 members this semester, including 5 vocalists — 3 of whom are percussionists — 2 saxophonists, a guitarist, a bassist, a drummer and a pianist. Espinosa said he likes to keep the group small, since each vocalist sings their songs by themselves. Each vocalist sang three songs for the concert, so the pressure was on them to make it their own, he said. 
"I'm really excited to show all these songs we've worked so hard on," Sasha Laugen `26, a vocalist new to the ensemble said. "This is my first concert ever where I'm singing more than one song by myself." 
Lizzy Fraser `24.5, a vocalist who also joined the ensemble this semester, was curious to join the ensemble because she wanted to get to know other musicians and reconnect with the Spanish language. 
"It's a style of music that you have to connect with and have to engage with as an audience," Fraser said. "It's a style of music that feeds off of audience energy."
In addition to the concert last Thursday, the ensemble will travel to the Yucatán region in Mexico for 10 days in January. The tour will consist of six shows in Cancún, Playa del Carmen and Merida at a range of venues, including schools, theaters, a house concert and a cantina. 
Espinosa, who has directed the ensemble since 2004, grew up in Merida, where he started a band with his brothers called Los Deltons. Having been active in the music scene of Yucatán, Espinosa said he wants to give his students the opportunity to experience the music, culture and history of Mexico. The trip will give them the "opportunity to live in one specific part of the Latin country, to live the real roots of how people accept music, play music, relate to music and enjoy music," he said.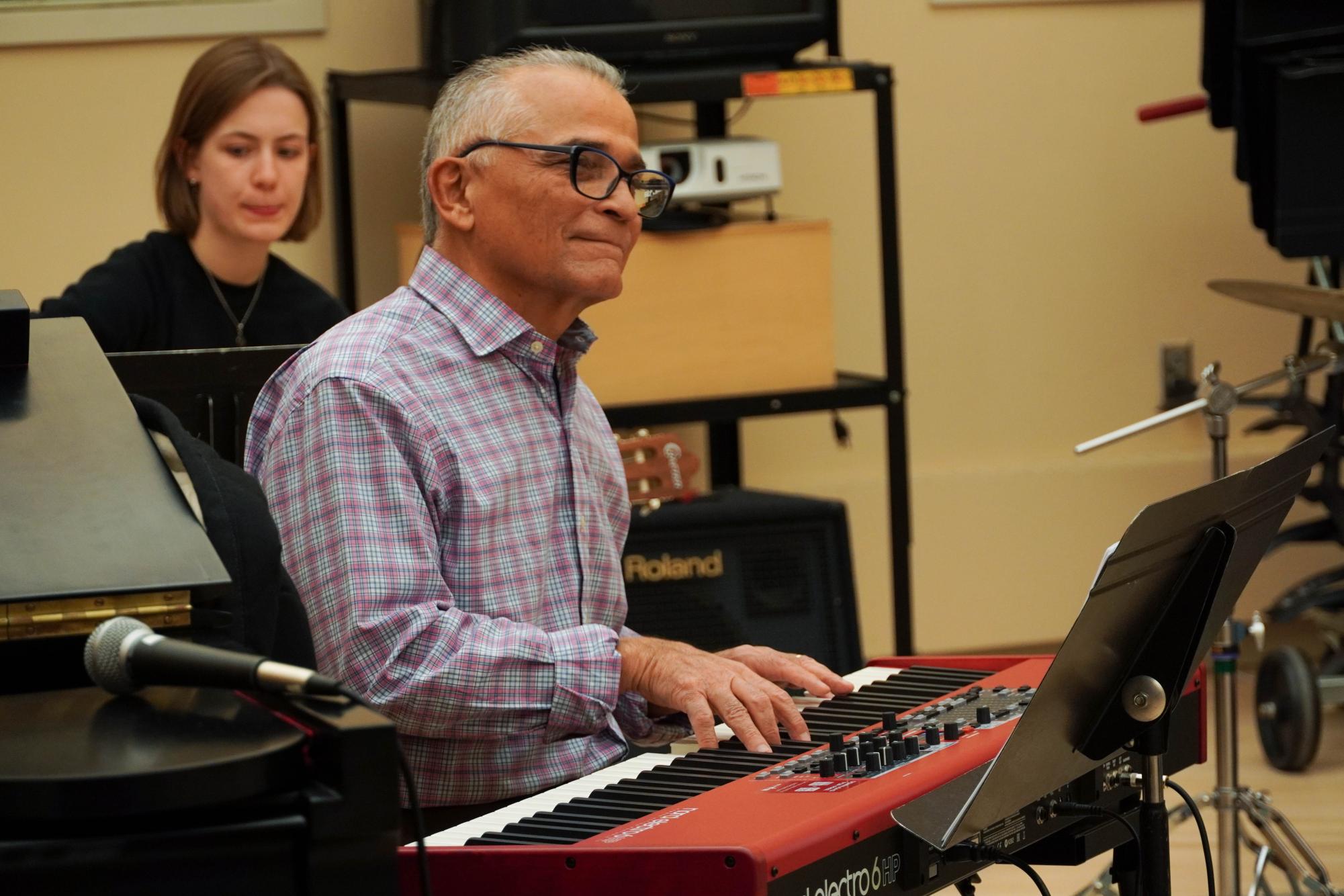 The ensemble traveled to Merida once before, in 2020, but did not have the opportunity to go back during the years of the COVID pandemic and struggles to obtain funding. 
Samantha Morrison `23.5, a vocalist and percussionist who has been part of the ensemble since her first week at Grinnell, went on the trip to Merida in 2020 and helped Espinosa plan the proposal for the upcoming trip in 2024.
"Yucatán is just bursting with music — like just falling apart at the seams," she said. "I've never seen anything like that in my life." 
Morrison described what it felt like to perform in a small cantina on the first trip, where she had to keep her arms close to her body because it was so crowded. "The people there have had a couple of drinks, and they're just so excited to see you, and they're singing along with you. I felt like such a real performer there."
In addition to the performances, Espinosa said he will take the group to Xcaret Park, a theme park in Playa del Carmen, to see their night show that depicts the history of Mexico. The show takes place in a large arena with carriages, horses, fire and colorful lights. 
"It's the most amazing show where you can see the history of Mexico live," Espinosa said. "The customs, the music, the cinematography, the choreography — it's the most amazing show I've ever seen." 
In terms of the concert at Grinnell, Espinosa said he sees the ensemble "flourishing."
"I see them grow like a plant. I saw Samantha and Sophia four years ago, and they're completely different people now," he said. "They're so strong, so secure, so mature, so experienced." 
Phukao Prommolmard `24.5, the ensemble's drummer, said he was excited to perform with the new vocalists, Sasha and Lizzy. "I'm excited to share the work we've been doing with other people."
Morrison, who is graduating right after the Mexico trip, said she would rather her mom come to the concert than her graduation ceremony. 
"It's just my favorite part of the semester," she said. "I love being on that stage with those people."