For two consecutive weekends, student bands performed at separate Harris parties — Arbitraitor and BĀDPHAYÁK at Halloween Harris and Spin the Clouds at Bird Harris — instead of the events' usual format of entertainment from a playlist for the entire night. This semester, with Grinnell Concerts, formerly the Student Government Association Concerts Committee, not hosting any professional musicians at Grinnell, student artists have stepped up to fill desires for live music in the campus community.
Daniel Stewart `26, lead vocalist and rhythm guitarist for Arbitraitor, said that live student music, "adds an element of richness" for campus culture. 
"I think it's something that some people may take for granted, I think I've taken for granted in the past when I wasn't in a band myself," said Stewart.
Lead vocalist and bassist of Spin the Clouds Elizabeth Clarkson `25 said that the energy of the crowd while performing on the Harris center stage was exciting. She said that recently, the student music scene has involved more community building and more casual startups of bands.
"I feel like student music is one thing, and it's really important for schools to have music opportunities in the scene," she said. "But at the same time, I do feel like more professional concerts are just another experience."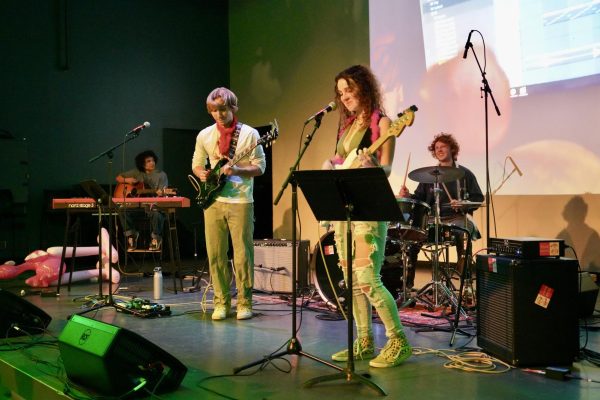 In an all-campus email sent on Nov. 6, Concerts coordinators wrote that, "Concerts has not been able to book shows because we are sorting out budget and contract procedures; we are working as hard as we can to be able to bring artists to campus."
Hayden Suarez-Davis `25, a Concerts co-coordinator, said, "Once we just get a basic idea of budget, we're going to start making offers, and once we do that, we're going to try to start booking shows."
The email stated that while the Committee has been working this semester to figure out the budget, they have still been helping put on music events at the College, including Harris parties, Gardner events and other performances with student bands. 
"Any time student music is performed, I think that's a great thing for the student body, especially considering after the pandemic, there were not a lot of student bands formed or performing," said Suarez-Davis. "So, having a bunch of opportunities for students to be able to perform and be able to share their music with other people is really important." 
 Liv Larsen `26, the other Concerts co-coordinator, said that she applied for the Committee to help bring back consistent, scheduled shows that occurred before she arrived on campus. According to her, the student music scene, "exists very vibrantly in little pockets of the student body."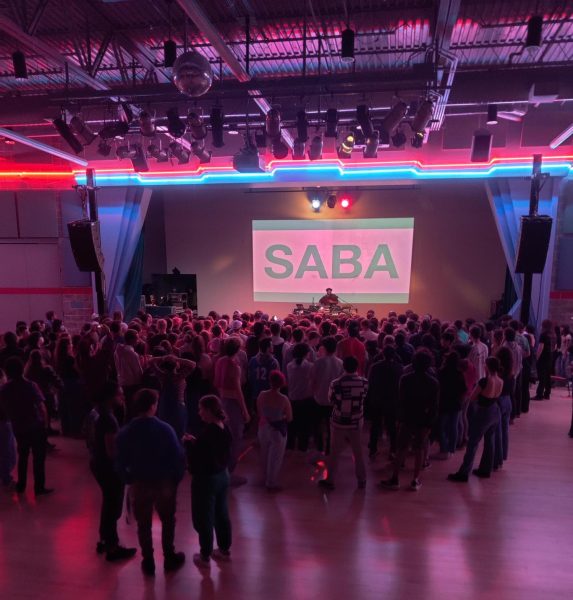 "There is a lot of good work being put in by students," said Larsen. "I don't think student bands can replace the role of concerts on campus. At the end of the day, the best outcome would be having all of the above — shows every week, students and outside performers."
Erik Jarvis `12, music technical assistant at the College, said that Concerts has a tradition going back to the 1970s of being, "on the cutting edge of bringing raw talent" to Grinnell. 
"The Concerts and Freesound kind of thing is super important to professional development in the music scene. They offer things that are just not to be found anywhere else on campus, including the music department, and really anywhere in Iowa," said Jarvis. "My friends from Des Moines and Iowa City would frequently come here for shows."
When it comes to bolstering the existing student music scene, Jarvis said, "Investing in your community is the most important, but I think it's also important, especially in rural Iowa, to import stuff [professional musicians] here." 
Mia Kaufmann `24 attended both the Halloween and Bird Harris parties and gave perspective as a student who entered the College pre-COVID in fall 2019. She mentioned that prior to the pandemic, concerts were often held on Fridays, followed by Harris parties on Saturdays.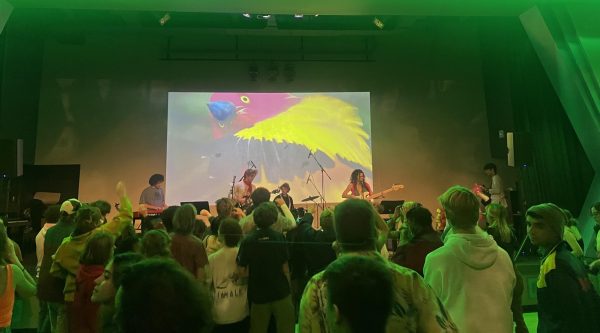 "I think the hype of having someone outside of Grinnell come and perform is what made it such a cool turnout pre-COVID," said Kauffman. "I think they're [student bands] so great, but I don't think it gives the same effect as filling in for what was pre-COVID."
"I don't know if I'm missing out on something or not," said Miles Brown `26 in reference to professional musicians visiting the College. Brown also attended both recent Harris parties and said, "I would have been less likely to have gone," if it weren't for the student performances.
"There's something special about seeing your friends up on stage and just live music being performed by people that you know and see on an everyday basis," said Brown.
Editor's Note: Wolfe is a member of the S&B staff. He had no involvement in the writing or editing of this article.