Against intense red lighting and a multicolored light-up spider, five horn instrumentalists, three vocalists, five rhythm section members and a bongo player of student band BĀDPHAYÁK – a Thai phrase meaning "Tiger's Paw" in English – covered a set of spooky songs for Halloween Harris.
Sponsored by the Grinnell College men's and women's swim and dive teams on Oct. 28 at the Harris Center concert hall, the event gathered a crowd of about 500 people as the party-funk group followed fellow student band Arbitraitor's debut performance. 
BĀDPHAYÁK has become known not only as an ensemble that features multiple performers, but also as a staple of the student music scene as one of the first groups to come together post-quarantine.  
Phukao Prommolmard `24.5, leader of BĀDPHAYÁK, said that the band had been wanting to play a Halloween-themed set for a while. As he reached out to student organizations that could host events, he said that he ended up talking with Kade Dolphin `24, a member of the swim team that then organized the Harris party.  
"The setlist has been in the works for a while, but seeing it come together and then hearing how it sounded was crazy," said Prommolmard. 
Prommolmard formed BĀDPHAYÁK in the fall of 2021 with both his friends and members of the Grinnell Jazz Ensemble, who enjoyed playing together in a non-academic setting. He said that at that time, there weren't many bands on campus and even fewer funk, soul or jazz bands with horn instruments.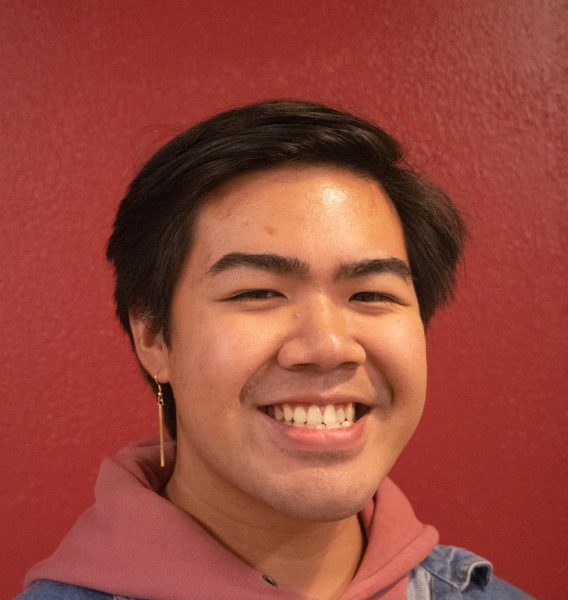 "This was right after COVID, where the student music scene wasn't huge," said Prommolmard. "I had heard that it was big [before], and there were many, many bands on campus. I felt like I had the opportunity to form a band that was like, 'This is what campus music has to offer.'" As the band organizer, he said that he wanted to inspire other students on campus to form their own groups. 
Nic Grofsorean `24 donned a plague doctor mask as he sat behind the drum set for Halloween Harris. The drummer has served as a constant member of BĀDPHAYÁK since its inception."I got to credit Phukao for being really determined in pursuing live performances here because after the pandemic, everything was completely out of sorts," said Grofsorean about the student music scene. "He kind of used BĀDPHAYÁK as a tool to reinvigorate the music scene and give other students, who I think wanted to be doing this kind of stuff, an opportunity to see it happen." 
Skye Ryan `23.5 has played with the group from its beginning and said that it provided the opportunity she always wanted –– to play in a full-fledged band that has consistent rehearsals and shows. 
"The vibes were just there this weekend [for Halloween Harris]," said Ryan. She said that once she and the others are onstage in front of the audience, "It just gets 100 times easier," because they are not trying to "be perfect," as they are in rehearsals.  
Tim Murphy `23.5 also enlisted in the group early as the trumpeter. He says he was attracted to practicing the instrument he played in high school through a more flexible experience than a credit-based course. 
Murphy appreciated the diverse genres on the Halloween Harris setlist in comparison to other cover sets the band had played for events before. "It felt like we were less constricted in terms of what we were able to play," he said. 
Ian Macdonald `25 joined the original cohort of band members as the trombone player, but after returning from a leave of absence last school year, he took up the role of rhythm guitarist this semester.  
"I think the band is wonderful because it stays true to what, to me, is one of the most fundamental things about music as an art –– that it's collaborative," said Macdonald. For Halloween Harris, Macdonald also sang certain tunes that he described as goofy –– for example "The Monster Mash" by Bobby "Boris" Pickett & The Crypt Kickers. 
One new member of the band comes in the form of trumpeter Fui Hawsatitam `27, who jammed with Prommolmard early on when he first got to campus. He said that in his first performance with the group at Jersey Harris, on Sept. 1, he was nervous because he had never played for a large crowd, but he then found it fun.  
  "There's always new people to meet and talk to," said Hawsatitam about the ensemble. "It brings a variety of different instruments, which is something I think is really unique about this band." 
"
I think the band is wonderful because it stays true to what, to me, is one of the most fundamental things about music as an art –– that it's collaborative
— Ian Macdonald `25
Keyboardist Collin Thomas-Green `26 watched BĀDPHAYÁK play live during his first year at the College and joined this semester, when Prommolmard moved from the keys to the bass guitar, freeing up the keyboardist role. Thomas-Green said that he thinks the troupe has succeeded because they, "bring a certain energy to concerts that I don't feel like is really common with a lot of college bands," which, according to him, comes from the collaboration and movement on stage. 
Though dressed as the Cowardly Lion, Mia Eierman `24 boldly belted out the final few songs for the night of Halloween Harris. "BĀDPHAYÁK was the first band that I knew existed on campus, and then maybe a year into their creation and my knowledge of them, I saw student music blossom," said Eierman. 
The band lineup at the Halloween Harris consisted of Phukao Prommolmard `24.5, Nic Grofsorean `24, Skye Ryan `23.5, Tim Murphy `23.5, Ian Macdonald `25, Mia Eierman `24, Sophie Youngdahl `24, Fui Hawsatitam `27, Dillon Rawlings `25, Collin Thomas-Green `26, Benjamin Sheeley `26, Noah Tsukuda `27, Samantha Morrison `23.5 and Kelly Banfield `24.
Though the band is known for its jazz-pop covers, fans will be excited to hear that BĀDPHAYÁK plans an EP release of several original tracks –– perhaps as soon as later this semester.