Spotlight on Latin American Ensemble
When walking through the Bucksbaum Center for the Arts on Tuesday evenings, you may hear bright and catchy melodies emanating from room 102. It is the Latin American Ensemble, directed by Gabriel Espinosa, music lecturer. 
Espinosa has been leading the ensemble for the last 18 years. He said that his experience with music began when he was very young in Merida, Mexico. 
"I started playing music when I was like five years old. By the time I was 14, I had a band. And by the time I was 20, I knew that music was the only thing that I could do for a living," he said. "Sometimes, people like music and they like computer science, psychology, medicine or law. For me, it was very simple to say I only liked music."
Espinosa attended Central College in Pella, Iowa for his undergraduate studies, receiving a bachelor's degree in music. Afterwards, he got a master's degree in arrangement from Berklee College of Music and a master's degree in jazz studies from the University of North Texas. After a stint back at Central College, he came to Grinnell College, where he has been since 2004. He emphasized, "I'm an educator who learned from the books, but I'm also a professional musician who learned from life from being in the trenches."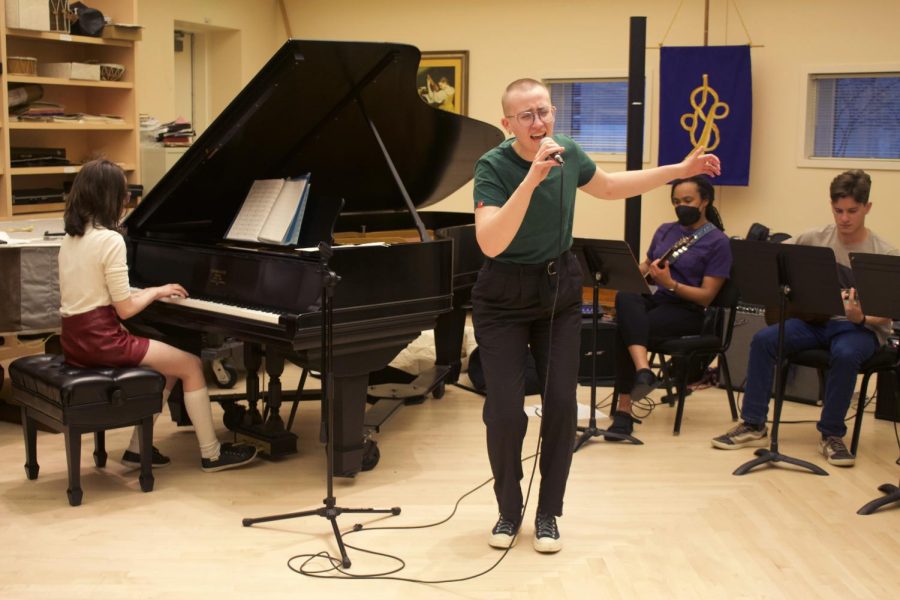 Espinosa specializes in transcription, or listening to a song and translating it onto paper for musicians to play from. He asks the students in the Latin American Ensemble if there are songs that they wish to play, listens to those songs and writes the music for the musicians. He said, "I play the music, and then I get out the music paper and I just write. I can hear the chords, and I can write them." 
"There is a major difference between American music and Latin American music," he explained. "The rhythms, from the samba, the cha-cha, are different from the rhythms in American country or pop music."
The mission of the group is to perform Latin American music in both Spanish and Portuguese. Some of the music they play is by Latin American pop artists such as Clara Valverde and Chitãozinho & Xororó. The group has 18 members. 
A vocalist in the ensemble, Samantha Morrison `23.5, said, "I think the opportunity to make music together in a group is so much fun, and everyone gets really involved in their role. Latin music, especially, has this filled vibrance to it which comes to life in the group."
Morrison joined after hearing about the group during New Student Orientation. "It really called to me. I've always just loved Latin music and the energy of it," she said.
"
I'm an educator who learned from the books, but I'm also a professional musician who learned from life from being in the trenches. "
— Gabriel Espinosa, Director of Latin American Ensemble
Espinosa emphasized that the ensemble is open to any student who would like to explore Latin music. "I would like people to come, and experience relaxing music and give it a try. It could be just for your own liberal arts education, and you could experiment singing in a different language. The door is open, and that applies to instrumentalists and to singers," he said. "I love it because I give all my life and all my heart to them. And they're responding. And they're really embracing the culture of music. They sing beautifully in Spanish and in Portuguese."
"I'm extremely proud of the members of the ensemble for their time and work. Our momentum is the best it has ever been," Espinosa said. 
To witness this momentum in person, come to the Latin American Ensemble's next performance on April 27 at 7:30 p.m. in Sebring-Lewis Hall in the Bucksbaum Center for the Arts.