Farmstock, an annual student music festival organized and hosted by Farm House with support from Freesound, the student music organization that provides sound equipment, took place on Friday, Oct. 6 from about 7-9 p.m. 
The event invited student musicians – both solo acts and bands – to sign up to play a 12-15 minute set. This year, event organizers and Farm House residents Henry Gold `25, Maggie Morris `26, Elijah Gallagher `26 and Hemlock Stanier `25 orchestrated an especially successful campaign, with Farm House receiving more signups than available slots. Gold, who is living in Farm House for the second year in a row, said that musicians were chosen on a first come, first serve basis. 
The event was well-attended, with audience members stretching out on blankets across the lawn. Farm House residents served vegan snickerdoodle cookies, gluten-free Oreos, and homemade cider, as well as offering free vegetables from their garden. The evening of performances kicked off with Emmy Potter's solo act as dusk fell and listeners bundled against the first chilly evening of the semester. The event had a cozy and supportive environment, as audience members uproariously applauded each performer. Finn Dierks-Brown `24, who was in attendance, said the event "created a really contemplative and peaceful atmosphere that really suited a lot of the music that was performed, and it was just really lovely."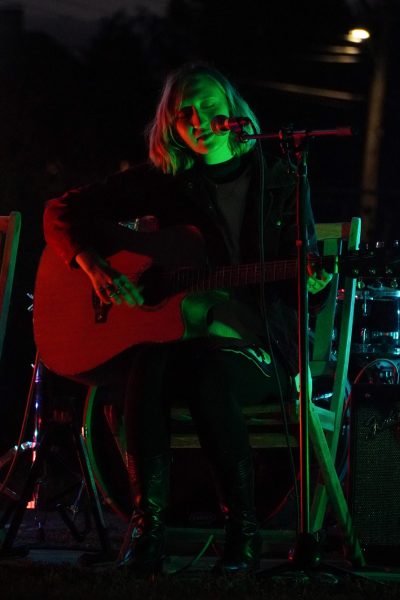 Farmstock brings diverse student organizations, groups and individuals together to celebrate folk music. Normally, Farm House hosts the event, but this year the event took place next door, in the backyard of Art House, due to the ongoing renovations taking place at Farm House. 
The technological and musical side of the event was managed by Freesound, who provided equipment and rehearsal space for the musicians. Additionally, Gold said that Grinnell Concerts consulted with Farm House this year to help provide lighting for the event. 
Although Gold described Farmstock as typically "very acoustics oriented" with predominantly solo acts, he said he was particularly excited to hear the Grinnell Bluegrass Band play on Friday night. The five-person band, which was formed earlier this semester, announced their new official name, the "Eighth Avenue Newgrass Band," at Farmstock. 
Frannie Crego `25, a guitarist and vocalist in the band, said that members met in the Grinnell Jazz Ensemble. Jonah Tillman `26, who plays mandolin, melodica and piano, said that this shared jazz background shaped the band's approach to bluegrass. "Jamming out — like the sense of freedom that you get in bluegrass — there's a lot of correlation with that and playing jazz," said Tillman. 
Maddie Church `27, violinist and vocalist, and Renzo Iurino `27, violinist and banjo player, both described their journey joining the band as the "classical-violin-to-fiddle pipeline," with Crego noting that she "genuinely just walked up to both of them in the hallway and was like, 'Do you want to be in a bluegrass band?" 
Ben Curran `25 plays percussion in the band. The Eighth Avenue Newgrass Band played a variety of music at Farmstock, including songs originally by Phoebe Bridgers and Andrew Bird, which Crego said they intentionally "bluegrass-ified." 
Seven other acts performed on Friday: Emmy Potter, Mia Eierman, Maddie Church, Leaf-Shaped Heart, Bog Boy & The Sumps, and My Best Friend, along with an impromptu performance by the Freesound managers with Henry Gold under the name "Henry and the Freesounds."
Gold, who is a musician himself and played in Farmstock last year, said that the event has been personally influential for him. During his first year, Gold said a friend dragged him to Farmstock, where he ended up meeting the people with whom he would go on to form last year's band, Soi Disantra.
Crego said that she finds Farmstock a unique opportunity – "There are so many really talented student musicians. We're lucky that we're all here at this weird point in time that we get to play with each other and see each other play."