If you catch a glimpse of hair adorned with tinsel and a trail of glitter nearby, you are not accidentally at a pageant runway — instead, you have stumbled upon Grinnell College's cross country teams, who delivered a winning performance at the Midwest Conference championship and clinched top honors on the Pioneer's home turf. 
Grinnell's men's and women's teams won first in the championship. The men's team amassed 32 points to secure their team title, leaving Cornell College in second by 14 points. The women's team earned 37 points, outpacing second-place Lawrence University by 13 points.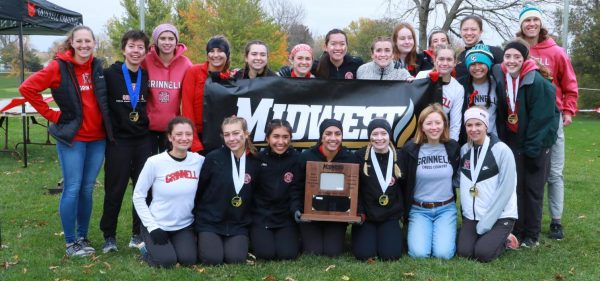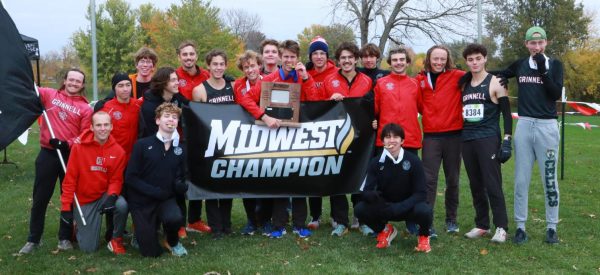 In the women's 6-kilometer race, Keely Miyamoto `26 blazed a trail, finishing in 22 minutes and 46.88 seconds, a time that secured their status as Grinnell's first individual champion since 2013. Miyamoto's victory was underscored by a remarkable nine-second lead over the Ripon College runner up. Morgan Karow `26 contributed to Grinnell's triumph as well, placing with a time of 23:3.86, third place, and securing a new personal record.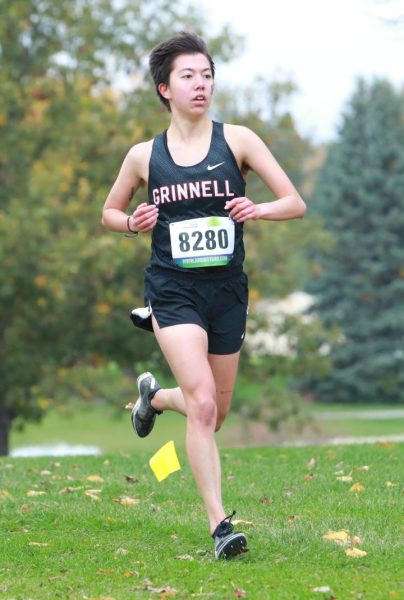 "We had a really tough racing schedule this year, especially compared to other teams of the conference, so sometimes it'd be hard to gauge our performances with what other teams were doing and calibrate," Miyamoto said. "Conference really was a testament to how much we've been able to grow."
On the men's side, Brian Goodell `24 led the charge in the 8-kilometer event, claiming victory with a time of 25:34.35. Goodell's performance not only earned him an individual title but also marked Grinnell's first men's individual championship since 2013. His achievement was complemented by the fifth-place finish of Bradley Ramsey `24 and the sixth-place finish of Connor Heagy `26.
"[Bradley] always just does phenomenal when the team needs him to do it. He's very motivated by showing up for his friends and showing up for the team," Goodell said. 
The team's most recent course was a pattern of difficult, hilly terrain. Goodell acknowledged the difficulty, emphasizing the importance of mutual support. "It's good to come together and really work on encouraging each other and supporting each other," he said.
Miyamoto reflected on their unexpected victory, citing their teamwork and camaraderie as key factors. Despite not being the top seed, members of the team relied on their network of mutual support and collaboration to cause an upset.
"There's this website that ranks teams and gives win probabilities," Karow said. "We had a 3% chance of winning according to that website, so it was just a pretty amazing upset,"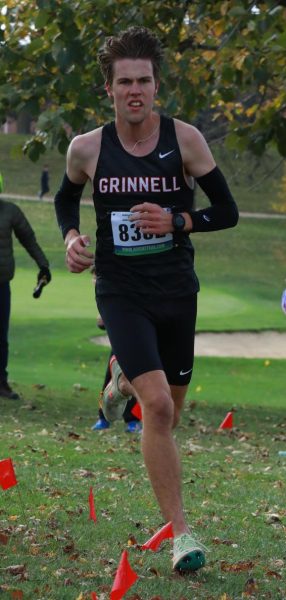 "It was still a little bit of a long shot," said Miyamoto. "So I think being able to really concretely see all of our work come to fruition and have so many people just pop off was gratifying."
The team's coaching staff, led by head coach Sarah Burnell `14 and her belief in the team's potential, played a crucial role in the team's triumph. 
Goodell praised her optimism, saying, "Sarah really likes to believe that we can do better than we think we can, and she's almost always right, and she'll let you know that she was right." 
The team's victory was not all about individual achievement but also about their collaborative spirit. Grinnell's approach to the race included running as "packs," working as a cohesive unit. Karow, reflecting on the team's ethos, noted, "Our whole team gets on the line together — there was a really strong sense of running a conference for something outside of yourself."
Goodell highlighted the friendly atmosphere of the Midwest Conference and the supportive nature of the competition, where athletes could run alongside their rivals while offering encouragement.
"The Midwest Conference is very friendly, as opposed to destructive," Goodell said. "You can run with them even though you're competing against each other, and support each other and push each other."
Following their triumph at the Midwest Conference championship, the team prepares to set the stage for more victories in the future as it prepares for National Collegiate Athletic Association regionals on Nov. 11. For runners not attending regionals, they had the opportunity to compete at the Luther College Saga Cup on Nov. 3.