The Grinnell College Volleyball Club spiked up competition at the University of Northern Iowa (UNI) and Luther College to open their club season. Liz Neace `24 and Ellen Hengesbach `24 were no strangers to UNI's spikes — they were both hit in the face during their first competitive match. "The fact that we both continued to play showed our grit," Neace said.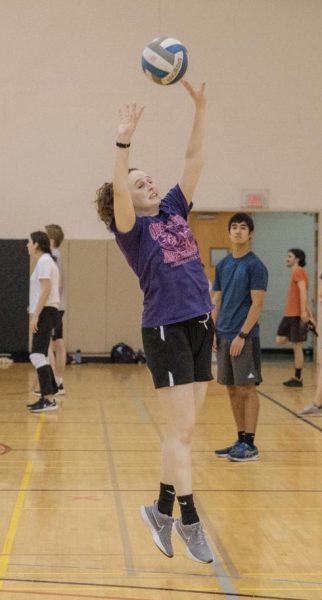 "Experiencing the game against UNI and then going to play Luther really set us up for success," Neace said. She added that the first match experience allowed the competitive team to have more confidence playing Luther.  
 "Something that we got better at throughout the games was definitely communicating," Matt Kenny `25 said. 
 Vincent Yao `26 added that the competitive team "played under really intense pressures" against UNI but loosened up against Luther.  
 On the weekend of Nov 11, Grinnell fell to UNI with a set score of 0-5. However, Grinnell bested Luther the next day in five sets with a score of 3-2 — 29-31, 25-18, 23-25, 25-13 and 25-11. Neace, Kenny, Yao and Maya Flynn `26 are this year's captains of the club. 
 "There's a lot we can improve upon," Kenny said. He added that the competitive team has only had five practices, so they are not the most "fundamentally sound."  
 "Even though the majority of us come to open gyms and we hang out, it's still not a lot of team bonding time," Neace said. She said she wants to see the competitive team improve in building more trust in each other on the court so that players don't make mistakes by "overstepping and overreaching."  
 "Sometimes we'll have a great point, but sometimes we're making silly errors. We have to value the ball," Kenny said.  
 Competitive players Alex Kim `25 and Matt Kenzinger `27 also played in the UNI and Luther matches.  
 "UNI was really fun. We actually had a lot of parents and families there," Kenzinger said. He added that Luther felt more serious due to the nicer gym and presence of the opposing team's student body. "We work hard in practice, and we want to put that into action," Kenzinger said.  
 "I tried to keep my energy up because it felt like a culmination point of the season," Kim said. "This was where we could really have a metric for how much we've improved." The UNI and Luther matches are the only ones that the competitive team scheduled during the fall semester. 
 "We're really hoping that we can build off of these two connections and network through the clubs to allow us to play more games within a season," Neace said.  
The captains must schedule the matches themselves as "the line is hazy on whether we're an official athletic club," Flynn said.   
The captains self-identify the competitive team as a "student organization that participates in athletics." Since they are not affiliated with a division, the competitive volleyball season is "whenever people want to play," Kenny said.  
Because the team is considered a student organization, they were able to fund their transportation needs through the Student Government Association. As an official athletic club, though, Flynn said the competitive team would be able to fund hotel stays and entrance into more volleyball events. The competitive team would also have greater access to practice spaces.  
 "We would get gym time set aside for us as a team," Neace said. "Darby has more space and the capacity to host other teams to play against here."  
 The competitive team is comprised of 18 people, but had nearly double that amount of prospective players try out. Flynn said that this year was the first in which the captains had to cut players. Those who did not make the competitive team are still able to join the club for their regular open gym every Monday and Wednesday from 7-9 p.m.
Following the matches, the captains and players are looking towards the future. "What makes us a solid team is our growth mindset," Kenny said.  
 "It's just awesome to be in a room full of people who want to get better and continue to work hard," Neace added.  
"My favorite part is the teammates and the kind of community we have together," Kenzinger said. "I'm really looking forward to the club expanding, and I'm excited to see where it goes in the future."  
 The captains are in the process of scheduling two home rematches against UNI and Luther during the spring semester. They will hold another round of tryouts next semester to form a spring competitive team.