Miyamoto, Goodell set pace for cross country teams at historic meet
Grinnell College's men's and women's cross country teams had a promising race at the 60th annual Les Duke invitational on Saturday, Sept. 10. Held at the Grinnell College Golf Course, seven teams competed in the women's event and eight in the men's. The Grinnell women's team placed fourth overall and the men's placed similarly at fifth. 
A number of alumni and parents attended the event, continuing the honored tradition of Les Duke for cross country at Grinnell. "It [the Les Duke Invitational] is one of those events that really ties generations of people together," said Sarah Burnell `14, the head cross country coach. 
This year was Brian Goodell's `24 second run of the Les Duke. Goodell recounted how in the 2021 Les Duke, the swim team showed up to support the athletes on the cross country team. "I like the team aspect of it," he said. "I really appreciate everyone who comes out and supports us, and we try to show up to source stuff as well." 
The Les Duke often brings years of alumni back to Grinnell to cheer on the teams, many of whom participated in the event during their college career. They have the opportunity to run the race with current team members, allowing them to partake in the Les Duke experience once more. "It's kind of nostalgic," said Andrew Nickeson `24, who finished 24th overall. "Some of them are still training pretty seriously after college, so it's a nice opportunity for them to go race a familiar course and see where they're at."
Newcomer Keely Miyamoto `26 said they had never been a part of a tradition so welcoming and supportive. They partly attributed the motivation they received from both their team and the spectators to their success at the Les Duke. Miyamoto "There was this one part of the race where it was probably the last 800 meters or so, and there was this same guy with a dog. He was there cheering for me and encouraging me to go catch the couple runners ahead of me." 
Miyamoto said they had never had a complete stranger so invested in their success before. "It's really cool to be part of a tradition where the fans are so intensely supportive and into it, and just by virtue of your school." Miyamoto, the first finisher for Grinnell, placed third overall out of 93 runners and ran the 29th-fastest time in the history of the program. They were named the Midwest Conference Cross Country Player of the Week after their performance on Saturday.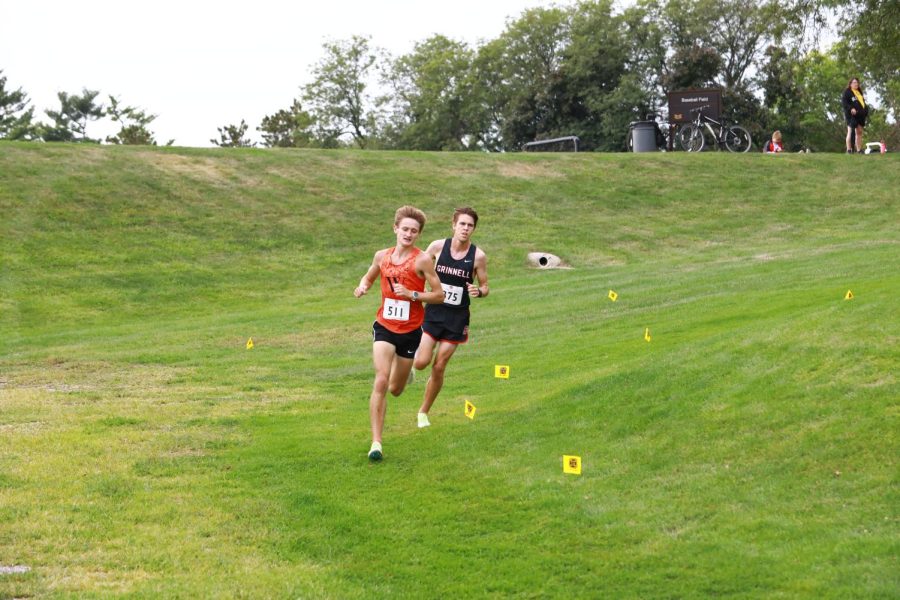 Both teams emphasized patience when it came to racing. Compared to last year's Les Duke results, the scoring runners for the 60th event were much closer and consistent with times. The men's scoring runners all finished within 51 seconds of each other and the women's finished within a minute and 55 seconds. "We packed really well, and we were really patient and held back in the first mile," Burnell said. "Sometimes it gets easy to settle there, but they didn't. They were hungry for it."
Goodell, who finished 14th overall and was Grinnell's first finisher on the men's team, also said patience was important for his strategy. "I kind of knew that people are going to start out a little fast because it starts downhill, but it's a really hilly course. So my strategy was to go slower at the beginning and then keep passing people throughout the race." 
Goodell and Burnell both said how good they believe the cross-country teams are, and they looked to the Les Duke's outcome as an indicator of future success. Overall, they said they see the early races as a chance to try out different techniques before the championship races later in the season. 
"I think the team this year has got such good depth. A lot of the first years are really good. They really add to the team depth because a lot of teams only have one or two good people, but we have a really strong top group there," Goodell said. Goodell also said his own goal is for the team to win the conference championship — and he said he believes they might be able to pull it off. 
Cornell College, a main competitor for Grinnell in the Midwest Conference, had their men's team finish on Saturday with a score of 115. The Grinnell men's team followed closely behind at 120 points. For the women's team, Grinnell beat Cornell with a whopping 88 points compared to 199. 
"I think that the fact that we did so well at this meet, that we had such a tight grouping of people, is a good sign going forward that we're going to be in a good position," said Goodell. 
Emma Schaefer `23, a captain for the women's team, expressed similar hopes. "I'm excited to see what we can do over the next few weeks during our intense training block that we'll have before our next meet," she said.  
Grinnell's next race is the Aurora University Invitational in Geneva, Illinois on Oct. 1.