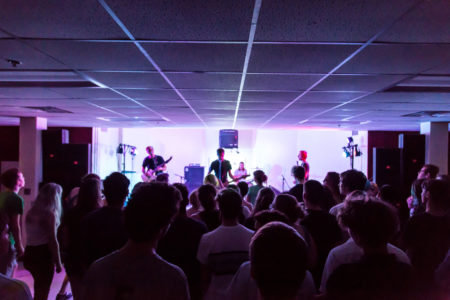 Student Government Association is searching for a new concerts chair to fill the vacancy created by Victoria Park's '21 decision to play bass with Squirrel Flower on tour next semester. Park was slated to take over from current Concerts Chair Phinn Lloyd '21, who under the new split-positions policy is handling the concert chair's duties for first semester while Park is abroad in France. Lloyd will also be going abroad next semester to Rome.
When SGA executives meet in the coming weeks to review applicants and select a new concerts chair, they will pick a person they think is most able to handle the diverse workload.
Due to the complex nature of the work, Lloyd believes that the next chair will most likely come from the Concerts Committee, as they would already be familiar with the nature and requirements of the work.
Despite the tough decision of choosing between an SGA cabinet position and going on tour with Grinnell alum Ella Williams '18, Park says she felt supported by her peers.
"I understand that it was a really big responsibility to be on the SGA cabinet and book concerts. I was nervous to voice that [going on tour] was something that I really wanted to do. But I started talking with everyone … and everyone was really, really supportive," said Park in a phone interview with The S&B.
Park's decision to take a semester away from Grinnell comes only a few months after SGA voted to amend their constitution to allow split-position appointments to the cabinet. In an effort to better represent the voices of third-year students who often miss at least one semester of the school year in Grinnell while studying abroad, certain positions were opened for two people to hold them. The concerts chair is one such position.
At the time this proved to be a relatively contentious policy change, with some students fearing that such a high turnover could affect the ability of SGA to efficiently do its job. Although she hasn't attended a senate meeting this semester, Park believes the controversy has died down.
"I haven't heard anything being too controversial. I guess we'll see with the transition between this semester's cabinet and next semester's cabinet, but I think it's working out really well."
The actual work of the concerts chair can be expansive and often unpredictable.
"I have about seven meetings a week I go to … and it can go up from there," said Lloyd. This is in addition to eight to 10 hour shifts on show days.
Whoever holds the position must organize all aspects of concerts, from deciding which bands perform at Grinnell to coordinating their stay. The chair is responsible for the technical side of performances as well, which includes sound and lighting.
"I handled all the booking, which includes doing artists fee negotiations … you're in conversation with different levels of management," said Lloyd. "I create a lot of the publicity and art we put out … I handle [the artist's] hotel reservations and food, as well as how they're going to get here. [I also] plan how the day of the show is going to look."
"Victoria and I have been creating a long-term game plan for how we're going to train whoever comes in," said Lloyd. Additionally, most of the shows for next semester are already booked, eliminating one of the biggest responsibilities for whoever takes the position.
Grinnell has a long tradition of finding new and emerging artist before they become famous. In past years Nirvana, Smashing Pumpkins and Lizzo have all visited campus before becoming internationally renowned acts.