Celebrity chef J. Kenji Lopez-Alt overlooks the kitchen in 920 High St. apartment 3 as roommates Phukao Prommolmard `24.5, Sam Sirna `25 and Andrew Lim `25 prepare their weekly "family" dinner. "He's the patron saint of this house," said Sirna. 
Though none of the roommates started cooking seriously until a year or two ago, they quickly became obsessed with all things culinary. Each independently came to love "Chef Kenji," and his photo taped above the stove supervises the three cooks with a perpetual smile.
At Grinnell, Prommolmard studies computer science and psychology and plays in student band BĀDPHAYÁK. He met Sirna, a physics major from Iowa, through Grinnell Singers, who then introduced him to Lim, a theater, dance and performance studies major from San Francisco. 
Though their homes are thousands of miles apart, Prommolmard, Sirna and Lim have bonded over their love of cooking and music, creating a homey and aromatic college apartment. I was lucky enough to sit down with them for one of their Monday night dinners, where we gathered around their coral-colored kitchen bar to enjoy a spectacular meal and plenty of laughter.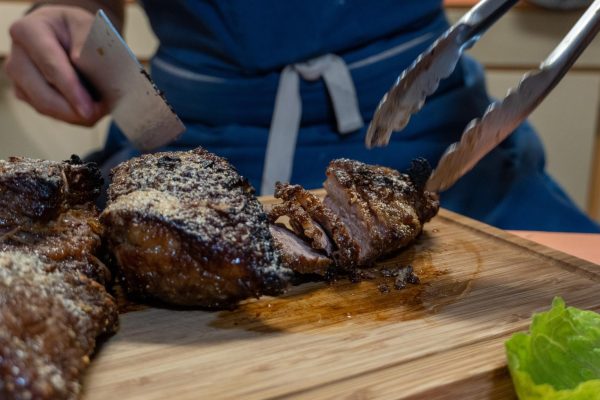 Upon arrival, Lim had already begun assembling shrimp spring rolls, with prepared mise en place consisting of shredded carrots, bean sprouts, lettuce, and fresh mint. Lim delicately dipped each sheet of rice paper in water before wrapping the filling into large rolls. Each person also received a dollop of thick homemade peanut sauce. Though my allergy prevented me from sampling, S&B photographer Owen Barbato's double helping proved its tastiness.
Meanwhile, Sirna offered a host of cocktail options, and two of us chose a Tom Collins. Sirna certainly mastered the balance of lemon, simple syrup, sparkling water and gin and served the concoction over a large spherical ice cube.
When Prommolmard arrived home after Lim completed the appetizers, he immediately started work on sticky rice, cooked atop a cloth in a steamer he borrowed from a friend. Besides American fried chicken, Prommolmard said he most enjoys creating the tastes of his home country. "Over time, I think my dishes have gotten way better," he said.
Prommolmard announced he would be making a "once-in-two-months kind of meal" called Crying Tiger, a Thai dish featuring grilled brisket with a spicy, herbaceous sauce. In fact, Prommolmard made this meal for Sirna's parents when they visited last summer. "It's a very big deal," said Sirna. 
The roommates showed off their cabinet stocked with sauces, spice blends and other ingredients unavailable in Grinnell. "This cabinet has everything we need," said Sirna. For example, Prommolmard grabbed a bottle of Shao Hsing cooking wine which, rather than a generic American soy sauce, is a thinner, sweeter, less salty sauce traditional to Chinese cuisine.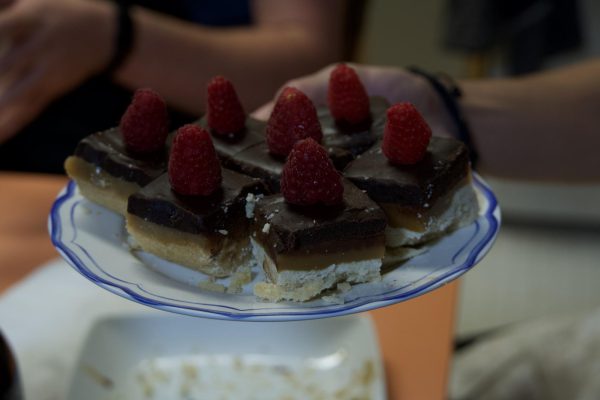 Prommolmard had already marinated the meat for four hours and, without a grill on hand, opted to broil. The rub consisted of garlic, coriander root, white pepper, Chinese cooking wine, oyster sauce and fish sauce — which he stored in an old Jim Beam bottle. Prommolmard insists on bringing many of these ingredients from home. "Stuff you get here, like at Walmart, just isn't the same quality or product like you'd get where I'm from," he said. One whiff of the piquant soy sauce alone let me know that the meal would be a treat. 
To begin the meticulous process of creating an accompanying jaew dipping sauce, Prommolmard crushed a cube of Thai palm sugar in a mortar and pestle. He then added a powerful fish sauce and mashed them together to form the base of the dressing. One taste of this base was an explosion of fishy umami with an underlying sweetness.
Like the veteran host of his own cooking show, Prommolmard explained each of the remaining ingredients as he carefully combined them one by one. After adding tamarind paste (also from home), he stirred in toasted rice powder, which he made last year in an exhausting five-hour process. "I'm probably never doing that again," he admitted. Finally, he incorporated finely chopped green onions and parsley, which had been resting in an ice bath to enhance freshness, and a spoonful of bright orange and crimson Thai chili flakes.
We all impatiently awaited the coveted first slice. Cutting the tender meat with ease, Prommolmard handed me a sliver of the glistening brisket in a piece of lettuce which he drowned in a heaping spoonful of jaew. The combination of sour, sweet, herbaceous and spicy added a beautifully tangy element to the juicy meat. In fact, for me, this sauce alone was the star of the show.
After the meat rested for a few (agonizing) minutes, Prommolmard insisted we eat with our hands — "this is important," he said. Almost everyone remained silent for the first few bites, and the giant slab of meat disappeared almost as soon as Prommolmard said it was time to dig in. 
"
Over time, I think my dishes have gotten way better
— Phukao Prommolmard
As we inhaled our Crying Tiger, it also became clear that the roommates also share a love of music. Throughout the evening, Sirna played music from an impressive speaker system in his kitchenside room. In fact, underneath a large wooden desk frame that Sirna constructed himself sits a gargantuan subwoofer that delivers some serious bass. "I'm sure my neighbors love it," Sirna said.
To conclude the night, as if two hearty courses weren't enough, Lim graced us with dessert: homemade Twix bars topped with a raspberry. "I can't take credit for the recipe," they joked. Chilled but not too frigid, sweet but not too cloying, Lim's confection was a perfect capstone to an overall delectable evening. The only cherry on top would have been if Prommolmard let me take home a bathtub full of that righteous dipping sauce.