Upon entering the first apartment at 934 High St., one might be greeted by a polydactyl cat and the warm smell of fresh pumpkin cookies. Together, residents Joey Fisk `24, Lexi Hankenson `24, Zoe Knoernschild `24 and their honorary fourth — feline — roommate Batman, have created a comforting, whimsical living space.
The three friends first visited the apartment in the 2023 spring semester, and when the landlord informed them that someone else planned to view the place after them, Knoernschild said, "we were like, 'nah, we'll take it.'" 
Hankenson and Knoernschild's moms were good friends in high school, "so we've been in each other's lives since we were babies," said Hankenson. "Zoe coming to Grinnell was literally the only reason Grinnell was on my radar." After Knoernschild returned to campus from her gap year in 2020-2021, she met up with Hankenson on campus, who then introduced her to Fisk.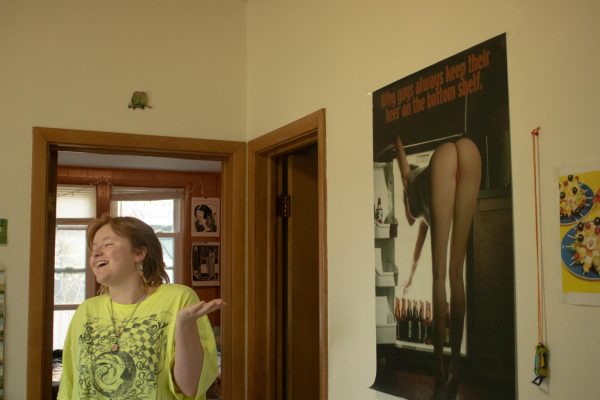 Fisk and Hankenson started dating in September 2020, before either of them had even arrived on campus. The two found each other on Instagram and had their first date at the Blank Park Zoo in Des Moines. On that date, Fisk asked Hankenson to be his partner, and they said yes, "because I know what I want," Hankenson said.
Hankenson, Fisk and Knoernschild moved into the apartment in early June of this year, where they spent the summer working, cooking together and decorating. Each room in the apartment combines the three different styles of its residents, creating an eclectic, vibrant environment perfect for any mood. 
The apartment opens into the living room, which is adorned with brightly colored posters, artwork, trinkets and cozy furniture. Immediately on the right wall rests a large tapestry with a rainbow mushroom print, threatening to hypnotize anyone who stares for too long. 
When asked about their favorite items in the room, Hankenson said, "I insisted that we have a garbage bin in the living room, so that's an essential piece for me and my brain." To the right of Hankenson's treasured trash can is a small "snuff box" made from a cardboard box and crumpled paper scraps for their cat, Batman, to burrow and dig into. 
Though Batman is originally Fisk's family cat, all three roommates now take care of him and provide him with endless enrichment. Some might be able to spot his extra toes and glowing green eyes through the large bay windows in the living area. "I've never had a cat before," said Knoernschild. "Batman has added to my happiness 100%."
Knoernschild also showed off a bookshelf lined with unique vintage baubles. "I think the oldest thing here I got in elementary school," she said. A petite glass container holds a few small white strands. "Oh, this is our collection of Batman's whiskers," Knoernschild explained. "There's two so far!"
Another frequented spot in the apartment is the kitchen, which boasts a funky checkered diner table passed down from previous tenants. Hankenson said that they especially loved baking Knoernschild's mom's pumpkin cookie recipe. "They're insanely good," echoed Fisk. 
Fisk and Hankenson share a bedroom in the back of the apartment, and they have filled it with unique artwork and mementos. Referencing their collection of squishmallows that lines the bed, Hankenson said, "it's a disease." 
On the other hand, "I'm pretty minimalist, as long as I've got a corner," Fisk said, gesturing towards his small desk and computer setup. 
"I think we keep each other honest more than anything. He lets me know when I need to clean things, and I bring the decor," said Hankenson. 
Knoernschild's room boasts large windows, where she said the sun illuminates her bed perfectly around sunset. The colorful beaded curtains and vibrant collage of artwork add to the contemporary hippie feel.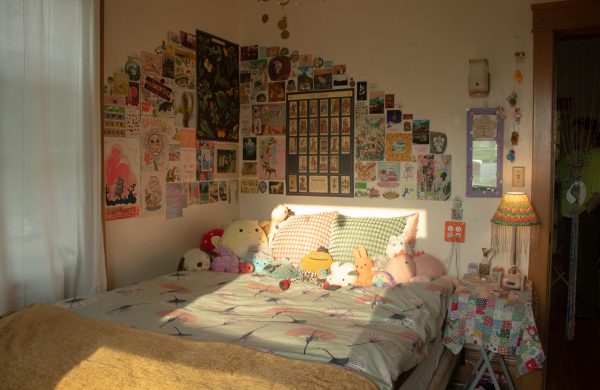 Knoernschild also owns an impressive collection of miniature knick knacks that she has amassed over many years from yard sales, thrift stores and antique malls. "I like things that are meant for little kids, I think," Knoernschild joked. "I've just always loved little things." In fact, she pointed to two antique baby dolls sitting atop a shelf overlooking her bed. One of them squeaks like a dog toy. "Yeah, they're definitely haunted," she said. 
Yard-sale hunters, ghosts, cat lovers and art enthusiasts would certainly all be comfortable at Hankenson, Fisk and Knoernschild's delightfully eclectic home. For now, Hankenson said, the three roommates will continue bringing "good spirits and excellent vibes."