As the Iowa caucuses and subsequent presidential elections approach, Grinnell College is in a unique geographical position to facilitate the visit of presidential candidates. Vivek Ramaswamy's visit to Grinnell marks the first of what will likely be more than one instance of a prominent politician coming to the town of Grinnell. At the S&B we believe that it is important to cover these events to uphold our commitment to providing news to the student body. That being said, we think it is important to emphasize that none of the opinions expressed by the candidate during their visit reflect the opinions of the paper. When deciding what information to platform, we work towards maintaining a balance of informing the public and staying true to commitments to previous editorials and our ethics guide regarding the content we publish. 
Vivek Ramaswamy was in Grinnell for just two hours, but the impact of his visit has reverberated through the campus and community even after his departure. From his divisive policy platforms to his stirring social media presence, students were left to reckon the character of Ramaswamy and his candidacy.
Ramaswamy, the youngest Republican presidential candidate, at 38 years old, was in Grinnell for the recording of a KCCI "Coffee with the Candidates" roundtable discussion with three undecided Poweshiek County Republicans. The event, which took place at Saints Rest Coffee House (Saints Rest) on Oct. 5, attracted roughly 50 students and a dozen protesters, despite minimal advance notice.
Considering the chaotic nature of his visit, many students needed time to fully reflect on their interactions with Ramaswamy. Having done that reflection, some feel disappointed and manipulated by how the conversations and aftermath unfolded.
Ramaswamy weighs in on Grinnell College issues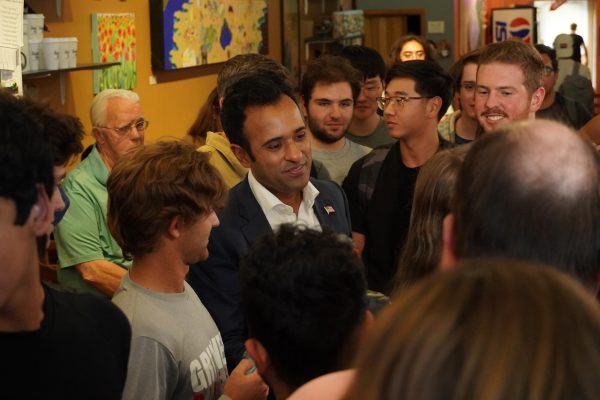 Immediately before he left for a Des Moines rally, the S&B interviewed Ramaswamy on three College-related topics, asking his opinion on book bans and the role of parents in education, the increasing prevalence of unions representing student workers and H1-B visas for international students.
Speaking to content moderation in schools, Ramaswamy said, "At the level of the university, I do not believe there should be bans on viewpoints." 
When asked about the K-12 level, however, and the recent attempt at book banning in Grinnell, he said that parents should determine the education of their children. This comes in the context of his recent calls for the abolishment of the Department of Education and teachers' unions.
Maggie Morris `26, who is pursuing a career in education, says that Ramaswamy's approach is not only misguided, but dangerous.
"Everybody went to school, so everyone thinks they have a PhD in education," she said. "It is completely disingenuous for him to think he knows education better than teachers."
On the question of student worker unions, Ramaswamy did not explicitly indicate his support nor disapproval. Instead, he articulated that despite having "very little patience for union bosses," he felt sympathy for workers who have "faced stagnant wages against the backdrop of rising prices." In general, Ramaswamy has campaigned on a staunch anti-union argument.
In response to Ramaswamy, Lena Wiebe `25, president of the Union of Grinnell Student Dining Workers, said that she agrees that many American unions have not been run democratically over the past several decades. However, she said that she disagrees with the diagnosis of the cause and solution.
"I think that the labor conflict is not actually indicative of outsiders coming in and instigating conflict," Wiebe said. "In fact, it's the opposite. Workers have individually made the decision that their stagnant wages, the cutting of their benefits, and the consistent privileging of corporate profits over their own well being has come to a tipping point."
In reference to his stance on H1-B visas, which allow U.S. employers to employ foreign workers in specialty occupations, Ramaswamy said that the immigration system should rely on meritocratic selection rather than a lottery. He referred to the H1-B as a form of "indentured servitude" that is "broken on so many levels."
"I want to start with an immigration policy that advances the interests of Americans here in the homeland," Ramaswamy said. "What are the right kinds of immigrants that can help add value to a country that benefits people who are already here."
Paata Kaloiani `25 said that as an international student, it is hurtful to hear Ramaswamy's rhetoric.
"To me, that sort of distinction between good and bad immigrants is just absurd," Kaloiani said. "And to think that the president can judge who is a worthy enough international student to get to stay in the U.S. feels very unfair."
Student protesters capture Ramaswamy's attention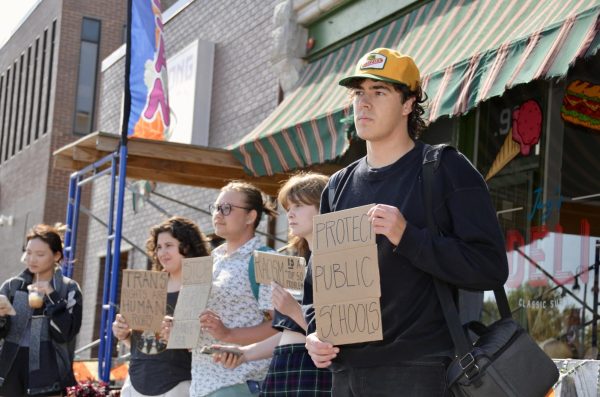 Proceeding and following the roundtable discussion, Ramaswamy engaged with protesters on the conflict in Ukraine, LGBTQ+ rights, public school funding and climate change.
Morris helped coordinate the protest effort, creating signs that she and her friends held outside Saints Rest as Ramaswamy arrived.
"Vivek has ten policy commandments, including 'there are two genders' and 'reverse racism is real,' and I wanted to make signs that opposed each commandment." 
Ramaswamy paused outside of Saints Rest to address the protestors, who were shouting messages including, "Protect trans kids" and "Climate change is real." Without responding directly to the protest messages, Ramaswamy said, "Even though I disagree with you, I'm proud of you for expressing your view."
Morris said that Ramawswamy's comment ignored the substance of their demonstration.
"The important part is to actually respond to what people are saying rather than simply the fact that they're saying it," Morris said.
Kaloiani, who was part of a discussion with Ramaswamy about U.S. aid to Ukraine, said that Ramaswamy appeared to intentionally diminish the personal experiences of protestors, particularly a Ukrainian student who shared her fear of continued Russian aggression.
Kaloiani, who is from the Republic of Georgia, a country which has faced its own violent Russian encroachment, disagreed with Ramaswamy's position that the U.S. should end its support of Ukraine by "negotiating a path to peace."
"Russia has not been a trustworthy ally when it comes to negotiations," Kaloiani said. "It is hard to believe that if such a treaty were to happen, that they would not continue their aggression."
At times, the debates between Ramaswamy and protesters grew loud and animated, tensions and emotions running visibly high, but they remained peaceful.
"I wanted to make sure that no one could tell the story of Vivek coming to Grinnell without there being some form of visible opposition," Morris said. "If we threw him off his game, even just a little bit, it was worth it."
Ramaswamy misrepresents students on social media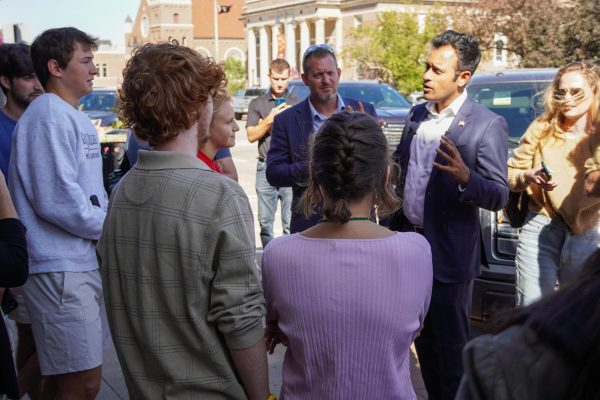 In the aftermath of his visit, Ramaswamy's campaign took to social media, posting dozens of videos with captions that some students felt were misleading.
"I think it was an attempt to grab some votes," Jacob Unzicker `27 said, referencing the distortion of interactions.
Most notably, the campaign mischaracterized a car accident that took place between Celia Meagher `23.5 and Ramaswamy's campaign vehicle. Many national media outlets initially ran the campaign's version of events, revising their coverage only after the Grinnell Police Department clarified the details.
The campaign promoted a post that mischaracterized a dialogue on climate change between Unzicker and Ramaswamy. In a video that has been watched over 4.8 million times on X (formerly known as Twitter), Unzicker implores Ramaswamy to read more about the trajectory of greenhouse gas emissions. The caption claims that "they actually seemed to reach a common area of agreement at the end."
Unzicker said he disagrees with how the campaign portrayed him.
"I felt that the post was manipulative," Unzicker said. "Unfortunately, he can cut the video and post a misleading caption, and he will get more views than anyone who posts the full video. That's disappointing, especially when it's something I didn't consent to him posting."
For Unzicker, this was a reminder of the immorality that can accompany politics.
"I felt used when he compared me to the 'irrational protestors' in the caption," he said. "He was praising me in a way, but doing it by negatively framing an equally valid group."
Ramaswamy has argued that the U.S. should focus on technological fixes to acclimate to climate change instead of paying to address the root causes. Unzicker, who has been learning about global warming in chemistry, said he was unprepared for this argument.
"I wish that I had done better in getting my point across, but I think something that people forget is that he prepares every single day for questions like this," Unzicker said.
Undecided locals pose questions for Ramaswamy
The roundtable discussion, part of a KCCI television series with Republican presidential candidates, offered three locals the opportunity to direct questions — some national, some local — at Ramaswamy.
Ramaswamy defended many of his most controversial policies, including raising the voting age to 25, cutting the federal workforce by 75 percent, repealing the Affordable Care Act, ending birthright citizenship, instituting a flat 12 percent federal tax, eliminating absentee and electronic voting and engaging in isolationist foreign policy.
The longest topic of discussion was Ramaswamy's age, which he said is the primary distinguishing factor between himself and former President Trump. Although he agrees with "90 percent of Trump's policies," he believes the U.S. would benefit from a leader whose "best years are still ahead."
Ramaswamy also contended that the "real divide in this country is not between Republicans and Democrats" but between those who have "American values" and those who don't.
Jacki Bolen, mayor of Montezuma, Iowa and candidate for Poweshiek County Supervisor, was one of the three discussion participants, and she said her impressions of Ramaswamy were generally positive, particularly in regard to his age and energy.
"I liked most of his ideas and policies," Bolen said in an email to the S&B. "I also liked the fact that he was willing to listen and even admitted that if someone could tell him why his ideas weren't beneficial to the American people, he would reconsider."
As of Oct. 12, Ramaswamy is polling at 7.5 percent nationally, behind Donald Trump and Ron DeSantis, according to FiveThirtyEight. Some political analysts have predicted that Ramaswamy could potentially be a vice-presidential candidate if Trump wins the nomination, although Ramaswamy says that he would reject the offer. 
As the Jan. 15 caucuses approach, it is likely that more Republican candidates will visit Grinnell. Trump will return to Iowa this week for two campaign events outside of Des Moines on Oct. 16.