With his simple campaign slogan of "truth" plastered behind him for the entirety of Monday night's town hall, presidential hopeful Vivek Ramaswamy returned to Grinnell at Drake Community Library, looking to rally an audience before the Iowa Republican caucuses on Jan. 15. 
Although he answered questions concerning foreign relations and federal funding for hunting programs in schools, Ramaswamy's controversial October altercations with local students, which caught the eye of national media, were not mentioned.   
The town hall proceeded smoothly, and the only response to Ramaswamy's answers was intermittent applause. 
Ramaswamy urged the crowd to speak freely. "That means you got to ask me not just the easy questions but the hard ones," he said. 
The casually dressed Ramaswamy, in a jacket, slacks and flannel shirt, acted familiar with his audience, thanking attendees for their participation and holding eye contact with them while speaking.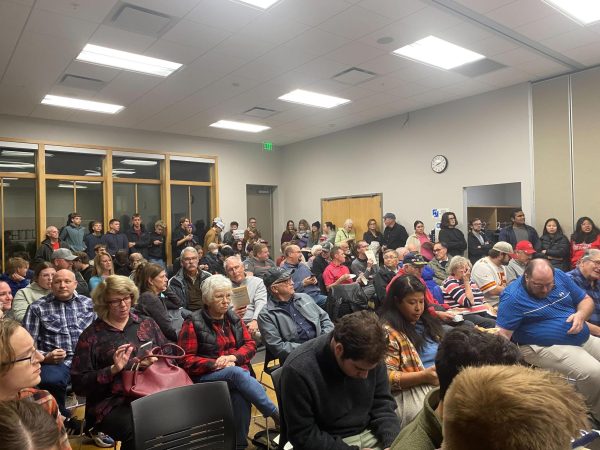 Craig Lang, who ran for Iowa Secretary of Agriculture in 2018 and gave an opening prayer before Ramaswamy's speech, said, "I like that he [Ramaswamy] challenges what I call the run-of-the-mill Republican philosophy."
Lang said one of the issues pertinent to him is border control.
"It seems like over the past 30 years we've been more concerned about fighting other battles around the world than taking care of our people here," he said. "But I believe it's fine for us to secure our own borders and take care of the people that we have here in this country."
On that note, Ramaswamy laid out his definition of what it means to be an American. He said, "It means we believe in the rule of the law. And I say this as the kid of legal immigrants to this country. That means your first act of entering this country cannot break the law," arguing that illegal immigration threatens the American identity. 
"That is why we will use our own military to secure our own southern border and our northern border, too," Ramaswamy said.
Victor Thorne `26 asked Ramaswamy about his beliefs regarding transgender youth. 
"Why not take a more moderate approach to these issues than the one that you're currently taking? Why not let families think about what is best for their children?" Thorne said.
"We may not agree on everything, we don't have to agree on everything," Ramaswamy responded. "My view is that in the name of protecting against a tyranny of the majority, that's what the Civil Rights Movement was largely about, we've now created a new tyranny of the minority in this country."
Both community members and students of the College attended the town hall on Nov. 20, many of whom purely out of interest. Jeremy Roberts-Kleben `26 cited the class POL-295: Presidential Nomination Politics as his impetus for attendance, and Samuel Grayson `27 said that he is "just interested in politics." Roberts-Kleben said that he attended the previous Ramaswamy roundtable event in Grinnell, describing it as a "disaster." 
Even after the town hall, some local Republican voters in attendance remained undecided. Recent Grinnell resident Ken Philips said, "He didn't sway me." 
Ramaswamy is set to hold 12 more town halls across Iowa on Nov. 21 and 22.