Despite its convenient location by the Dining Hall, the Smith Gallery can be an easy place to miss if the only thing on one's mind are garlic breadsticks and General Tso's chicken. But this gallery pulls its weight in whipping up equally flavorful selections of visual fare. Named for Edith Renfrow Smith `37, its unadorned walls and polished tiles are perfect for housing an eclectic range of student exhibitions where embroidered sculptures, photograph collections and paper collages cycle through every two weeks.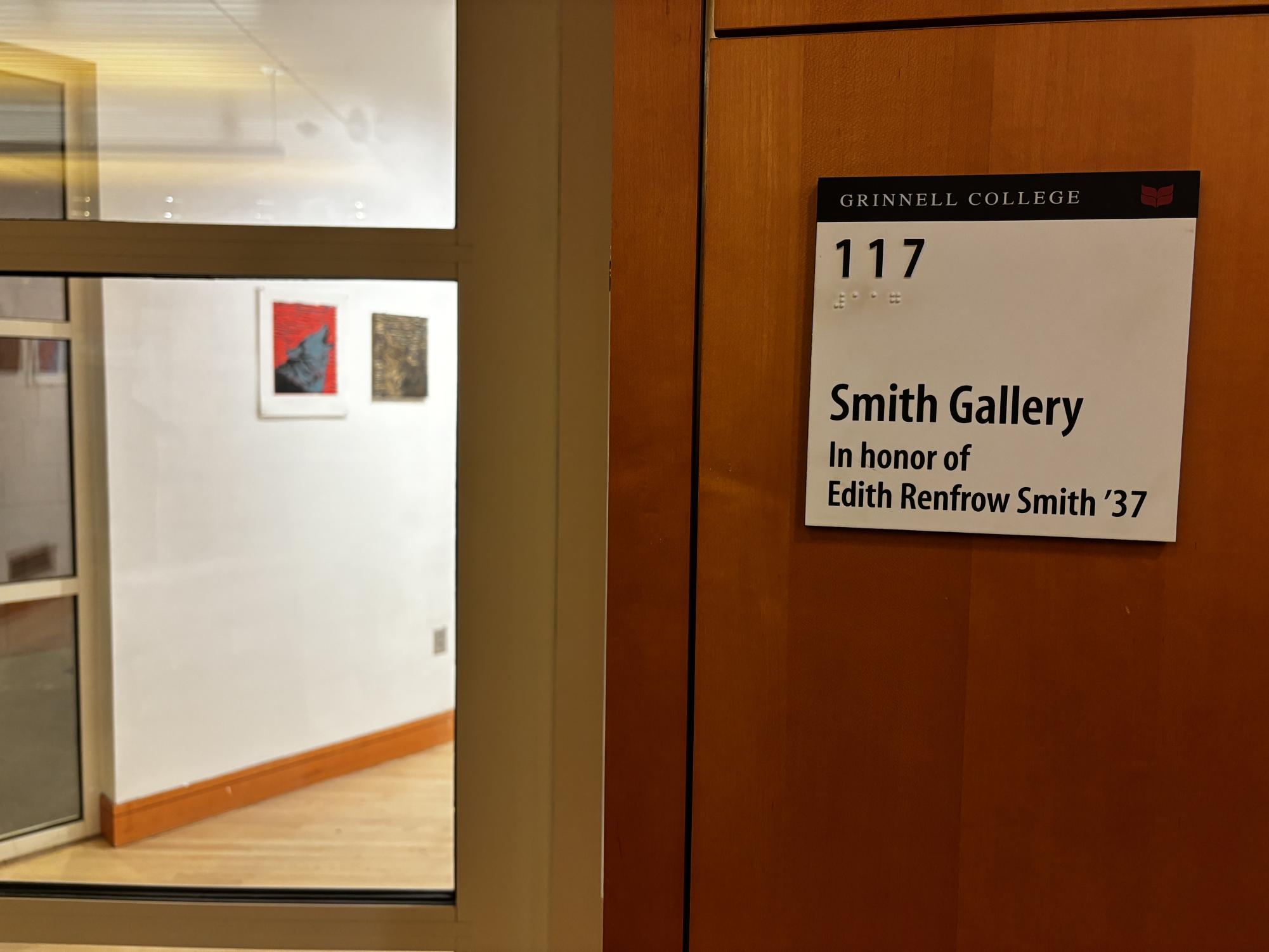 To apply for an exhibition slot, students must submit proposals to a panel of studio art faculty. According to Stella Lowery `24, a studio art major on the Studio Art Student Educational Policy Committee (SEPC), most successful applications come from upper-class studio art majors who are required to exhibit their work to graduate.  
The gallery is supported by the Studio Art Department's academic budget, so students do not need to pay out of pocket for materials. Instead, a closet in the basement of the Joe Rosenfield `25 Campus Center (JRC) provides general installation equipment. 
However, according to Studio Art Technical Assistant Matty Clark, the main supervisor of the gallery, there are no formally employed staff to help with installation and maintenance of the space. So, armed only with the door key and a dream, exhibitors have the hefty task of transforming the blank canvas of the Smith Gallery into a full-fledged exhibit of their own design – sometimes within the course of a day.  
"It definitely teaches you how to display your work, which is really beneficial, especially if you want to go into museum or gallery jobs," said Celia Meagher `23.5, who, in the past year, exhibited at Smith, the College-wide 2023 Bachelor of Arts Exhibition (BAX) and the off-campus Artist Salon exhibition hosted by the Grinnell Area Arts Center for the College's studio art majors. She noted how Smith Gallery shows allow for greater creative control in comparison to other exhibition opportunities. 
"Until you get in there, you don't really realize how big that gallery can be," said Kathryn Vermeulen `24, whose exhibition "Animals on the Block" is currently on display until Dec. 1. "I wanted to find a way to really fill up the walls and attract people in."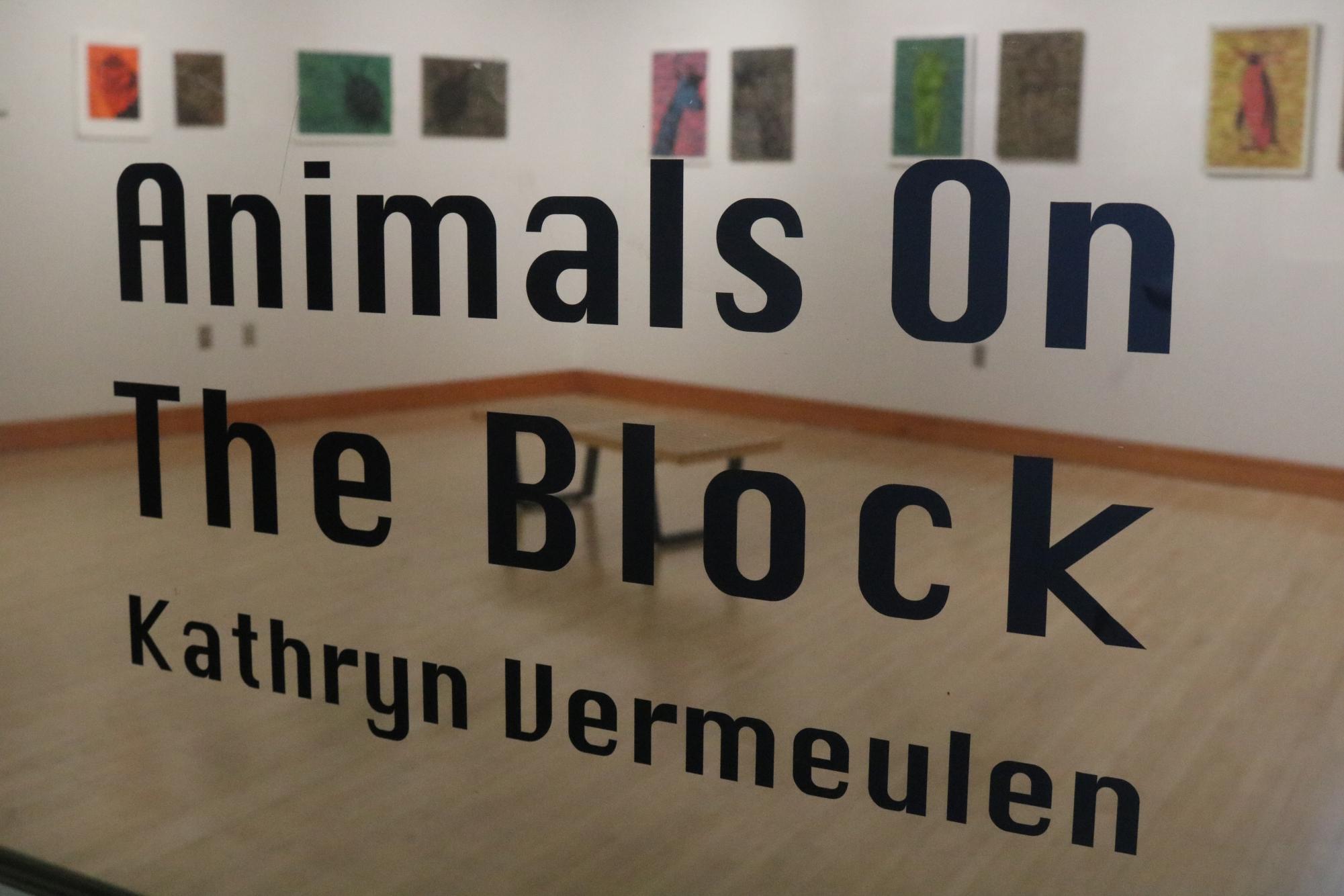 Lowery, meanwhile, is working on her fourth exhibition with the Smith Gallery, which will succeed Vermeulen's as the semester's last. She credited her Smith Gallery experiences for honing creative troubleshooting skills as well as a greater awareness of how to form connections between her works, beyond the confines of a class assignment. 
She and Vermeulen both said that they regularly had to seek advice from friends, professors and Clark, with Vermeulen adding that the assistance of a friend had been essential in ensuring she had all her works put up in time for the exhibition. The solitary journey of exhibiting at Smith Gallery, ironically, necessitated exhibitors to rely even more on their support networks. 
"A lot of friends were willing to come and even keep me company while I was making my art and that helped," said Vermeulen. "People were caring about what I was doing. That was really special." 
Vermeulen added that the central location of the JRC helped her "challenge [her] and break out of that bubble" of the arts community at Grinnell. While she enjoyed its tight-knit spirit, she felt that the arts, tucked away in the Bucksbaum building, were often cut off from the rest of campus. 
"There's a lot more diversity in the JRC," she said. "People go in there and ask the artists, 'How'd you get this idea? What's the purpose? What are you trying to do?' – They're so intrigued by the process… it can be a very inviting space for the rest of Grinnell students to access the arts." 
However, Meagher felt that, despite its central location in the JRC, fewer people were entering the gallery than there should be, simply because they did not understand what the space was about. She also added that she had faced communication problems in the past that hampered her exhibition set-up. 
"I wasn't told anything about my showing until like two days before I got access to this space," she said. "If there was a Smith Gallery team to help artists set up and take down and promote the space, make it known that it exists and that it's okay for people to go in there and look around… that'd be really helpful." 
Meagher went on to say that there were a sizeable number of students who had little to no experience with setting up their own exhibitions. "You're just getting thrown into the deep end with no support. It's kind of a bummer if you can't set up your work to the standard you wanted to have." 
Clark, however, said that while faculty were considering how to improve the space to "work better within [the Studio Art Department's] pedagogy," the purpose of Smith Gallery shows is precisely to throw students into the deep end, simulating work in a real gallery while also providing a low-stakes environment where students could learn on the go and develop their craft. 
"There's a lot of growth in that area when you decide to put your artwork out in front of the world," Clark said. "It's wonderful to see students go in like, 'Okay, I'm gonna make myself vulnerable.'" 
Vermeulen noted that "Animals on the Block" was the first time she had ever displayed her art so publicly. "It might seem scary to have that whole space to yourself, but it's an incredible opportunity. There's so many people willing to help, so many people that want to see your art." 
This semester, the Studio Art Department sought approval to hire another technical assistant and a student worker to offer more hands-on assistance to exhibitors. Lowery said that the Studio Art SEPC is also considering workshops on topics like gallery maintenance, installing and deinstalling – not only to improve general understanding of exhibition processes, but also to create and reinforce artist support networks that future exhibitors could turn to for guidance.  
"I think we've got a good vision for where we want to go," said Clark. "It's looking really good for the art department right now." 
Ultimately, Meagher still acknowledged that the Smith Gallery experience was one-of-a-kind. "It's just so public, and it's just there, and it was only my work. It was really just like, 'Damn, that's real.'" 
Lowery encouraged everyone considering exhibiting at Smith Gallery to simply send in an application, even if they fear their ideas are not good enough. "Everyone just wants to help you … in whatever way they can," she said. "Start trying whenever you want and see what happens … I think you'll get something out of the process." 
Applications to host your own exhibition in Smith Gallery during the spring 2024 semester will remain open until Tuesday, Nov. 21.