Despite the Grinnell College's ultimate frisbee open team's, the Grinnellephants, accomplishments in recent seasons and a rocky start to the current one, the team has not shifted from what its participants say is its longtime focus — creating a safe and positive community where all players can have a good time.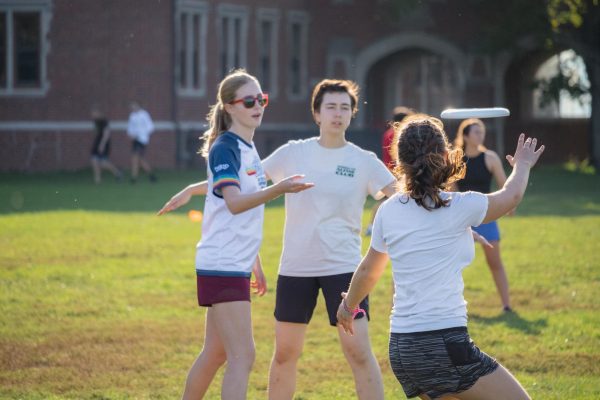 As the new year begins, the open team and the women's team, the Grinneleanor Roosevelts (Svelts), participated in the two tournaments that mark the beginning of the season, Elephantitis and Exit 69. 
Elephantitis is an unofficial tournament Grinnell hosts every year where ultimate frisbee teams, and sometimes Grinnell alumni, come to play against the open team and the Svelts, which took place on the weekend of Sept. 16. Similarly, Exit 69 is a tournament that was hosted by the St. Olaf College's frisbee team this year, and it took place on the weekend of Sept. 23.
Since Elephantitis is an unofficial tournament, the team did not keep records, according to Duncan Lambert `25, a captain of the open team. However, Lambert wrote in an email to the S&B that he thinks each Grinnell team won one or two games — the open team was split into two teams so that every player had more time to play. Meanwhile, the Svelts played several scrimmage matches against Macalester College. 
At Exit 69, the open team played against teams from St. Olaf College, Edina High School and the University of  Minnesota Duluth, and lost each match. The Svelts won against Truman State University and stalemated against University of Wisconsin-La Crosse. They lost against Winona State University, University of Wisconsin-Eau Claire, Edina High School and University of Minnesota. 
"It's very exciting to see how our team grows from the first day of the game, to the second, and to the last game. And how each player was pushing themselves so hard and trying to contribute to the team," said Betty Lin `25, one of the captains of the Svelts. "It was really exciting to see their improvement."
"Us as captains have really started to try to implement ways to develop players who have come in with little ultimate experience or no ultimate experience. I know Duncan [Lambert] and I came in with no real, big ultimate experience. Yeah. So we're trying to just develop those athletes and get them to be as best as they can," said Jack Connelly `25, a captain of the open team.
Additionally, both the open team and the Svelts have coaches they hired in February of 2023. After a year of planning and searching, the teams were able to clear the hires with the athletics department and human resources. The coaches come to practice once every two weeks and meet with the captains weekly to help them devise practice plans, wrote Lambert.
In the past couple of seasons, the open team players defied their own expectations, according to Lambert, and qualified to go to the Division III College Championships in the spring of 2022 and 2023, earning 10th place both times.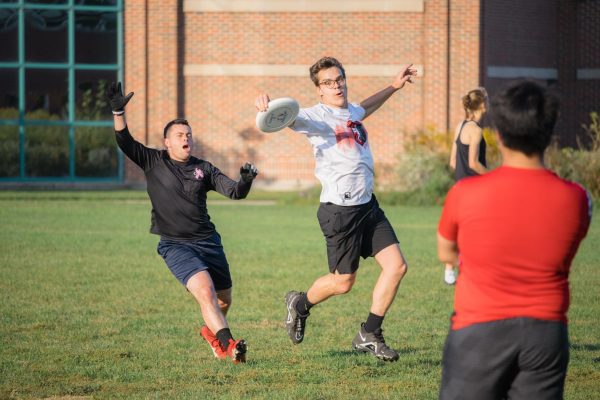 "Getting to [College Championships] twice was a dream both times. We wanted it both times, and we were talking about it both times. But I don't think either of the times we went in thinking that it was likely," said Lambert.
Lambert said going to the championships this year, like in previous years, is not an expectation. "I think there are a lot of people who want it. I will admit that it's something that I would love to see happen again, and it's something that I would want to have happen, but it's something that's going to be a lot of work, and whether we make it or not does not define our success. I think it would be an incredible accomplishment, but it would be a cherry on top. It would not be the whole sundae," he said.
Eli Eichner `24, a player on the open team, spoke on the progress the team has made over the years, saying, "I think one thing that's really special about Grinnell frisbee is that we've tried really hard to make it a good culture. I think in previous years before I was here, it was maybe not such a positive culture. But because of that, [in] my first couple of years, they worked really hard to make it a more positive and welcoming environment. That's very visible today."  
Eichner's sentiments were echoed by Svelts players Ellie Seehorn `25 and Adella Catanzaro `27. "It's a really great community to be part of," said Seehorn. "It's been a really cool place to find people, especially upperclassmen that can be mentors and friends, and show me the ropes, and all that kind of stuff, and just also a great place to get a good workout in every week," added Catanzaro.
The Svelts and the open team host events meant to foster team spirit, a sense of community and inter-team bonding, said Lambert. One such event is winter training, in which the teams practice together and host social events like barbecues, scavenger hunts and parties, said Lambert. "That's something that I'm particularly looking forward to in the next couple of months."
Both the open team and the Svelts are always accepting new players, and they encourage anyone who would like to play to join them at practice on MacEachron (Mac) Field on Mondays, Wednesdays and Fridays from 4:15 p.m. until 6:30 p.m.