In their last game before the start of their Midwest Conference matchups, Grinnell women's soccer fought Central College to a stalemate. In a home game ending in a 0-0 draw on Sept. 20, Grinnell brought their overall record to 2-2-2 (two wins, two losses, two ties), and while neither team scored a goal, both met an equal foe in a game filled with warring, back-and-forth shuffles over the ball.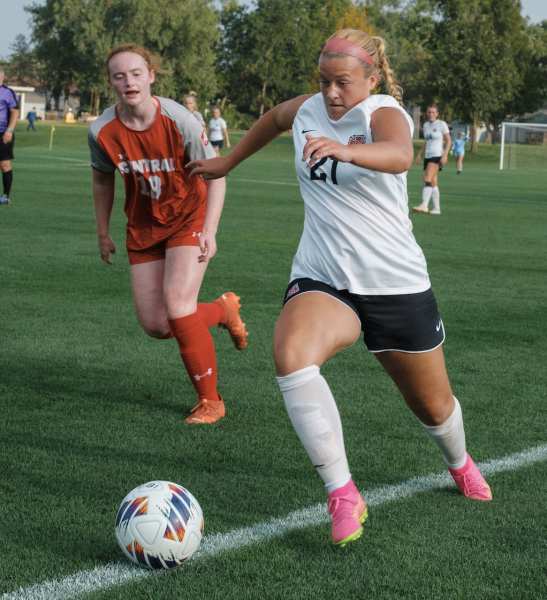 Within the first five minutes of the first half, Peyton Dixon `27, Grinnell's goalkeeper, had already blocked two shots on goal. But Grinnell did not allow Central to settle into a flow of strict offense and attack, countering with nine shots against Central's stalwart defense by the end of the game.
"As many chances as they had [to score], we had a lot more," said defender Maddie Beltramo `25, of Central's playing compared to Grinnell. 
"We're really close," Giada Bambi `25, midfielder, added. "[We're] getting the misses out of the way now so that in conference we can finish them [the goals] for real."
Kirsten Koester, head women's soccer coach, said the women's team used these games early in the season to try to "click as a team" before they get to the more consequential Midwest Conference tournament. Wednesday's game makes Grinnell's second 0-0 tie for this season, but Koester emphasized that the teams Grinnell has faced so far have all been worthy opponents.
"Even though we have some losses and some ties, we do feel like we're off to a really good start and really excited about where we can go," Koester said. 
In the final stretch of Wednesday evening's game, players commenced a desperate scramble for a winning goal. Grinnell finished the game with a last-ditch effort shot from forward Tali Berk `24. She missed, and the game ended in a tie.  
Players said they remain optimistic in the face of less than ideal results. 
"We always talk about using your frustration as drive in the next game," Bambi said. "And just have it make you want it that much more and having a goldfish mentality — just get rid of the one bad play and focus on the nine good." 
After a strong season for the women's team last year that culminated in their first appearance in the National Collegiate Athletic Association (NCAA) Division III tournament since 2006, players also said they think they have a reputation to live up to. 
"There's more to lose this year, but that also means there's more to prove and more to win," Gia Sundaram `25, defender, said of the women's upcoming soccer season. "I think we're ready, and I think we're gonna crush it."
Sundaram is already planning for their upcoming conference games. She also encouraged her team to look forward and not at past performances. 
"We have a lot to look forward to," she said. "Everyone's hungry. We're gonna get there."
The women's soccer team played their first conference game at Lake Forest College in Lake Forest, Illinois this past Saturday, Sept. 23. The results of that game can be found on the Grinnell Athletics website. They will continue their conference play at an away game at Knox College on Tuesday, Sept. 26.