The start of a new academic year has brought with it a new head coach for the men's and women's golf teams. With the hiring of Cole Cody as head coach of Grinnell's golf program, the positions of head coach for the two teams have been merged for the first time in over 10 years. 
Cody's goals for both teams are ambitious –– he said he hopes to make Grinnell a regular conference and national championship contender. But doing so is complicated, as the men's and women's teams are in very different scenarios, he said.
The women's team has had a history of success, winning their conference championship every year for the last decade. They are currently ranked 23rd nationally by the National Collegiate Athletic Association (NCAA). 
The men's team, however, has struggled to compete at the championship level in recent years. In the 2021-2022 season, they placed seventh out of 11 teams in the St. Louis Intercollegiate Athletic Conference championships, and in 2022-2023, they placed sixth.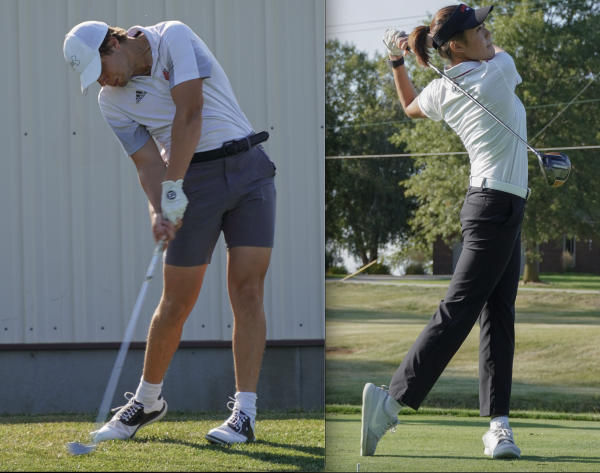 Cody said he hopes to change that and make both teams more competitive contenders for the trophy. He said he wants to elevate the women's team to a top 10 and men's team to a top 75 Division III national team.
"I think that's a very difficult, but very achievable goal," Cody said.
"It's definitely doable," said Parker Perry `24, a senior on the women's team. "We will achieve that if we keep going the way we are."
To accomplish these goals, Cody said he is working to find out exactly how to push both teams to play the best golf they can play. For the women, he emphasized regular drilling and filling in their capabilities. "If we aren't hitting it very far, we got to have great short games," he said.
He added that the women's team's biggest hurdle was themselves. Recognizing the team's history of victory, Cody said, "It's easy to rest on that success."
"He's got a lot of ambitions for the team," said Perry. "He wants to make us one of the best in the nation."
"I know that this team, this roster, is capable of so much more," Cody said, adding that trying to get them to unlock their potential has proved a challenge.
"
I know that this team, this roster, is capable of so much more.
— Cole Cody, head golf coach
He said that due to the team's consistent success, the coaching staff has had to adjust to the women's team's methods. "Obviously it's been working," he said. "They've earned a lot of respect in their own right."
For the men, Cody said, "they're just trying to get physically better every day." Cody added the men's team has taken the initiative in that regard, and even chose to hold workouts at 6 a.m. "We got to bring the juice," he said.
The men's biggest hurdle, Cody said, was developing the skills and abilities needed to compete at the championship level.
"We have a roster that has a good amount of athletic ability," he said. "But we have a lot of developing to do on the golf course." He added that that development included building the team's knowledge and establishing consistency of practice.
"We want to start putting ourselves in a position to win tournaments, and work hard and start making that happen," said Ian Strawn `24, a senior on the men's team. "If we ​​can find a way to make sure that all of our best players are playing their best when we need them to, I don't see any reason why we could not start bringing home some hardware and trophies." 
"
He's got a lot of ambitions for the team. He wants to make us one of the best in the nation.
— Parker Perry `24
"I think that coach Cody is a good step in the right direction," he added.
One of Cody's new policies, however, has drawn some concern from some of the athletes.
In the past, every athlete has been able to attend each of their team's tournaments. While only the top five qualifying players from each team would have their scores considered as part of Grinnell's team score, additional athletes could attend and play as individuals. Their scores would then be separate from the team's, and would not count for Grinnell's team score. 
Cody has changed this — athletes are now unable to compete at each tournament as individuals. As a result, only the five players competing for Grinnell for that tournament are permitted to play. 
"I'm not the biggest fan of that because I think you get better by playing and getting experience, especially for first years," said Lauren Chen `24, a senior on the women's team.
"If they've never seen any of these golf courses, how are they going to succeed in the future? How are they even going to get in the experience?" she added.
Chen said that under Cody's new rule, the first event that all of the golf athletes would be allowed to compete in together would be their conference championship. 
"If that's your first collegiate event, I don't think that sets you up for success," she said.
Cody said that the change was meant to motivate the athletes to push themselves. "This kind of competition doesn't allow anyone to sit back, relax and take the privilege of representing Grinnell College for granted," he said.
He added that players can gain experience playing at the collegiate level outside of their scheduled tournaments. 
"Every player can play in events over the summer months that have stronger fields and tougher courses than what we see week in and week out," Cody said. "The best players and the best teams take advantage of these opportunities to compete and grow from it."
He said that limiting tournament competition to those whose scores would contribute to Grinnell's team score would also prepare the athletes to handle the nervousness of competition. 
"Things are different when your score has the potential to matter for your team," he said.
Cody began as Grinnell's head golf coach this academic year, 2023-2024. Having played golf for much of his life before college, he competed on Hendrix College's Division III golf team where he earned a number of awards including the school's Coach G Warrior Award in 2022, an award given by Hendrix's athletic department to a senior whose contributions stretch far beyond their sport. He graduated in 2022 with a bachelor's degree in economics and business. 
After graduating, he worked for one year as an assistant golf coach at Henderson State University in a NCAA Division II program before coming to head Grinnell's golf program. He is currently pursuing his master's degree from Henderson State University in sports administration.