On Monday, Sept. 4, the Friends of Bob's — a student organization that maintains Bob's Underground in the basement of Main Hall — hosted the space's first open mic of the year. The event had a great turnout — before Ollie Peterson `26, treasurer of Friends of Bob's, beckoned everyone to squeeze in, there were students overflowing into the hallway because all the conventional seating had been taken by eager students who were ready to experience the opportunity for shared art that Bob's open mics provide.
This year, in collaboration with Freesound, the student music organization that provides sound equipment, Friends of Bob's is continuing to put on their open mics, which became a recurring event during the 2022-23 academic year. Signups are open to any student that wants to perform. At this recent open mic, students presented a variety of music, poetry and comedy sets.
Bob's Underground and its open mics have a recently rocky past — in 2017, College administrators closed the Bob's cafe space. When students returned to campus after the 2020 pandemic, the space was available occasionally. It continued to be in periodic renovation until the spring 2023 semester. As a place that has fostered social creativity among students, there has been an ongoing fight to maintain Bob's. 
Now, the current members of Friends of Bob's are working to continue to support the space. Based on the open mic this past Monday, the student population, especially those interested in the arts, agree with this tradition's importance.
Elizabeth Clarkson `25 serves as president of the organization. She said that the open mics are important to give the student body the opportunity to experiment and get involved in art scenes. Clarkson had frustrations with Bob's Underground being advertised when she was a prospective student but not being fully cared for by the College when she arrived. "I wanted to help out to have it as a space and be able to bring it back," she said. "Make more of the Grinnell that I applied to."
Peterson emceed the first open mic this year. "I think it's important to bring part of campus life into a place where people can share their stories with each other," they said. Peterson added that they wanted to get involved in Friends of Bob's leadership to help reinstall the traditions of Grinnell, especially from the creative side.
"
It's important to bring part of campus life into a place where people can share their stories with each other.
— Ollie Peterson `26
At the open mic on Monday, Valeriya Woodard `25 both played piano and sang in a cover of "Japanese Denim" by Daniel Caesar. Then for one of the final sets of the night, she teamed up with Beau Leavenworth `25 to accompany his singing of "Your Song" by Elton John. 
Woodard said that she knew it was a welcoming space for any type of talent. "I knew that regardless if I did bad, people would still clap." During her cover of "Japanese Dream," she told the crowd that she kept messing up. However, the joyful yells from the audience said otherwise.
Leavenworth said that the effect of the open mic tradition on campus is substantial. "It gives people an audience to voice their creativity," he said. "It's an important thing to know that your opinions and your art and your artistic voice can be heard or seen by people that you don't know."
Addison Smith `26 presented two of her poems, one titled "I Earned my First Dollar" and the other, "I Know it's True, I Will Believe it's True." Smith said that she has been writing poetry for a while and publishing her work online for feedback, but this open mic provided an opportunity not only to physically read them but also to get a sense for the live reactions of the crowd. "It's great for people who want to be able to try and get work out there, to try and get that feedback, for people who maybe there isn't a club they can easily go to and do workshops," she said.
Bohdin Bright `27 got the crowd laughing with sets of standup comedy. Bright actually had never performed comedy before, nor had he ever participated in an open mic, so this Bob's event was a night of firsts for him — a night received with laughs, applause and audience participation. He said that occasions like Bob's open mics are important to have everywhere. "Everyone likes good art, right? And you don't really get to be good at art without practicing, and this is a great way for people to practice," he said.
To further explore the tradition of Bob's open mics, the S&B spoke to a recent graduate, Eli Calalang-LaCroix `22, a regular attendee and performer at open mics during their time at Grinnell College. Calalang-LaCroix said that one of their favorite parts of Bob's was not only performing but also listening to the remarkable talent of their peers. "It feels like such a reflection of student culture in the way that the space has been made and cultivated," they said.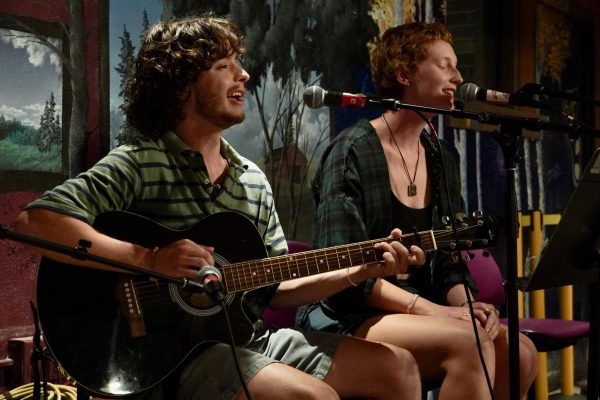 "It was a really lovely, inclusive and supportive space," Calalang-LaCroix continued. "It felt like people could go up, and do a mediocre job and still receive genuine applause and support, and that was really good to know." 
Calalang-LaCroix also said that it was important to have access to "third spaces," meaning comfortable spaces outside of the work-home division in life. "Those spaces are largely disappearing in sort of generic city contexts, and colleges are an opportunity for those third spaces to exist in a really planned and intentional way," they said.
According to an email sent from Friends of Bob's on Sept. 1, they will continue to host these open mics every other Monday in Bob's Underground.