With the start of a new academic year comes the resumption of student activities, and Grinnell College's Volleyball Club is swinging right in. Meeting twice a week, the club brings students of all skill levels together for two hours of clockwork serve-and-receive drills, blood-pumping scrimmages and, most importantly, camaraderie and good fun. 
Despite being a relatively new sports club on campus — the men's and women's clubs were only formed in 2022 and then merged later that year — each open practice session can see between 30 and 40 participants at any moment, according to captain Liz Neace `24. She and her co-captains Matt Kenny `26, Maya Flynn `26 and Vincent Yao `26 said they are determined to preserve this enthusiasm and propel the club to greater heights. 
"Having a first year under our belts as a club, we're really pushing to have a bigger competitive aspect," said Neace. 
According to Kenny, the captains are in the process of networking with fellow volleyball clubs in Iowa to arrange future games and tournaments. "We're looking to hopefully have some more traveling competitive matches, and then a competitive match or two here in the spring as well," he said.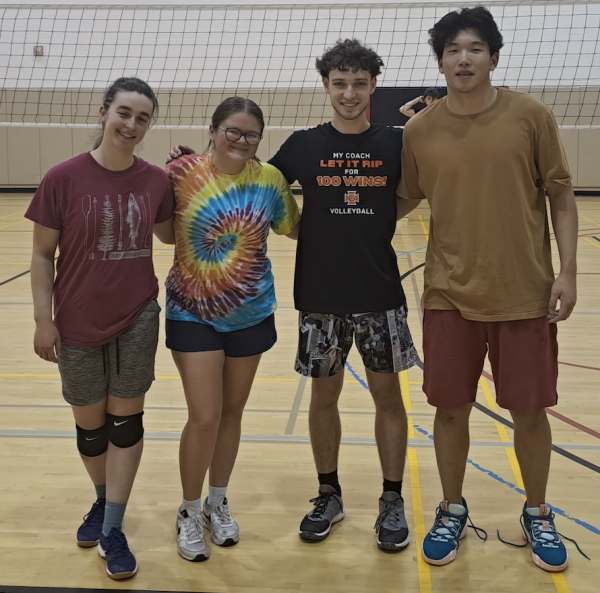 However, it was not all smooth sailing in the beginning. Kenny added that as a relatively unknown, new club in 2022, it was difficult to find teams to play with at first, calling it a "miracle" they had played any matches that year. 
"We're not an official club, according to Grinnell, because we haven't been competitive for three years," said Neace. "Our biggest goal is actually for them to allow us to have a game here." 
Neace explained that clubs must participate in tournaments for six semesters before they can be considered an official athletic club by the College. Without it, she said, the captains do not have the budget to bring anyone else outside the competitive team to spectate away games. 
Kenny said if there could be a match at Grinnell, then the rest of the club, as well as fellow students and staff, could come watch. "It can be really exciting." 
However, the club readily welcomes non-competitive players as well. On Mondays and Wednesdays, there are "open gyms", which see a steady stream of regular attendees, according to Flynn. She explained that open gyms aim to help interested individuals learn the basic skills of volleyball like serving, passing and hitting, as well as bring people together through short, friendly matches. 
"Our goal is basically for people to have fun," said Yao. 
Destany Best `25 started out as a complete beginner to the sport at the start of 2022. Now, she said she tries attending every open gym she can. 
"I'm a great server now," Best said. "I can receive the ball, I can hit the ball … I don't think I excel at all of them, but I can definitely play the court."  
Calling the club a "little family," her best memories include playing outdoors on South Campus's sand volleyball courts. 
Like Best, Katie Acosta `25 was also a beginner when she started coming to the open gyms last semester. Having improved since then, she said she now aims to work on her hitting skills. However, the highlight of the club, according to her, is its openness to new people and the constant opportunities that it provides to make new connections. 
"There's a lot of new faces, so I know a lot more people on campus now," she said. 
As for Paul Xu `26, "everyday is a highlight." He said he appreciates how diverse the club is in terms of cultural and sports backgrounds, and the team sport promotes communication and leadership skills. "People from different places, they come here to play volleyball, and they love volleyball … They love being here." 
"This is a place for people to relax, just enjoy life for a good two hours," said Kenny. However, he also emphasized the captains' efforts to promote a "growth mindset," even among casual players. "If they want to push themselves to learn a new skill, they can always ask any of us captains for help."  
Neace added that the sense of community and openness within the club was very much alive outside of its meeting hours.  
"Anytime I'm walking around on campus and I see some of our regulars or just anybody I've said hello to, we always greet each other, and it's always a smile," she said. "I'm really excited to see them, and I feel like the feeling's mutual."   
"If there's volleyball anywhere outside of our club, we're going to find our volleyball people there," Neace said. "The community that has just blossomed from this club is amazing." 
The club meets on Mondays and Wednesdays at the Charles Benson Bear `39 Recreation and Athletic Center Auxiliary Gym from 7-9 p.m. The competition team will have an additional practice on Sundays at the same location from 1-3 p.m. On Sunday, Sept. 17 and Monday, Sept. 18, trials for this semester's competition team will be conducted at regular practice times. 
"It's chaotic, and in a good way," said Neace when asked to describe what the Volleyball Club was to her. "Once you come in, it's like a magnet. You just want to keep coming back."