On the meme scene: Grinnell's underground meme culture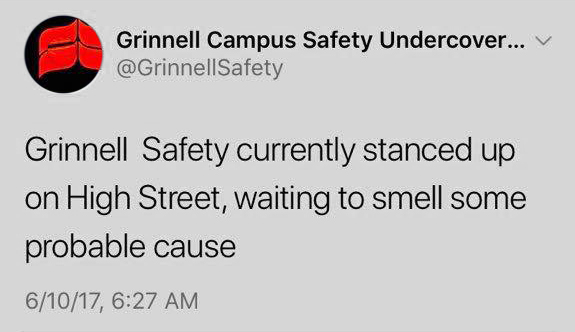 In the last several years, Grinnell has seen a growing community of social media parody accounts addressing various aspects of the College. This began in 2014, with a satirical version of College President Raynard Kington on Twitter. Numerous other accounts have cropped up on Twitter, Facebook and Instagram since then, imitating organizations such as the Dining Hall and Campus Safety. Each one is student-run and unaffiliated with the College.
Many of the account creators, who wish to remain anonymous, began their pages for purely comedic purposes. Noticing a number of trends specific to Grinnell, they decided that bringing their findings to social media would help to establish solidarity among students and bring amusement to their peers. Much of their content stems from the quirks and patterns occurring around campus that all Grinnell students have witnessed.
"It's been mostly just making fun of things that most of the students can relate to," said the creator of the Dining Hall parody Twitter, @TheGHallReview. "Like, 'oh, there's nothing to eat tonight for the seventh night in a row.' Or, 'the line for mac and cheese is out the door again.'"
While most of the tweets center around light subjects such as the rotating ice cream flavors and absence of the eggs-to-order station, it has occasionally touched on more serious messages. For example, a recent article in The Des Moines Register featured a tweet from @TheGHallReview that called on the College to divest from fossil fuels.
The creator ultimately prides themself on making content that will bring students together to laugh about things specific to their Grinnell experience, asserting that "no one else outside of this campus would have any idea what we're talking about."
Inspired by the @TheGHallReview, the creator of the parody Grinnell Campus Safety Undercover Operations, @GrinnellSafety, also intended to make light of one of Grinnell's key institutions.
"It kind of started out as a mix of things that could be feasibly considered real tweets that would be tweeted if Campus Safety actually had a Twitter account, mixed with some things that were slightly implausible or maybe some things that might be associated with an older internet user, not really knowing how internet works and mistaking Twitter for the Google search box or something," the creator said.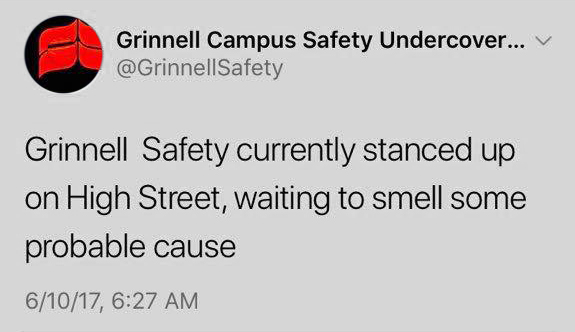 The account is also satirical, touching on relevant topics such as the tendency for Campus Safety carts to patrol the construction zone on Mac Field or break up rowdy events. However, the page has taken serious turns, for example in addressing the new organization of tables in the Dining Hall during fall break.
Both creators emphasized their goal of addressing relevant events around campus through their various mediums.
"A lot of it just has to do with what me or my friends have just commented on. What's the food today, what's a pun that could come out of it," the creator of @TheGHallReview said. "So sometimes there have been inactive weeks because nothing happens, but then the Winter Waltz will happen and there's just a lot of material."
Both of these social media account creators have found a way to bring people together and make their mark on the social scene of Grinnell, one tweet at a time.