Meet your SGA executive candidates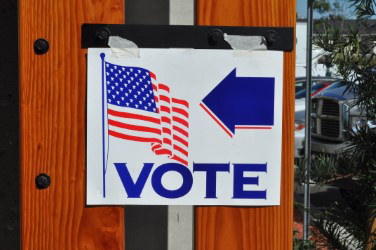 Grinnell's SGA executive candidates for the 2017-2018 school year are now campaigning for votes. The election will begin Monday, Feb. 27 at 8 a.m. and end on Wednesday, March 1 at 8 a.m.There is a single round of voting in which voters rank candidates, write-in and no confidence votes included.
If there is a tie, there will be runoff elections until a simple majority can be claimed, according to SGA's Election Guidelines.
Six of these candidates (White, Dodd, Wadle, Gelnarova, Tomasic and Epps) will have their names on the ticket, and two candidates (Lopez and Welch) are running write-in campaigns.
Candidates for President
Summer White
Summer White '18 is a political science major and policy studies concentrator. She is also a DC Posse scholar; a "persistent first generation college student"; a diver; and a public health and social justice activist. She has been working for SGA since her first year in the positions of senator, assistant treasurer and treasurer. Her priorities include promoting comprehensive health, ensuring safety, ensuring accessibility, catering to diversity, maintaining self-gov and "encouraging meaningful academics." She hopes to reexamine Grinnell's values and how the College currently embodies them, making sure they cater to the needs of Grinnell students.
"If elected, I will remain committed to representing the student body by advocating for our interests, maintaining open channels of communication and addressing existing and new concerns as they arise," White wrote in an email to The S&B.
Graham Dodd
Graham Dodd '19 is a political science major running for SGA President to strengthen self-gov and social activism, unify Grinnell's campus and listen to the student body. One of his main priorities is to maintain support by SGA for the College's divestment from fossil fuels. He is also committed to supporting mental health services for Grinnellians, both at the College and in the town of Grinnell.
"I will immediately begin to organize an initiative to reach out to alumni and make them aware of the plight of so many students on campus and how alumni can help," Dodd said. "Another crucial piece of the mental health dilemma is the town of Grinnell, which is in much the same position we are. I've already reached out to Mayor Canfield and his office regarding the need for increased communication between town and campus. They are enthusiastic about hosting a discussion on the issue."
Austin Wadle
Austin Wadle '18 is a chemistry and political science major running to better the relationship between the College and the town. Wadle feels that there has been a lot of conflict between the town and College for much of Grinnell's history and they want to develop a relationship between SGA and Grinnell City Council. Some of their other priorities include raising student wages with inflation and focusing on health services.
"I think [a nonelection year in national politics] will give students the opportunity to focus on the public service aspect and the civic engagement aspect … there are going to be some big changes overall in terms of health on campus. [Central Iowa Family Planning] closing and [limits on what] people can receive from Grinnell Regional Medical Center and other healthcare providers. I'm looking forward to doing some more work to make healthcare accessible," Wadle said.
Candidates for Vice President of Academic Affairs
Zala Tomasic
Zala Tomasic '18 is a political science and economics major, running because as an international student, she has worked hard to get to Grinnell to experience a competitive, rigorous and strong academic environment. She is a current Senator involved with the Committee on Academic Standing and SPARC Media Coordinator. Some of her priorities as VPAA would include convincing professors to return final exams and papers, making SEPCs more transparent and standardized and standardizing introductory classes, making sure the curriculum and level of difficulty in those classes are similar.
"Right now we just see our final grades on PWeb and we don't get any feedback. But we work really hard on those papers and study for those tests so it would be useful to get feedback," Tomasic said. "I understand how hard some people work so I want to make sure academics at Grinnell are competitive and rigorous and we get what we came here for."
Misha Gelnarova
Misha Gelnarova '18 is an independent major in international relations and communications. She has experience with the Alternative Language Study program and Peace and Conflict Studies Committee. She won the Project for Peace grant to educate high school students about migration and combatting anti-refugee sentiments. To satisfy the needs of the entire student body, Gelnarova wants to foster student-professor relationships, particularly for first and second year students, limit stress at the end of the semester through events and proactive studying and encourage more alumni-student relationships.
"My first actions as VPAA would be start working immediately with SEPCs and departments that have been voicing their needs for new faculty, additional course options and so on," Gelnarova wrote in an email to The S&B. She also emphasized advocating for film production resources, based on the needs that students express.
Abdiel Lopez (write-in candidate)
Abdiel Lopez '18 a sociology and art history double major with a concentration in american studies. As representative of the sociology SEPC, research tutor, ExCo coordinator, Undergraduate Research Journal editor as well as numerous other leadership positions on campus, Lopez has knowledge about many facets of student academic life. Some of their priorities include maximizing accessibility on campus, expanding Judicial Council hearing educational measures and working with tutorials to increase early success of students in various disciplines.
"Being a first-generation queer college student opened my eyes to the difficulty of balancing a healthy work-life schedule," Lopez wrote in an email to The S&B. "By putting the minds and health of Grinnellians first, I hope to foster a safer environment for students to engage in self-care, social justice or anything they're passionate about and still expand their minds to build a brighter future for themselves and the rest of us."
Candidates for Vice President of Student Affairs
Kahlil Epps
Kahlil Epps '18 is an English major who ran for VPSA and lost last year, but he's back for another try. Epps is president of Concerned Black Students (CBS) and has been an SGA senator and multicultural intern in the past. Epps feels that he knows how to get things done, and some of his intended projects include retaining a culturally competent therapist, creating new dining plans, fixing student appliances such as washing machines and printers and stabilizing college traditions.
"I believe that my past and current positions and opportunities have given me adequate knowledge and willpower to take on this role and move the student body forward to a better future. … I am most thrilled about being able to have a hand in changing the Grinnell community for the better," Epps wrote in an email to The S&B.
Dylan Welch (write-in candidate)
Dylan Welch '19 is a political science major running to make sure that mental health is addressed on campus. Welch is currently a senator and coordinator for the Liberal Arts in Prison program. His priorities include pushing cultural competency at SHACS to make sure that all students feel comfortable taking care of their health, promoting student safety in part by retaining a reliable relationship between the Title IX department and the student body and pushing for adequate Muslim and Hindu prayer spaces on campus. Most immediately, he felt that the need for mental health care was diminished in last night's executive panel.
"We need to not blame students for their drug and alcohol addiction, their physical dependencies. This is a mental health issue which needs to be combatted," Welch said. "We need to not say that they are lacking in common sense. They need our full support."