The Grinnell College Student Publications and Radio Committee (SPARC) publishes more than just The Scarlet and Black — its current other media includes The B&S, GOGUE, Grinnell College Press, The Grinnell Review, Grinnell Underground Magazine and Sequence.
Student publications display the comedy, art, fashion, writing and general culture on the campus of the College — SPARC organizations work to embody Grinnell values, talents and interest by representing them in print.
The B&S serves as a satirical newspaper that utilizes fabricated articles, news headlines, advertisements and graphics to comment on the campus atmosphere — standout coverage included one mock ad from Nov. 12 titled, "Ad: Intensive Skills Seminar: Respecting the Bathroom Space," which promoted a class with learning aspects directed towards misuse of shared bathrooms and includes "The Politics of Cleaning Your Hair Out of the Sink After You Shave."
"We take real things that happen and make fun of them by writing fake things," said Carter Ottele `25, editor of the B&S. 
Elke Calhoun `25, a writer for the publication, said, "Grinnellians tend to take themselves pretty seriously, so it's good for all of us to poke fun at ourselves and take a breath." 
Writer Henry Coen `25 said, "Because Grinnell is so small, there can be so many inside jokes or other things on campus that maybe couldn't be written about in a serious way." Ottele, Calhoun and Coen agreed that the B&S builds campus culture this way.
GOGUE, the College's fashion magazine is a newcomer in comparison to SPARC's other publication, having published their first issue in the spring 2022 semester. By combining photography, interviews and graphic design, GOGUE gives students the opportunity to both model their aesthetic styles and discuss their identities.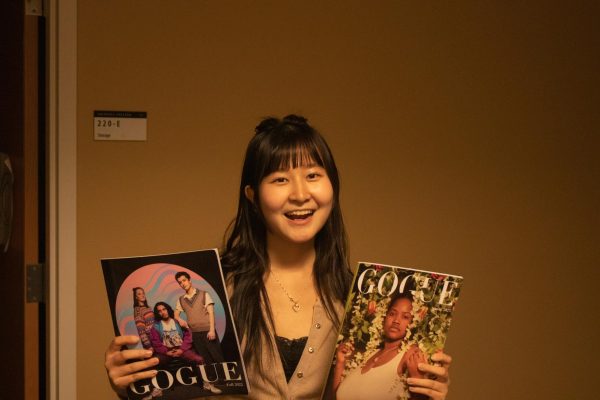 "We like to celebrate the diversity in the Grinnell community, not only in their fashion, but also in their identity and cultural backgrounds that contribute to the fashion," said Chae Yu `24.
Grinnell College Press accepts student works and transforms them into individual books — according to Zoey Nahmmacher-Baum `24, co-editor-in-chief, past Press work has included novels, short stories, poetry, photography, calendars and even a planner. She said that the publication adapts to the content creator's vision, allowing them to work directly with an editor to create their own book.
"For Press, whatever you can dream up, that's the limit," said Nahmmacher-Baum.
Emme Perencevich `25, fellow co-editor-in-chief, partly applied because of their interest in publishing. She said, "It brings a very unique opportunity for students to publish meaningful works to them."
The Grinnell Review is the College's longest-running art and literary magazine. They curate various student submissions to be assembled together in one publication, in contrast with Press' individual works, at the end of each semester.
Like other SPARC publications, the Grinnell Review is rebounding from COVID complications for on-campus media organizations and trying to return to pre-pandemic traditions. Ky Klassen `25, editor-in-chief of the magazine, said that being able to meet with content creators helped.
"I kind of get the warm fuzzy feeling that comes with having an impact on somebody that we want their art, and we want their writing, we think they're good enough. It makes me happy to know that people think their work belongs in a magazine," said Klassen.
The GUM presents alternative works of the campus in print. Though GUM brings student works together in one published piece each semester similarly to the Grinnell Review, their reputation includes an underground aspect — media that perhaps would not be accepted in mainstream culture. Each semester, the magazine notifies students of a theme for the upcoming issue — this term's being "Ashes to ashes, GUM to GUM."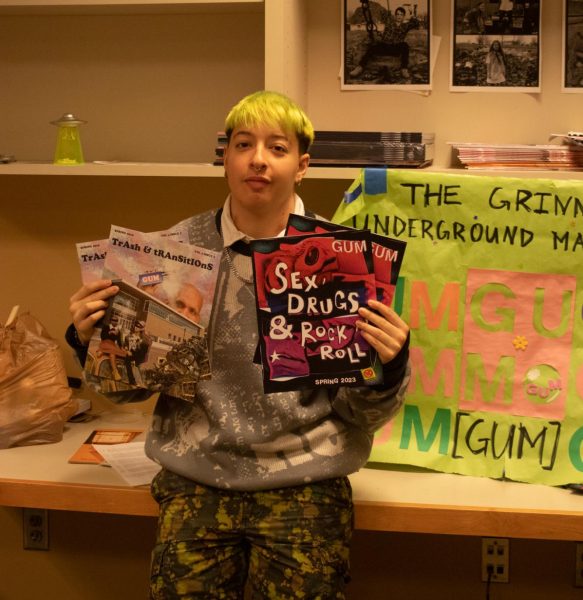 GUM Media head Ari Dworkin-Cantor `24 said, "We publish student art, writing, photographers, hot takes, collage, acid trips, haikus, tweets, Yik Yaks, et cetera. Anything that can be published, we will try our best to publish. We're here to pick up the scraps and bring the underground culture of Grinnell to the forefront."
The Sequence, established in 2004, is an arts and comics magazine that began as paid freelance work based in comics, which sets it apart from the other SPARC publications.
Katie Paek `24, a media head of the publication, said that when the publication model changed, they hired a team of content creators who began to produce more general art pieces. Now with budget cuts, the magazine has returned to a submission system without pay for the contributors.
"The distinguishing feature [of the Sequence] for a while was the ability to pay artists," said Paek. "There's a uniquely personal aspect to comics to really portray and capture your life in Grinnell."
Excluding the B&S, which publishes every other week during this semester, you can expect to read each publication's issue by the second week of December.