This Friday, community members are set to light up Central Park's Christmas tree for the holiday season. Three months before the tree lighting, Grinnell community members had already begun planning for the town's festive events – Holidays in Grinnell (HiG) and Jingle Bell Holiday (JBH). 
"We started casually discussing Jingle Bell Holiday in August," said Kendra Vincent, member engagement coordinator for the Grinnell Area Chamber of Commerce, which hosts JBH each year.  
"When most people are not even considering the holiday season yet, our brains are already on holiday overload," said Rachael Kinnick, president and CEO of the Chamber.
Vincent said that JBH kicks off with dance performances by Michelle's Dance Academy and Steppin Out Dance Studio, along with an inaugural lighting of the decorations in the park. Community members then have the chance to explore businesses throughout downtown Grinnell. 
"Jingle Bell Holiday is an opportunity to learn more about the community and go into businesses that you maybe haven't been into before with no expectation of purchasing," Kinnick said. These businesses often have live music, hot drinks or snacks to attract local foot traffic, Vincent added.
The variety of activities at JBH attracts an age group that "ranges from zero to one hundred," Kinnick said. Additional events include the Winter Farmers Market and photo opportunities with Santa Claus. The market provides a last opportunity for those purchasing gifts to support local market vendors, Vincent said. The Winter Farmers Market will take place during both JBH and the following Saturday, Nov. 18.  
By encouraging community members to come downtown, Vincent said that JBH exposes them to the decorations put up for the HiG in Central Park.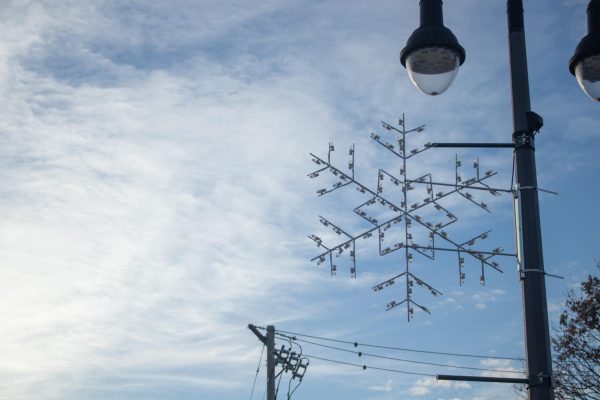 Jennifer McAlexander is the lead volunteer for the HiG decoration efforts. Following the completion of the Central Park remodel in 2018, the purpose of the event has been to highlight both existing and new park amenities, McAlexander said. She added that features including lighted arches, decorated trees, wooden photo frames and a vintage sleigh create photo opportunities throughout the park.
"We create our own Hallmark moment," McAlexander said. "We have a big countdown and then on one, everybody plugs in their lights throughout the park." 
"The very first year I did this, I pulled it off in six weeks," McAlexander said. "Because this is year six, a lot of features are in place now. But I usually start thinking about revisiting them in August." This year's HiG decorations will go up on Nov. 17 and be taken down on Jan. 1.  
McAlexander added that HiG decorations are usually expanded, relocated and enhanced from year to year. This year is no exception. 
"We have a couple new features that are related to a famous ballet on Christmas Eve," McAlexander said. "As long as I'm in charge, I want to continue to add features but not lose the classic small-town feel." 
In preparing for HiG, the decoration efforts are completely volunteer-based. "There's at least 50 volunteers in some way, shape or form," McAlexander said. Many of the volunteers get involved by contacting McAlexander directly, she said.  
"
I think we just love the community. And it's a very tangible way to give back.
— Jennifer McAlexander
McAlexander and her team of volunteers embarked on their "biggest installation project" in late October – installing the majority of the overhead lights. Additional volunteer groups, such as those from Grinnell-Newburg High School, local businesses and the retired community, put the finishing touches on the features and help McAlexander maintain them throughout the season.  
As for the motivation behind the HiG volunteer efforts, McAlexander said, "I think we just love the community. And it's a very tangible way to give back." 
JBH will take place on Friday, Nov. 17 from 5:15 p.m. to 8:00 p.m. this year, continuing a two-decade-long tradition. 
More information regarding the upcoming events and schedule of Jingle Bell Holiday, Holidays in Grinnell and the Winter Farmers Market can be found on the Grinnell Chamber of Commerce website.