When Diana Barba `26 went to UnityPoint Health – Grinnell Regional Medical Center for a consultation about a potential stress fracture, she said she was met with doors slammed in her face, a nurse who did not believe her pain and was called "a fucking bitch" by one of the nurses. 
On Sept. 15, a week and a half after Barba started noticing pain while running, she said she decided to see a nurse practitioner at UnityPoint, on the advice of her coach and athletic trainers. 
Barba's negative experience started before the appointment began, she said. When she called the hospital to set up an appointment, there was miscommunication about where her pain was. Although she said she emphasized the pain was near her knee but in her femur, she said the hospital workers only focused on the knee. Barba said she ended up needing two X-rays because of that miscommunication. 
The miscommunication about Barba's pain also occurred when she saw a nurse for her appointment, said Barba. 
"It really felt like as much as I was trying to express what was going on, she just kept going back to a different problem or stating that there was no problem at all," Barba said. 
"I knew going into the hospital alone, I was going to have to be pretty vocal and try to stand up for myself and say what was going on so that I could actually get answers," she said. "Instead of it being met with understanding or any sort of compassion, she more so felt threatened by what I was telling her and reacted very poorly." 
Eventually, Barba said the nurse told her that there was nothing else she could do for her. Barba said the nurse immediately got up and left the room. Not knowing what to do, Barba said she followed her into the hallway. Stepping into an adjacent room, Barba said the nurse turned and slammed the door in Barba's face. 
From behind the door, Barba said she could hear the nurse loudly talking about her to other nurses and doctors in the room. 
"
Instead of it being met with understanding or any sort of compassion, she more so felt threatened by what I was telling her and reacted very poorly.
— Diana Barba
Once the nurse slammed the door, Barba said she heard, "What a bitch. What a fucking bitch." 
UnityPoint Health emailed the S&B to comment, saying "UnityPoint Health – Grinnell takes all patient feedback seriously and investigates claims thoroughly. We are committed to the health and safety of our patients and team members. We are unable to discuss specific patient information due to national privacy laws."
According to Barba, the nurse continued to complain that Barba was not listening to her, that there was nothing wrong with Barba and said she refused to treat or see Barba again.
"It came as a shock because I didn't realize there was that big of an issue, if an issue at all," Barba said. "I was simply trying to vocalize what I thought was going on." 
Barba said she was left in the hallway, crying. "If you have this adult calling you a fucking bitch you're gonna feel a little alarmed, especially when, you know, I was going into this hospital feeling really scared, vulnerable to be there alone."
Eventually, she said she went to the front desk and asked if she could leave. 
In terms of reporting the incident, Barba said she filled out a detailed review of her appointment to UnityPoint. Barba said her parents also filed a formal complaint with the Iowa Board of Nurses and submitted a complaint to their insurance company.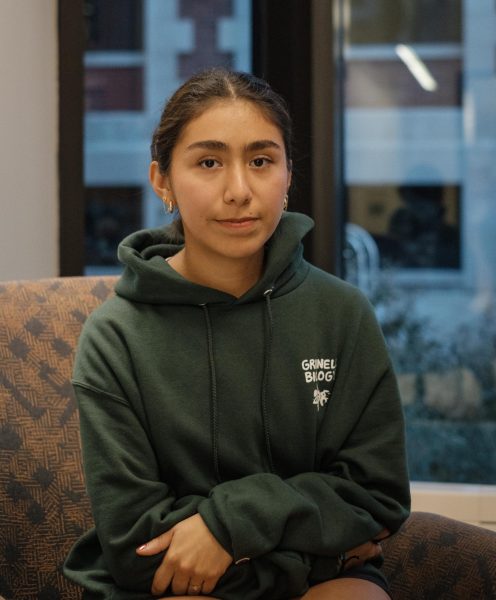 "I genuinely don't feel that I received any healthcare while I was there, nor did I feel like I was listened to at all by a medical professional," Barba said. "So I don't know why I would want to pay for my experience when it was extremely, extremely negative and not at all professional."
At the moment, Barba said she and her parents are waiting to hear back from their complaints.
Another cross country team member with a negative experience at UnityPoint Health, Andy Chestovich `26, went to the hospital with two friends on the team to get their iron levels checked. 
When Chestovich and his friends arrived at the hospital, they were directed to a different wing of the hospital than where they needed to be, he said. Chestovich said he called the front desk of the correct wing, and said it felt like the person on the phone did not want to see them at all. 
"It didn't feel welcoming," he said. "Just condescending and snarky and not making me feel good." 
Chestovich said he and his friends were told they could not get the tests done that day, and in an effort to figure out what was going on, one of his friends talked to the person at the front desk that Chestovich initially called. 
"She was pretty passive-aggressive to him," Chestovich said. "And then [my friend] ended up coming outside and we had to leave."
Both Barba and Chestovich said they would be apprehensive to return to UnityPoint if they needed to. Barba said the consideration was very real because shortly after her first appointment, she had to go back for an MRI on Sept. 29. 
"I didn't know if I wanted to go back in, just in fear that I would encounter her again or that everyone would think a certain way of me," Barba said. She considered going to a hospital in Des Moines or Iowa City, telling her coach, "I don't know if I even want to figure out what is going on anymore."
Chestovich said that although he would feel nervous going back to UnityPoint, his experience was not so bad as to not consider returning. "I guess the next time I go back I would hope for a more positive experience."
Immediately after her interaction with the nurse, Barba said she called her cross country coach, Sarah Burnell. The two of them discussed what happened and tried to figure out some next steps. 
"
I didn't know if I wanted to go back in, just in fear that I would encounter her again or that everyone would think a certain way of me.
— Diana Barba
"It was definitely disappointing," Burnell said. "In a small rural town there's not a lot of access to healthcare anyhow." 
Although she had not heard of other cross country team members with an experience as extreme as Barba's, Burnell said she hears of complications students have going to UnityPoint for insurance reasons. 
While she said she hopes Barba's experience with the nurse assigned to her is an anomaly, she said she is grateful to Diana for sharing her story. "That helps us be proactive in making sure other students don't have that same experience." 
Burnell said she notified the athletic trainers who partner with doctors at UnityPoint so they could connect with people at the hospital and let them know what had occurred. 
Update 11/14/23 12:50 PM – A paragraph, changed to reflect comment UnityPoint – Grinnell emailed to the S&B, has been moved up in this story. This paragraph had been added on 11/13/23 10:32 AM as an update to this article.
Editor's Note: The name of the nurse previously mentioned by Barba has been redacted following further editorial review.