One of only a handful of active Iowa Master Florists, Stephanie Latimer knows her flowers. Owner of Bates Flowers by Design on 4th Avenue, Latimer works behind the counter of the 116-year-old shop, which she and her husband purchased in 2018. The shop provides flowers and plants for graduations, weddings, funerals and anything in between. 
Anyone entering the shop will immediately be greeted with life. From the beautiful and healthy plants on display to the upbeat but mellow music and to Latimer herself, Bates Flowers by Design has a lively atmosphere. The shop, which was formed in 2015 as a merger between existing stores Bates and Flowers by Design, has plants and flowers in every corner. To the right of the refrigerator, which houses several plants, is Latimer, working behind her computer.
Behind her lies a living green picture frame. A wall covered in pots containing what she calls "rescue plants"– damaged delicate plants that she works to keep alive and growing – is just one of the many things that make the shop blossom. Her degrees and awards sit on shelves next to hanging plants. 
Among Latimer's accolades is her Iowa Master Florist degree, which she said sets her apart from other flower shops. 
"You don't call somebody a chef unless they've gone through the classes for it," Latimer said. "And there are a lot of states in the U.S. where you don't get to call yourself a florist or even open a flower shop unless you've gone through the courses." Latimer said accredited florists understand design, product sourcing and networking better than unaccredited florists.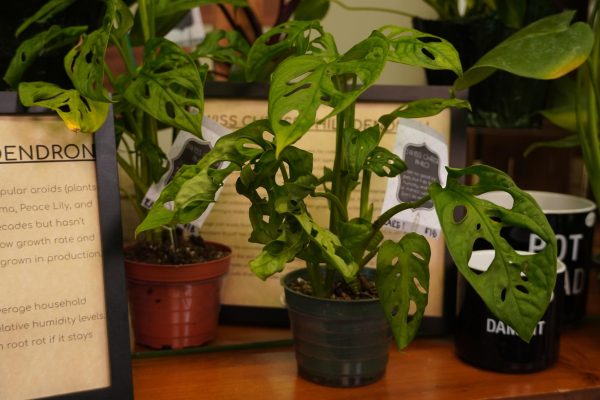 "Some people have specialties," Latimer said. "Some [doctors] don't do surgeries. There are florists like that too – some that do only weddings and events and some flower shops that do only funerals."
In Latimer's opinion, however, Bates is much more than one of these shops. As a prominent florist in Grinnell, Bates supplies flowers and plants for many events, including last year's commencement ceremony at Grinnell College. Bates has a history with College students, too. Over the years, many have worked at the shop, including Robert Noyce. 
Bates goes beyond just being a flower shop, too. Beside Latimer's counter sits a cooler full of hand-crafted chocolate, made by an artisan in Cedar Rapids. The blossoming haven on 4th Avenue is a destination for any student, resident or visitor.