The world of fashion has long been criticized by many for its encouragement of frivolous vanity, social exclusion, and the setting of impossible standards. But in Grinnell's student-run Fashion Psychology Organization, President Linda Pham `24 and Vice-President Fabio Montilla `24 aim to reframe the conversation around fashion's role in identity construction and demonstrate its function in personal well-being. 
The idea for the Fashion Psychology Org. first came about when Pham hit a snag planning her psychology senior thesis on the links between fashion, her lifelong passion, and emotions. 
"I attended a decent amount of costume exhibitions and I just felt like there was a disconnect," she said. "You can't touch all the clothes that are on display, and it's hard to understand all the things in the literature." She soon realized that there was a lack of appreciation for the complex relationship between fashion and the self, even though everyone needs to wear clothes.  
"There's this fundamental discrepancy between what the fashion industry wants and what we care about," she said. "You can't talk about clothes without talking about the person and how they feel."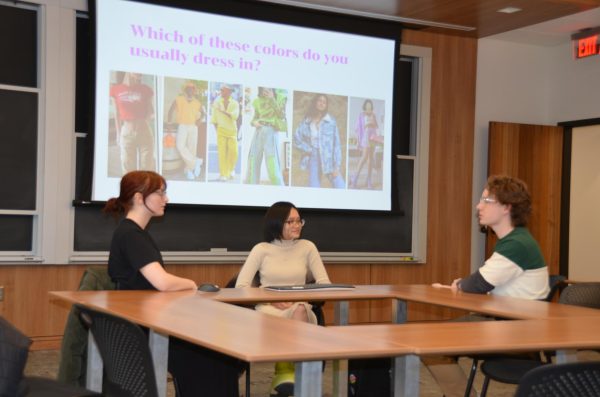 The club was born to fill this gap. Pham enlisted Montilla's help running the club. "The way you dress really explains your confidence and mood of that day," Montilla said. "There's definitely a balance between fashion and comfortability, and it's just what it means to be yourself." 
To change the narratives around fashion, the club has taken a client-centered approach focusing on wellbeing, and they plan to provide consultation services to Grinnell students on all things fashion. Hence, meetings center around several main activities that serve to prepare attendees for styling work – workshops and presentations on relevant topics like fashion illustration, sewing and the basics of stylist training.  
Ella Papp `25 regularly participates in the stylist training sessions. "I was intrigued by the Org. Fair booth, so I showed up to the first meeting," they said. "Linda really impressed me with some of the things she was considering in her presentations."
Papp said that the stylist training drew them in because of their love for aesthetics and helping others find theirs. "We usually focus on an aspect of styling such as color, silhouette, fabric," they said, describing the stylist training sessions. "We also practice matching things and talking about what works together and what doesn't."  
Pham said that she planned to roll out the stylist training program with a school-wide client survey. "Whether it's laundry and storage, outfit generation, wardrobe editing, purging of items or shopping … we can help." 
"
Whether it's laundry and storage, outfit generation, wardrobe editing, purging of items or shopping … we can help.
— Linda Pham `24
Although Pham has implemented and planned a variety of new offerings for the club this year, the Fashion Psychology Org. was actually founded in fall 2022, and activities were on pause during spring 2023 while she studied abroad. When she returned, she at first struggled with what direction the organization should head in. "I had the content for the presentations, but I wasn't sure what purpose it had," she said. 
Now, however, Pham has found renewed purpose. "I have this extracurricular I'm super passionate about and I'm going to look for things that are more directly relevant, to do the best I can do," she said.
Montilla said that the Fashion Psychology Org. emphasized to him the importance of stepping out of one's comfort zone, particularly as a trans man. Now, he aims to branch into more non-gender-conforming styles of dress. "If I want to wear a skirt… wear more colorful, popping outfits… I shouldn't let what the social standard has said stop me from doing that."  
Papp agreed with this sentiment. "If you actually try things, you are astronomically more likely to make friends," said Papp. "It can be a great way to feel more integrated in this community." 
"A lot of fashion clubs… are very exclusionary… if you're not dressed well, you feel extremely out of place," Papp said. "The people who come to fashion club, we tend to be people who just enjoy talking about fashion." 
Since 2022, interest has grown in the Fashion Psychology Org. According to Pham and Montilla, weekly club meetings see 10-15 attendees and 120 students are currently subscribed to the email list, an increase from only 1-2 consistent attendees and 69 subscribers last year. In fact, preparations have been ramping up for the club's most anticipated event of the year – a big runway show that will happen at the end of the spring semester. It will be the culmination of the club's yearlong efforts, and, according to Pham, aims to reconcile the concepts of "best" and "realistic" in fashion expression. "Bring your most stunning outfit, and also an outfit that you wear on the daily," she said. 
"I enjoy seeing how excited people are to be part of it. I love how people dress here at Grinnell; it's very much about themselves," Montilla said.
The Fashion Psychology Org. meets twice a week, on Fridays from 5 p.m. to 6 p.m. and Sundays from 4 p.m. to 5 p.m. in room N2116 of the Humanities and Social Studies Center (HSSC). The topics of each session will rotate between workshops, presentations and runway planning. They can be contacted via email fashionpsych@studentorg.grinnell.edu or on Instagram @grinnellfashionpsych.