Hundreds of Grinnell College students staged a walkout on Wednesday morning to express solidarity ​​with Palestine and demand that the College stop any financial support of Israeli hostilities.
Grinnell College Students Rally for Palestine
Demonstrators gathered in the Humanities and Social Studies Center to hear student organizers call for a ceasefire before marching to Nollen House to symbolically deliver the demands to College administrators. Students carried signs reading "FREE PALESTINE" and "Zionism is white supremacy" and chanted "Netanyahu, you can't hide, we charge you with genocide," in reference to Israel's prime minister.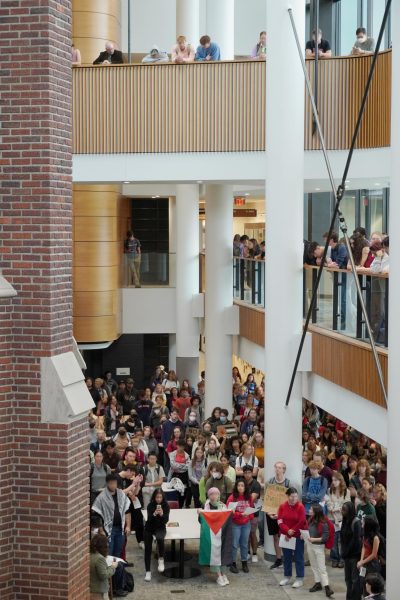 Grinnell Students for Justice in Palestine (SJP) organized the walkout to demand an end to the siege on Gaza and United States military funding and arms to Israel. The walkout at Grinnell was part of an international day of pro-Palestine demonstrations facilitated by the Palestinian Youth Movement, an organization with over 200 college chapters in America and Canada aimed at creating a united front against the Israeli occupation of Palestine.
"This is a sign of unity. This is us taking collective action," said the first speaker, a leader for Grinnell SJP, who remains unnamed to protect their identity. "We won't stand for the violence that we are seeing."
"I am Jewish. I am an anti-Zionist," the speaker said. "I reject that being Jewish means blindly supporting the murder of children. I reject that the collective trauma of my people be wielded as a tool to oppress another population."
To date, Israeli strikes on Gaza have claimed at least 6,546 lives, including 2,704 children, according to the Palestinian Ministry of Health. The U.N. Office for the Coordination of Humanitarian Affairs says there are 1.4 million Palestinians internally displaced in Gaza. 
A Palestinian student spoke after the three Grinnell SJP leaders, condemning the violence by both sides and asking people to recognize the humanity of Palestinians.
"The family that I have in Gaza that have gone missing? They're not terrorists," the student said. "And they still were bombed and were still labeled the same way as the Hamas militants. Terrorists. Inhumane. Human animals. This needs to end."
Grinnell SJP leaders distributed to demonstrators a list of demands for the College, asking students, alumni, faculty, staff and community members to apply coordinated, unified pressure on the administration and trustees. 
"I reject my tuition being used for the escalation of war crimes," the third speaker said, also a leader of Grinnell SJP, sparking loud cheers from the crowd of students.
The demands included more transparency from the College on its investments and immediate divestment from any and all investments that financially support Israel or its military, pointing to Grinnell's history as one of the first academic institutions to divest from South African apartheid. 
Students also insisted that the College release a statement acknowledging the "genocidal violence" and "ethnic cleansing of Palestinians" and calling for a ceasefire in Gaza and an end to U.S. military aid to Israel. Students urged that a scholarship fund be created for Palestinian students and more Palestinian scholarship incorporated into course curricula.
"We cannot call ourselves a socially just institution while continuing to stay silent in the face of Israeli apartheid and oppression," wrote Grinnell SJP.
The Israel-Hamas Conflict: A Backdrop
Israel formally declared war against Hamas on Oct. 7 after the Islamist militant group fired rockets into Israel and stormed southern Israeli cities, killing and injuring hundreds of soldiers and civilians and taking over 200 hostages. The Israeli military retaliated with intensified counter-attacks and a complete siege of Gaza, halting the supply of electricity, food, water and fuel to the Palestinian enclave. 
Grinnell SJP leaders wrote in a statement of solidarity on Oct. 11 that "peace is contingent on lifting the blockade, ending the illegal Israeli occupation, and dismantling the Israeli apartheid state," adding that "there can be no peace without Palestinian liberation."
Last week, President Biden requested a $105 billion national security package that includes $14 billion to help Israel defend itself against Hamas. Biden is hoping that bundling aid for Israel and Ukraine will increase the likelihood of passage through a Congress increasingly divided on aid packages. Included in the administration's request is $10 billion for humanitarian relief for Israel, Gaza and Ukraine.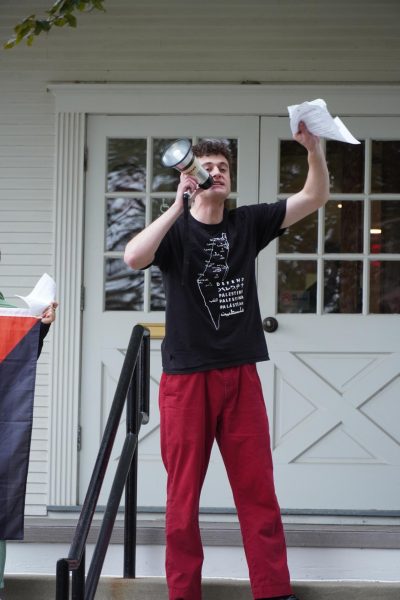 Tensions Rise in U.S. Colleges over Israel-Palestine Stances
The demonstration at Grinnell came at a time when tensions are high between students, administrators, donors and lawmakers across the United States.
Prominent Harvard University alumni recently denounced a pro-Palestinian statement signed by 34 student organizations that held the Israeli government "entirely responsible for all unfolding violence." Some alumni also threatened to stop donations unless the university took action against the signatories. 
Similar controversies have played out at other colleges, including three Ivy League students losing job offers after their employers learned of their pro-Palestinian stances.
In Florida, governor and Republican presidential candidate Ron DeSantis ordered the State University System of Florida on Oct. 24 to shut down chapters of SJP.
In Iowa, Republican Senator Joni Ernst advocated for the federal defunding of some colleges that are "promoting antisemitism."
Grinnell College Administration Responds to the Protest
The promotion of the walkout on Tuesday via College platforms prompted a response from the College on Wednesday morning. At least one member of Grinnell SJP sent emails to numerous student organization distribution lists, encouraging students to participate in the walkout.
College President Anne Harris wrote in an all-campus email sent Wednesday that "the College does not endorse the content of these communications." 
"As an institution, we affirm the right to assembly and support free speech and expression in the form of protest and demonstration," Harris wrote. "We simultaneously have responsibilities to each other. We have a responsibility to sustain an environment free from harassment and discrimination."
A reference by Grinnell SJP leaders to Harris' email was met with a chorus of "boo."
Grinnell College has not released a statement on the Israeli-Palestinian conflict since Oct. 9, when President Anne Harris shared a message mourning the loss of life on both sides. 
Grinnell SJP leaders encouraged students to contact the College's Board of Trustees and continue demonstrating support for Palestine moving forward.
"
The fight for Palestinian justice is not going to end today, it's not going to end tomorrow
— Grinnell SJP leader
"[Today] is a drop in a very, very large barrel. A step in a very, very long fight. The fight for Palestinian justice is not going to end today, it's not going to end tomorrow," said a Grinnell SJP leader. "So it's important that we are speaking up today and using this as a point to jump off of to continue organizing in solidarity with Palestine in the long run."
The S&B requested comment from President Harris and was directed to Ellen de Graffenreid, vice president of communications and marketing. De Graffenreid said that Harris is currently traveling and referred the S&B to Harris' email sent on Wednesday morning.