Tucked behind Game House on the south side of campus lies an oasis that tells a unique tale. At the Grinnell College Garden, it's not only lemon cucumbers, walking onions and new girl tomatoes that thrive, but also a deep-rooted bond between nature, life and community, according to Jonathan Andelson `70, professor of anthropology.
"City boy" turned "Iowan-by-adoption," Andelson recalls the garden's humble beginnings in 2000. As both the supervisor of the garden and an anthropology professor, he says, "We should not ignore our location, but celebrate it." 
Born out of the Center for Prairie Studies, the garden became a living classroom and vital food reservoir — donating thousands of pounds of produce to dining services and to the Mid-Iowa Community Action food pantry.
"
It's really fun to see the students connect with this and to see them really come alive, and I get a certain amount of satisfaction from producing food that people will eat.
— Jonathan Andelson `70, Professor of anthropology
Complete with sinks, a drip irrigation system and a series of raised beds, the garden is further adorned with some fruits of wisdom and quotes. "I feel connected to my ancestors when I can put a meal on the table of food I grew," reads a quote by author Bell Hooks.
The garden has faced many challenges in the past few years. "It was hard to keep it up," Andelson said, thinking back to the time students were sent home during the pandemic, leaving the garden neglected. Then the weather threw its own curveball in 2021 when a derecho toppled two ancient trees, leaving two massive stumps and destroying several beds in their wake.
The garden has rebounded with a harvest of 1800 pounds of food in the past year. This year is on track to beat that, with 600 pounds harvested just last month. "A lot of things are just better," said Andelson. "It's really fun to see the students connect with this and to see them really come alive, and I get a certain amount of satisfaction from producing food that people will eat."
Franny Atmore `24, a garden apprentice from Minnesota, frequently stops by to pluck out weeds, water the plants and harvest produce from the garden. "I've always loved putting my fingers in the dirt," she said. "It's very therapeutic. I'm outside, I'm getting sun and I'm talking with people who are also super nerdy about nature."
Emmy Potter `24, another garden apprentice from Nebraska, drew attention to the disconnect between rural communities producing most of America's food and their disproportionate struggles with food insecurity.  "Places like the garden bridge that gap," she said. "It's a great location to ground yourself in place around food and help people genuinely."
Carrying a haul of zucchini, summer squash, walking onions, lemon mint, sage, arugula and carrot greens for her rabbit, Potter was excited to be eating locally and to make some of her signature dishes, including butternut squash ravioli and zucchini pasta. "Anything I don't eat goes to the bunny," she said.
Challenges still loom large at the garden. In the wake of the student wage increase and Andelson's proposal for extra funding getting rejected, he said he will have to "go back to the drawing board and come up with solutions" to keep the garden afloat. Squash borers and invasive Japanese beetles have also been adding some insect pressure on the organic certified garden.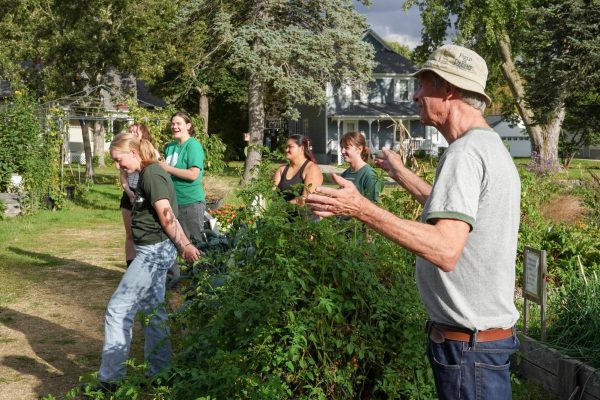 He offered his take on existing legislation, including the Farm Bill, an enormous spending package that is due for reauthorization at the end of September. "I'd like to see more equity. How about more Farm Bill money to support vegetable farmers? It should support all small farmers, not just large commodity producers." 
For Andelson, The stark paradox of Iowa, a major food producer importing 80% of its food, underscores the pressing need for more local vegetable farms and small farmer training.
"I wish more students were able to look out at a landscape and know what's prairie, what's corn, what's soy, what land is important to protect and what land is in the Conservation Reserve Program," said Cori Jakubiak, director of the Center for Prairie Studies.