Between performing a piece commissioned for just a small consortium of choirs, collaborating with the 100-year-old Grinnell Oratorio Society and touring the East Coast over spring break, the Grinnell Singers choral ensemble are set to challenge themselves this 2023-2024 year.
This year brings a combination of familiar and newer features for the musicians to encounter. Their rehearsals and concerts, both at Grinnell and on tour, retain the same structures as in previous years and continue to involve dedication to choral music. The ensemble's season kicked off with their Family Weekend Concert, which took place this Saturday, Sept. 30. In the spring 2024 semester, they are planning to head to the East Coast for their annual spring break tour. After the tour, they will host conductor Simon Carrington for a week-long residency.
However, the musicians may also find themselves outside of their comfort zones with plans to tackle original pieces and mediums. In November, the choir will premiere a specially commissioned piece by renowned Emmy Award-winning composer Joel Thompson, and in December, the Singers will unite with the Grinnell Oratorio Society to perform a multimedia work by composer Jocelyn Hagen. 
John Rommereim, professor of music at Grinnell College, conducts the Grinnell Singers. He has returned this semester from a year-long sabbatical with hopes of taking the ensemble to new heights.
"It's a little challenging to come back and have a whole new crop of new students from last year, and then the new students this year," said Rommereim. "I really have to know the choir." The conductor also emphasized the importance of friendly relationships between members of the group, saying that building the choir is both a social and a musical project.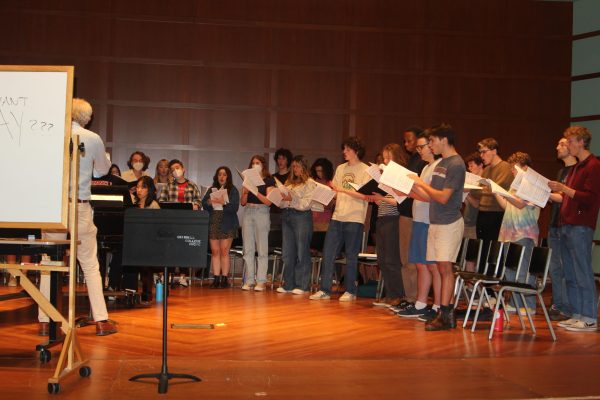 The College commissioned Thompson's composition — "Love Songs from Lonely Letters" — in a consortium with Harvard University, Macalester College, The University of St. Thomas and the Ars Nova Singers after Rommereim heard about the composer's "The Seven Last Words of the Unarmed," a work about police brutality against unarmed Black men.
"This seemed like a really powerful voice," Rommereim said. "I just thought [Thompson] would be a wonderful person to commission." Rommereim then reached out to the different choirs to both share the finances and spread the impact of the work.
About the piece itself, Rommereim said, "I find it to be quite profound, and I feel really honored that he wrote it for us and for the other consortium members. I feel like it's an important contribution to contemporary musical and cultural life, and I'm really glad that the choir –– Grinnell students –– can be part of, I don't want to say the front edge, but part of reshaping or shaping contemporary culture through this project."
The Grinnell Singers performed the first half of "Love Songs from Lonely Letters" at the Family Weekend Concert, and they will premiere it fully during their fall concert on Nov. 12. On the weekend of the premiere, Thompson will be coming to Grinnell to work with the choir and to view the performance.
Rommereim also said that he was excited about the combined force of the Singers and the Oratorio Society. The two choirs will get together in December in a group of about 90 musicians to perform Hagen's piece about the notebooks of Leonardo da Vinci. Rommereim said that Hagen's concept was to design a multimedia work with musical and video-graphic aspects. For example, Rommereim explained that the video opens with a scene of da Vinci writing, and as he writes, a flute starts to sound. Then the choir starts to sing, building on the instrumental sound.
"It's such a pleasure to be in rehearsal and working on this music, but then also to have the stimulation of considering these artistic ideas and some philosophical ideas which enhances the holistic experience of being in a choir," said Rommereim. "It's not just learning a bunch of notes and singing. It's an adventure into this artwork." 
Mia Eierman `24 has participated in Grinnell Singers during her time at the College and continues with the group into her final year.
"
It's such a pleasure to be in rehearsal and working on this music, but then also to have the stimulation of considering these artistic ideas and some philosophical ideas which enhances the holistic experience of being in a choir.
— John Rommereim, Professor of music
"It just feels like a comfortable place to return to, and at the same time, it's a comfortable place to be pushed, and try new things and learn new things," said Eierman. "Just being a part of the Grinnell Singers makes me feel very recognized and valued as an artist."
Eierman said that she was excited for the composition by Thompson, but also that she was happy that the Singers had the chance to perform one of Rommereim's pieces for the Family Weekend Concert. "I've never learned a piece where our conductor was also the composer," she said.
Jadyn Al-Fatah `27, on the other hand, comes to Grinnell Singers as a first-year choir novice who is excited to perform and explore music opportunities at the College. According to Al-Fatah, "Love Songs from Lonely Letters" is an odd piece. "But something about odd pieces just resonates with me so much, and I just love doing them so much," he said.
Al-Fatah said that he hopes to continue his time with the ensemble throughout his years at Grinnell to improve his singing and put himself in a learning community.
The Grinnell Singers displayed a glimpse of their talents this Saturday, Sept. 30 at 8 p.m. at their Family Weekend Concert in Sebring-Lewis Hall in the Bucksbaum Center for the Arts. Rommereim said that this concert came earlier in the season than the choir is accustomed to, which gives them a head start in working towards achieving their ultimate goal –– delivering stellar performances for this year's upcoming wide-ranging opportunities, and learning throughout the process.