On Thursday, Sept. 14, the Writers@Grinnell (W@G) program began this semester with a roundtable discussion and reading from Claire Forrest `13, who recently published her first novel, "Where You See Yourself." The novel draws on Forrest's own experiences as a wheelchair user with cerebral palsy.  
Forrest holds a Master of Fine Arts degree in writing for children and young adults from Hamline University. During her time as a student at Grinnell, Forrest was a consultant for the offices of disability services and admissions and an English major. She said that she used to write adult fiction, but that the work just did not feel right. When she finally realized that young adult fiction could be a legitimate career, her work became much better and truer to herself, she said. 
Forrest discussed the appeal of the young adult novel. "You come of age at 17-18, but I kind of said, 'I feel like I've come of age every year of my life.'" She said she wants to be able to look back and see how she has changed. Similarly, at the round table discussion, Forrest mentioned that her favorite part of the writing process is revision. For Forrest, growing, changing, rewriting, reworking and developing never stops. 
The featured novel, "Where You See Yourself," is a coming-of-age story about a high school girl who has cerebral palsy and uses a wheelchair. The novel depicts moments unique to the experience of a person with a disability, such as fighting for accommodations and coping with a lack of understanding from friends and loved ones. Forrest said that she wanted to write a book for young people with disabilities — she did not want the entirety of the novel to be focused on educating others about disabilities. "I didn't want it to be a disability book. I just wanted to write a good story about friendship, and romance and family, and also, she has a disability, because that's what my life is." 
Both the round table discussion and the reading were attended by community and staff members, some of whom had known Forrest during her time at Grinnell. Forrest read two passages — one in which the narrator and main character, Effie, discussed her college plans with her mother and another where an alumnus from her dream school interviews her, both while Effie is in the midst of a fight with one of her best friends. The novel is written in the first person, creating an intimacy between its narrator and the reader.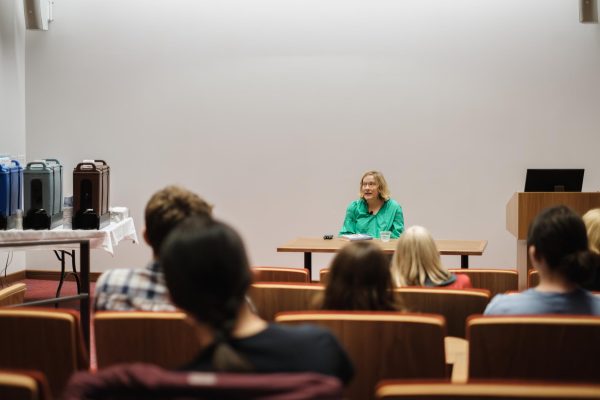 The reader experiences everything in Effie's head — Forrest said that she intended these thoughts and feelings to be relatable to the reader's own high school experiences. She said in the roundtable discussion that she fact-checked things teenagers say and think with a friend who is a high school teacher, lending the novel more credibility to the teenage experience. 
Forrest said that although the book pulls from her own high school experiences, Effie is more aware of the systemic ableism that exists around her than Forrest was at that age. Forrest also said that she and Effie share a wry, ironic sense of humor, but as she wrote the novel and allowed the characters to develop, Effie began to speak for herself. "Sometimes [Effie] comes up with something and I think she's really funny, and I don't quite know where that came from," she said.  
Forrest said she is committed to fighting ableism. Forrest said that her time as a consultant for the offices of disability services and admissions at Grinnell made her think more deeply about what other people with other disabilities needed. 
On Grinnell, she said, "It was not perfect in terms of accessibility access — it still is not — but I feel really fortunate for the support I had at the time." 
Further reflecting on her time at the College, Forrest said, "It was just a really safe place for me to explore about myself and think about myself, and I felt really comfortable here." 
Forrest is currently working on another young adult novel that also includes disability representation and involves a breakup with a close friend.
"
It was not perfect in terms of accessibility access — it still is not — but I feel really fortunate for the support I had at the time.
— Claire Forrest `13
As the semester continues, W@G looks forward to bringing in writers at different stages of their careers, Carolyn Jacobson, director of W@G and senior lecturer of English, said. She said that this is especially exciting, as there are many students at the College who are considering writing as a career.
Jacobson said that she is looking forward to hearing the voices of writers she does not know, and urges students to attend these events to hear from a writer they might not otherwise have discovered. She said that in her time at the University of Iowa, she attended many readings — "There were people who I'm still reading today because I heard them when I was a first year," she said. 
Although Jacobson is the director of W@G for this semester, she says that many other professors in the English department have contributed to the program. She credits Dean Bakopoulos, who directed the program for over 10 years before leaving the College this past summer, with arranging some of the readings, as well as Ralph Savarese and Santiago Sanchez, a professor and assistant professor in the English department, respectively. Hai-Dang Phan, associate professor of English, will be directing the program during the upcoming spring 2024 semester. 
While anticipating the forthcoming guests of W@G, Jacobson reflected on Forrest's visit to the College, saying that it was particularly satisfying because she taught Forrest as an undergraduate student. "It's really moving to see what my student has created," she said.