On the walls of the Grinnell College Museum of Art, anthropomorphic birds in period military garb, horse-riding guards and bell-toting fairies are scattered among surreal still-life works and portraits. 
On Friday, Sept. 15, the Grinnell College Museum of Art opened "Correspondence," an exhibition by London-based Canadian artist Stephen Appleby-Barr. At the opening reception, Appleby-Barr and Daniel Strong, museum associate director and curator of exhibitions, hosted a public conversation about the works on display with roughly 30 people in attendance.  
Featuring 35 works utilizing oil on linen, printmaking techniques and ink drawing on paper, "Correspondence" brings together a decade of Appleby-Barr's work. For Appleby-Barr, it is "a love letter to subjects" and an ode to the objects, people and fantasies that have guided him through life — a cast that ranges from dear, real-life friends, to fantastical alter-egos to original characters that live in his imagination.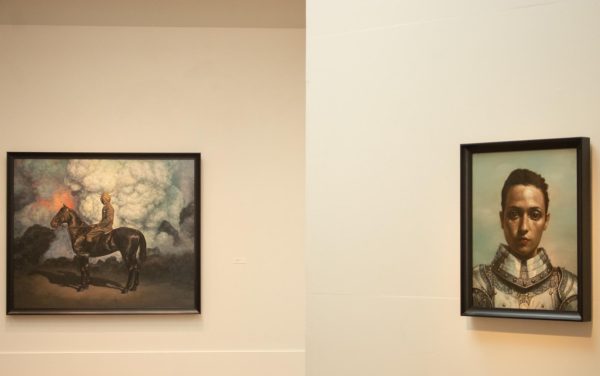 Appleby-Barr describes himself as consumed by a "total absorption and love of what has been accomplished with paint over history." Hence, he turned to art to evoke in others this same sense of nonpareil wonder — "Nothing calls my attention like this can," he said. 
"Nimco, the Dissertation," a portrait of a friend of Appleby-Barr, had already been acquired by the museum a year prior. "Previously, you've seen this painting as part of our collection. Now, you're seeing it as part of [Appleby-Barr's] body of work," said Strong. "That was kind of the impetus for doing the exhibition because often our exhibitions that we do in here are to put things in our own collection in context." 
Appleby-Barr said that he chose to feature his friends in a portrait series because he wanted to honor his relationships with them. "It's making it less about myself," he said. The artist statement of a 2016 piece on display in the museum of art, "Self-Portrait," explains, "I'd rather reveal myself indirectly through the rest of what I do." 
Many of Appleby-Barr's other paintings do not portray real people — they depict original characters who inhabit a world in his mind and interact with each other. "All the characters that live in my head have qualities of my own that I have been, or will be, or aspire to or regret, and those mix with the characters and qualities of the people I live with and care about," he said. "They [his characters] are the natural product of a relationship with an actual person or an idea." 
"
"All the characters that live in my head have qualities of my own that I have been, or will be, or aspire to or regret, and those mix with the characters and qualities of the people I live with and care about"
— Stephen Appleby-Barr
Appleby-Barr stressed that the themes of "Correspondence" — connection and dedication — run through his entire artistic process. He said that his paintings can take a long time because they cannot materialize "until [the] relationship itself with those ideas develops." "It's very hard to finish a piece because reality is never finished. You're just trying to get as close as possible," he said. 
According to Strong, this exhibition had been in the works since 2019, but the COVID-19 pandemic derailed plans for four years.  
"Most of the work included in the exhibition is on loan to us from private collections," said Susan Baley, director of the nuseum, adding that much effort was required on Strong's end to coordinate everything.  
The pandemic also led to a change in the direction of the exhibition — it resulted in the addition of "Old Friends and Psychopomps," a smaller, secondary exhibition curated by post-baccalaureate curatorial intern, Melena Johnson `23, with existing print works from the collection.  
Hired for a 10-week summer internship at the museum right after graduation, Johnson said her sole assignment was to create an exhibition to complement "Correspondence." As her internship had been funded by a $3,000 grant from the International Fine Print Dealers Association, the exhibition needed to feature printmaking, wrote Baley in an email. 
To begin, Johnson said that she "just sat down with a notebook and started writing out as many keywords about his work that I could to try and cement the visual characteristics and themes." 
She also noted the difficulty of her task of complementing Appleby-Barr's exhibition, considering the distinct differences in form between his oil paintings and printmaking. "I was trying to give myself as many opportunities as I could to see similarities," she said. "After that, I got onto the museum database and just started collecting." 
Johnson said that she found the process instructive because it forced her to focus on drawing connections between the subject matters of the works. She wanted an exhibition that would spark deep reflection, instead of merely encouraging audiences to note the superficial differences between the two mediums, or worse, pick favorites.  
"It would not be the best experience to go into the museum and have the featured artist's work and then a smaller exhibition that kind of looks like it," Johnson said. 
Johnson's exhibition responds to Appleby-Barr's. Together, they consider the "psychopomp," an entity that escorts souls, and provoke viewers to reflect on how the notions of these spiritual guides translate to reality –—particularly, what "alone really means, and who is with us on our journeys," she said. 
Baley believes providing opportunities in the arts for students is very important to the museum, explaining that visiting guests can provide unique viewpoints that could enrich students' artistic journeys. In that respect, the exhibition, which was originally planned to run in the summer, was pushed to the fall semester so that it could reach more students. Classes like ART-134: Drawing, taught by Jeremy Chen,  assistant professor of studio art, were invited to speak with Appleby-Barr, and he joined students for lunches. Several studio art majors also had the chance to introduce their work to him in one-on-one conversations. 
"It's all about you, the students," said Strong. "I love bringing these things together because it could be that somebody … is going to stand in front of these and think, 'wow, this is right in front of me' … it's a work of art. It's an actual thing that you can relate to, and you can correspond with." 
"Correspondence" and "Old Friends and Psychopomps" will run until Sunday, Dec. 10.