In an exhibit titled "It's Not What It Is," one might expect a little confusion. For Grinnell artist Joe Tuggle Lacina, that's exactly the point. 
Tuggle Lacina debuted his exhibition at the Stewart Gallery in the Grinnell Arts Center on September 7. The Arts Center held an opening reception for Tuggle Lacina's exhibition, which he attended with his wife, son and parents. 
The exhibition includes 28 unique works, nearly all of them mixed media. On the left gallery wall, Tuggle Lacina's three large paintings — "Vitality Damage," "Mixing Up the Perfect Purple" and "Turtles" — align neatly. A large collage of work scatters the right wall, and in the middle of the gallery sits a human-sized sculpture, splattered with bright paint. "It's sort of like two shows happening at once," said Tuggle Lacina.
Five different works in the collection look as if they are made of brick. A piece simply entitled "Yellow Brick," is a 48-inch-by-48-inch brick panel with vibrant canary-yellow paint and a large, jagged black hole, almost as if a comic book hero had punched through the canvas. Tuggle Lacina's one-year-old son, James, told the S&B that his favorite is the blue one.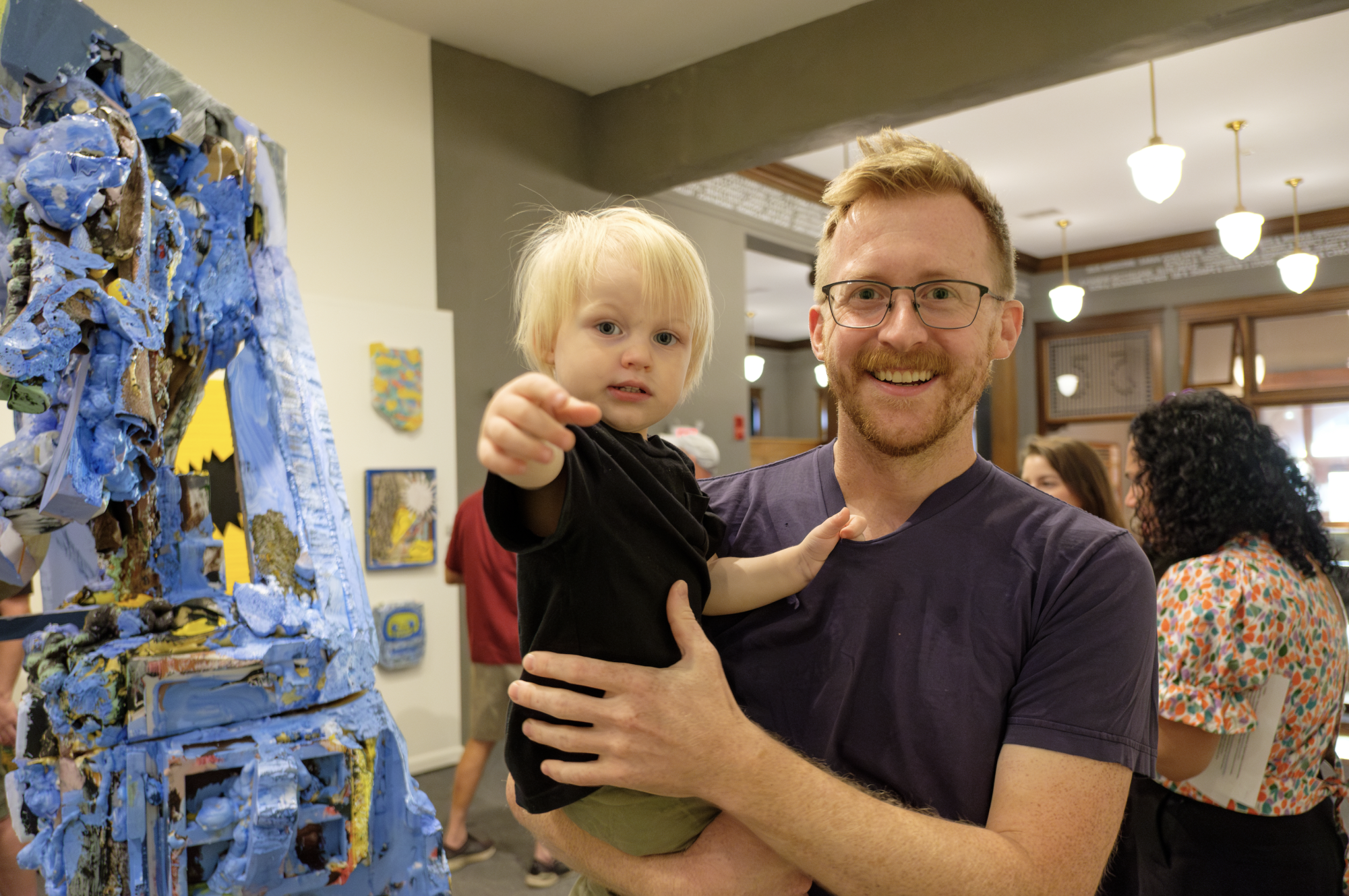 While working on the collection, Tuggle Lacina said he often used the Talking Heads project, Stop Making Sense, as a beacon, for it reminded him not to feel pressured to create something entirely coherent or generate a big message. Rather, Tuggle Lacina said he is much more interested in how we create value and meaning through art. 
"My work investigates the intersections between identity, ecological entanglements and the emergent roles of new technologies," Tuggle Lacina said. "I try to remain pretty open and not limited as far as traditional art materials versus other unconventional materials," he added. Various works in "It's Not What It Is" incorporate tree bark, toy robots, fake chains and 3D-printed figures, to name a few. 
Tuggle Lacina's inspiration for the exhibit stems from a variety of sources — philosophical quandaries, video games, AI technology and vulnerability. "I'm a little bit of a nerd," Tuggle Lacina admitted during the artist talk. His piece "Siblings of the Cosmic Divide," for example, includes two blue-painted model stormtroopers and suspended near the top of the seven-foot mixed media sculpture.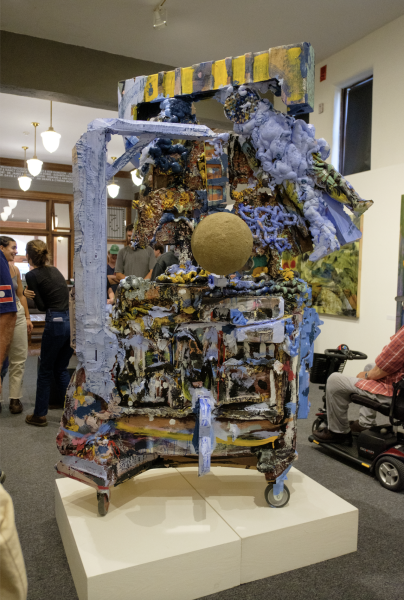 To begin a project, Tuggle Lacina typically starts by constructing a framework out of plywood, foam or canvas. He then layers simple colors. Eventually, he adds imagery and different references, even within his first coat. 
"I'm always returning to abstract expressionism and minimalism and mixing those two motifs," said Tuggle Lacina.
Although he booked the space for the exhibit nearly three years ago, Tuggle Lacina said he did not start working on some of the pieces until only three months ago –– he described his artistic process as intuitive and improvisational. More generally, Tuggle Lacina said he usually starts with "whatever sparks some sort of concept or conceptual tangent, or something that [he] think[s] will add another layer or some interesting reference to the piece."
Tuggle Lacina said that the exhibition's title indicates how his work merges different mediums and generates new meanings and juxtapositions. "It's [the title] sort of half humorist, half defeatist," he said. 
A crowd of around 40 people visited the exhibit on opening night and participated in an artist's talk, during which Tuggle Lacina described his work and answered questions from the audience. One member of the crowd asked Tuggle Lacina when he first felt that he was truly an artist, to which he responded, "Last year." 
Throughout his entire life, Tuggle Lacina has been surrounded by art and creativity. His mother, Alesia Lacina, runs the Studio 6 After School Arts program through the Grinnell Area Arts Council (GAAC). And Tuggle Lacina's father, Tom Lacina, serves as an arts director at the GAAC. Together, Tuggle Lacina and his dad helped to complete the majority of the framing and painting for GAAC's Stew Makerspace. 
"Growing up, it was either you could be an artist or a lawyer," Tuggle Lacina joked. 
"
Growing up, it was either you could be an artist or a lawyer.
— Joe Tuggle Lacina
After his exhibition at the Grinnell Arts Center, Tuggle Lacina plans to show his art in other places. "It means a lot. This is my home and a place that I feel a part of. It's also maybe a little bit of a departure," he said, hinting at future plans elsewhere. 
Tuggle Lacina is also developing and renovating Grin Cupola, an "unhurried art gallery" located in a renovated 1938 corn crib north of Grinnell. This contemporary art gallery presents one virtual and one on-site exhibition per year. Their current exhibit, Hatchet of Hope, is available to view online. 
"It's Not What It Is" will be on display at the Stewart Gallery in the Grinnell Arts Center until Oct. 7. More of Tuggle Lacina's work can be found on his website.