Two-hundred and seventy-nine vehicles lined the streets surrounding Central Park in downtown Grinnell on Sat., Aug. 26, for the 50th annual Grinnell Vintage Auto Club Car Show. 
Owners began rolling in and registering their cars and motorcycles as early as 8:30 that morning.  
Grinnell residents, Judy Binegar and Phil Stepp, both 77, said they woke up at 5:30 a.m. to get what Binegar called "the parking place."
 Located just a few spots from the beginning of the two-block long line of vehicles parked on Broad Street, Binegar and Stepp's cars were among the first attendees would see.   
Binegar's car, a 1950 dark red Ford Coupe with a personalized license plate announcing "JUDYS50" to any passersby, sat to the right of Stepp's '67 rare notchback Plymouth Barracuda. 
Stepp said his car often wins at many of the shows he travels to. He had another achievement to add to his list after the award ceremony at Grinnell's car show:
 Top 40 best in show, according to votes cast by other registered car owners.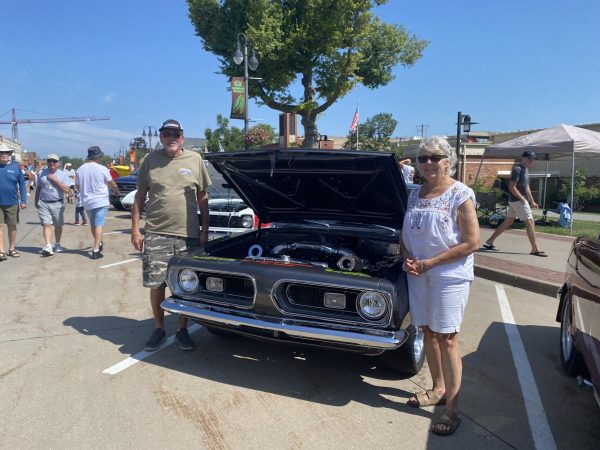 This year was the first since the COVID-19 pandemic that Binegar and Stepp returned to their own town of Grinnell's car show. 
Stepp said they had attended other car shows since, such as the Goodguys Nationals in Colorado. 
"You meet so many people … and that's the fun part of the show," Stepp said. 
"Not necessarily winning awards, but meeting the people, and then having them come by and look at your car and admire it and compliment on it. That's worth more than the trophy." 
Grinnell's show brought a number of attendants and participants alike from outside Grinnell. 
Married Newton couple, Jack and Nancy Skala, 82 and 75, stopped in Grinnell for breakfast when they happened upon the show. 
When asked what she liked most about car shows, Nancy said, "The fact that you get to see people's hard work. And I like old stuff, and seeing it preserved makes me feel good." 
Vance Alexander of New Sharon, 80, brought one of the older cars in the show – a 1925 Ford Model T Roadster. A retired high school metal shop teacher, Alexander also hand-built the steel frame of his car by himself.  
"Those cars will never go out of style. There's just an honesty about some of those early cars that can't be duplicated," Alexander said.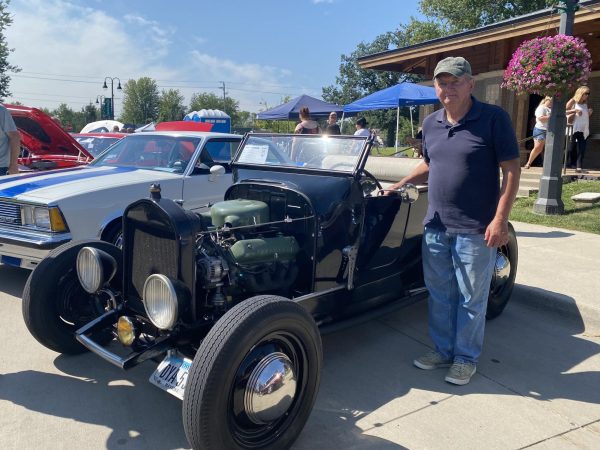 For the 50 years the car show has been running, Bob Latting, 81, one of the four founders of the Grinnell Vintage Auto Club, has attended every show. Latting is the only surviving member of the original four. 
"We were friends, and we'd see each other on the street or see each other having coffee, and we'd always talk about cars," Latting said of the three other members. 
"So we said we might as well have a car club because we just talk about cars anyway."
Latting added that the car show has significantly changed since its inception. He estimated only seven or eight cars registered at the first show held at Grinnell-Newburg High School in 1973. 
By mid-afternoon of this year's show, a record number of vehicles had registered and stretched to fill a new block of Broad Street for the first time. 
"I liked the old original cars the best, but I just love to see them come to town," Latting said.