When Daniel Stewart `26 felt that it was finally time to act on his deep-seated aspiration to be part of an alternative rock band at Grinnell, he put up recruitment posters all around campus. 
The poster design was simple, consisting of nothing more than text that reads, "HEY!! Interested in forming a band? Like some of these bands?" along with a list of twenty influences that demonstrate Stewart's vision for the band's style of play. 
Stewart said that, at first, he did not know whether this method of recruitment would be successful or not, but within a week of putting up the poster, he had already heard from three interested musicians, and the resulting four-piece band was soon fully assembled and ready to play.
The new band's lineup includes Morgan Trujillo `27 on the bass guitar, Ari Dworkin-Cantor `24 on the drums, Stewart on the rhythm guitar and lead vocals, and Spencer Poole, a technology support specialist for the College, as the lead guitarist and backup vocalist. 
Because the band was formed so recently, Stewart said that its members have not decided on a name yet, but they have agreed on their genre, largely thanks to the recruitment poster's list of influences. 
The band will be playing, in the words of Stewart, "alternative rock, post-hardcore, and punk." In response to this, the band's drummer, Dworkin-Cantor, chimed in, "Can you define post-hardcore for me?"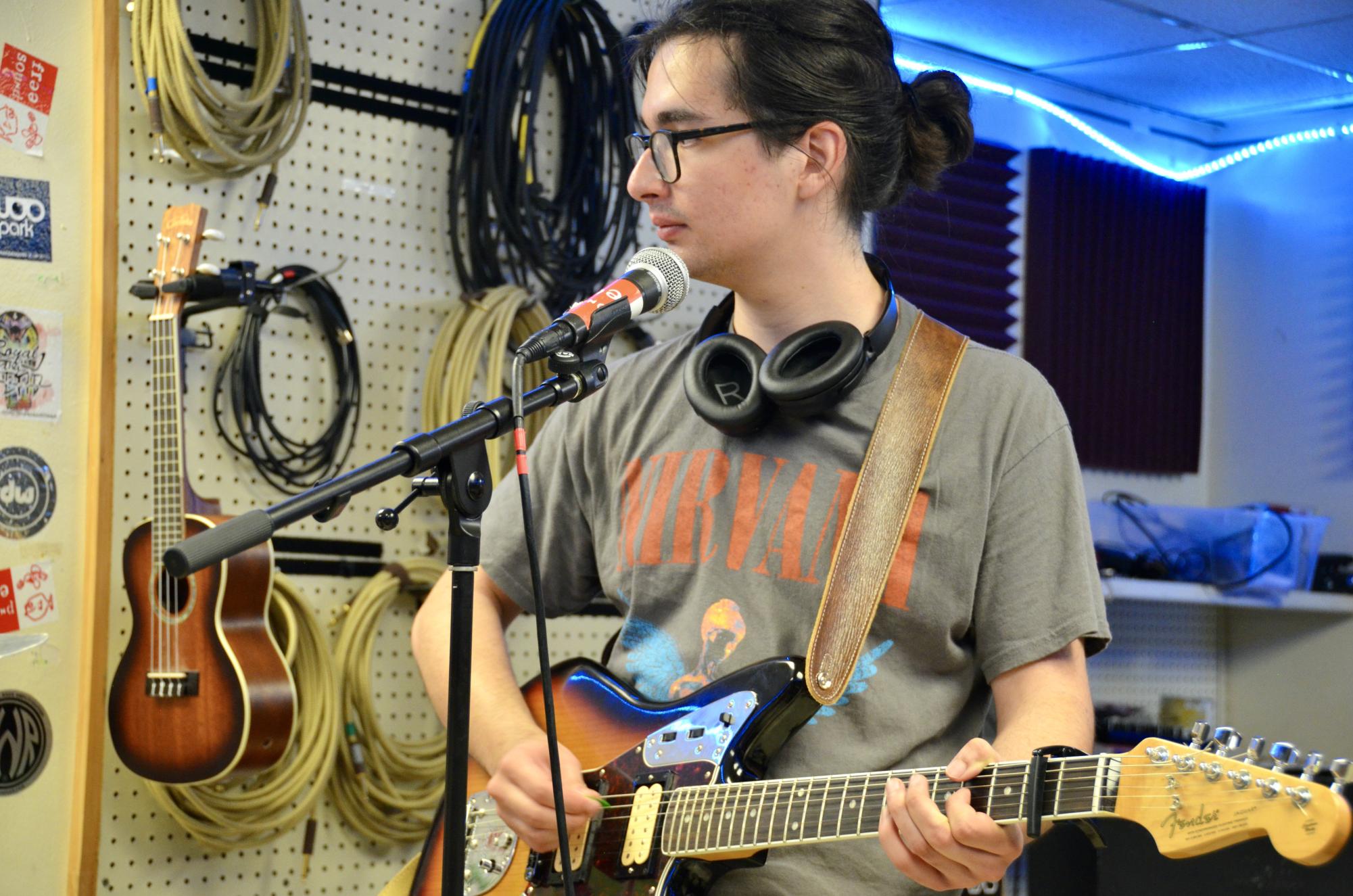 "Yeah," Stewart began. "All those classic punk bands—like Minor Threat—from their ashes [came] more complex sounds. So, it's less of a focus on just power chords, power chords, power chords and more on complex themes and lyrics and things like that."
Stewart said that being a part of a band at Grinnell is something that has always been on his radar, but that never came to fruition during his first year. "I played a lot of gigs, just myself and my piano," said Stewart. "But there was an itch I had to play with people because I feel like a lot of the fun in music is being in community with other musicians in a band." 
At the beginning of this school year, Stewart acted on these feelings. He remembered coming up with the idea for the poster — "I'm coming [to Grinnell] early to work pre-orientation," he said. "I'm going to put up all these posters so that all the first-years who still have fire in their bellies see it, and if they had the idea of starting a band in the back of their heads, it would be  activated." 
While the poster was definitely effective, it was not just first-years who engaged with it. Poole recalled how he first learned about the poster. "I had another staff member who knew that I've been trying to start a band for a long time," Poole said. "She saw the poster and sent me an email picture of the poster. Then I just emailed Daniel."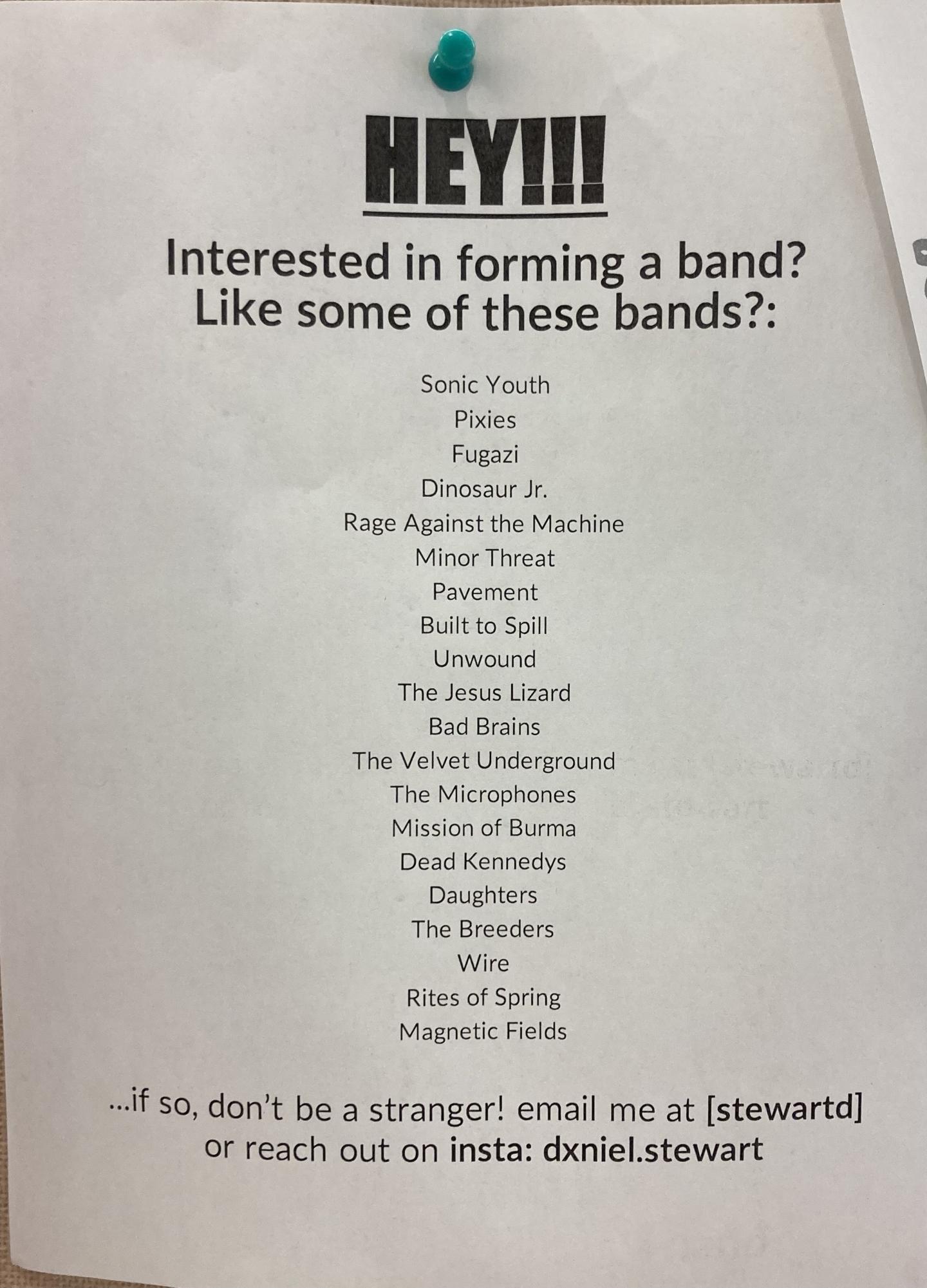 To Stewart, another unexpected advantage of putting up the poster was that it started new conversations with peers. "I had people just reaching out because they're like, 'Oh, that's like my favorite band and nobody ever talks about it.'" 
Poole said that he was encouraged by the poster, even before the band had met all together. "When I saw the poster, it was almost refreshing and surprising at the same time. The bands that were on the poster were really unexpected. I didn't think Grinnell kids would be trying to start a band in that world of music."
The unnamed—and still unheard—rock band said that they look forward to playing student gigs and that they see themselves playing an important role in the student music community. "There's a hole in the Grinnell music scene—people want to mosh," said Dworkin-Cantor. "I'd love to fill that gap."