Sam Reid

Sam Reid `23, a chemistry major and neuroscience concentrator, said she hopes to finish the analysis for her chemistry simulation before she graduates. Having never been to a block party, she hopes to accomplish that as well. Although college was not the best four years of her life, she said, "it was definitely very challenging and productive in a growth sense." 
In the summer between her second and third year, Reid started a chemistry research Mentored Advanced Project (MAP) with Heriberto Hernandez, associate professor of chemistry. They worked with platinum nanoclusters, which Reid described as very small compounds made of platinum. Through computational analyses, they found that the nanoclusters displayed resonance, which indicates that they are very stable. The finding was groundbreaking.
Reid continued this research after the summer for two years, and the paper was accepted on April 17 in the Journal of the American Chemical Society and the Journal of Physical Chemistry A this coming week. "I gained a lot of confidence that my ideas were good, and that I was capable of understanding things that were seemingly really, really complicated," she said.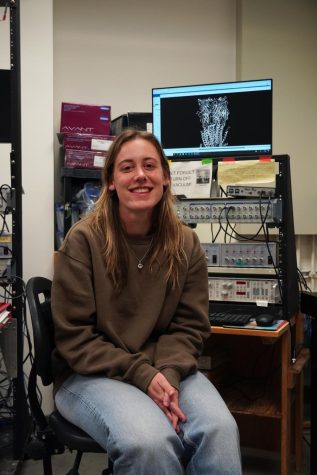 In addition to the research with Hernandez, Reid completed a summer internship at the Pacific Northwest National Laboratory with Dr. Grant Johnson between her junior and senior year. At Grinnell, her research was mostly computational, but at the internship, she was able to experience a wet lab where she handled the chemicals. 
Recently, Reid started research with Mark Levandoski, professor of biological chemistry. She conducts molecular dynamic (MD) simulations, looking at proteins and their binding and trying to dock chemicals in a specific place on a protein.
In her first year, Reid thought she wanted to major in psychology. Coming from a high school where not a lot of kids went to college, she said it was hard to adjust to the competitive nature of Grinnell. When COVID hit during the second semester of her first year, Reid was taking courses for psychology and chemistry at the same time. 
"I really liked chemistry lab," Reid said. "It felt like it was always on your feet, always doing something. It's really hands-on, and I wasn't bored." 
Reid said she is interested in the combinations of neuroscience and chemistry.  "I was way more interested in the most fundamental level. We're all just chemistry and made up of things, and interactions and reactions." 
Although she loves curling up in the Kistle Science Library cubicles to study or perching in front of a computer screen displaying protein simulations, she also spends a lot of her time on the track field. During the pandemic, Reid started running, and she eventually joined the track team in her junior year. She said track is good for her mental state and helps build her endurance. Studying is mostly a solitary activity for Reid, but she has found some of her closest friends on the track. 
"I wanted to broaden my horizon of people that I knew and try something a little scary," she said. "It was the best. It really rescued a lot of my college experience."
Reid typically runs the 800 meter, and occasionally the 400 meter. She described 400 as faster and more tiring, and the 800 as requiring more strategy and mental control. 
"
I really liked chemistry lab. It felt like it was always on your feet, always doing something. It's really hands-on, and I wasn't bored"
— Sam Reid
A lot of Reid's favorite memories at Grinnell are from her time on the track team and hanging out with teammates. Over spring break, the team traveled to Texas for a meet and got to explore San Antonio, Austin and New Braunfels during their free time.
The last big takeaway Reid got from her college experience was the value of not putting so much pressure on herself. 
"My first year, I remember coming in and kids talking about taking 15 APs and having a 1600 on the SAT, and that was super scary," she said. "Getting an A in every class doesn't matter. I never pulled an all-nighter, and it was okay. I think it's okay to just take it easy sometimes. You don't have to be perfect."
After graduation, Reid will be attending University of Wisconsin-Madison in the neuroscience training PhD program. She will research therapeutic development for neuropsychiatric neurodegenerative disorders. 
Reid says she hopes to find her niche after grad school. "I want to do research forever. And I would preferably be in a lab forever."