Emmie Smith

Emmie Smith `23 is a dedicated and active member of the Grinnell swim and dive team, to which many thanks are in order — it was their insistence and outreach that brought her to the Grinnell community.
"The coaches here were really, really recruiting me," she remembered while chuckling and rolling her eyes. "And so I was kind of like, 'what is the school?' After, like, the 10th email, I was like, 'fine, I'll come visit.'"
Smith came to visit, and she remembered being impressed by the team and the sense of community shared amongst its members. "And I really enjoyed the swim team. I like the coaches. I like the atmosphere. I like the students on the team. Also, the academic rigor here is something I was looking for — I wanted to go to a small liberal arts school, and I wanted to move far away from home," she said.
As a first year, Smith immediately felt the positive effects of the swim team's community. "Our team is really big. And so I think having been able to have such a large friend group immediately on campus, especially as a first year, was really encouraging. So I never felt alone, and I never have since. And even with such a big group of people, we all really support each other regardless of what's going on, whether it's in the pool, or in the classroom, or outside of the classroom or outside of the pool," she said. "It's like having a big-ass family."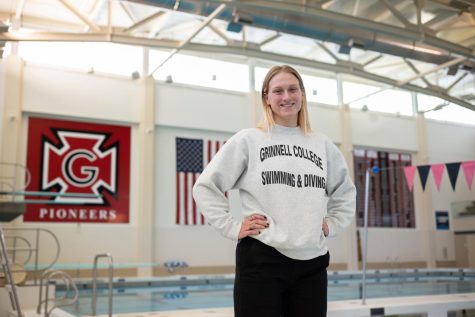 The swim team's warm welcome to Grinnell markedly changed Smith's outlook and experience. "I really didn't think I would continue swimming in college until I came here and met these people. I also think that swimming really helped me schedule my college life. It made sure that I got all my work done and got exercise, so it was great for body [and] mind," she said. 
Smith's warm smile and easygoing personality reached well beyond the swim team, and she became an important part of the Grinnell environment. "I am kind of a person who I guess likes to talk and get to know everyone, so I've kind of made a lot of friends outside of the team as well," she said. "What I love about the community at Grinnell is that it feels very supportive and welcoming. And I mean, that's just another thing that drew me here."
During the spring of her junior year, Smith studied abroad in Prague, Czech Republic as part of a prestigious film program at the Film and TV School of the Academy of Performing Arts in Prague, and it was this opportunity that made it possible for her to complete the film and media studies concentration. She had only taken one film class prior and described feeling behind the other students in the program at first, but in the end, she learned a lot. 
"I was like, 'man, I'm so behind film-wise' because I went abroad with kids who were all in film programs at their colleges," she said. "But I really learned a lot, and no one ever judged me for not knowing exactly what I should have known in the moment, and that was very encouraging because of everything I had heard about the film industry. And I mean, being a woman in film is really hard."
The study abroad culminated in a film project in which Smith and her group made a film called "Leviticus."
"It's basically a comedy slash social commentary on the church," Smith said. "These two guys fall in love in seminary school, and one of them is battling internally with being queer in the church."
This film reflects aspects of Smith's journey before and throughout her time at Grinnell. "Grinnell has made me more comfortable in who I am. Before coming to college, I knew I was queer, but I never felt comfortable outwardly showing it. So Grinnell has made me comfortable in that sense."
"
I like to think that I've matured as a person, but my personality has never changed — kind of silly, and outgoing and not really afraid to speak my mind. And my mom will say that has carried with me since I could speak."
— Emmie Smith
Smith also said that before she came to Grinnell, she was less independent. "I have a twin sister," Smith said. "Growing up, we did everything together. We both swam. We were both in the IB program at our highschool, so we had all the same classes, all the same friends." Smith's time here apart from her twin sister allowed her to flourish while still keeping her golden personality. "I like to think that I've matured as a person, but my personality has never changed — kind of silly, and outgoing and not really afraid to speak my mind. And my mom will say that has carried with me since I could speak."
At this point, Smith is not quite sure what her life will look like after graduation. "Right now, I work social media for the athletic department. So, I've been looking for social media marketing elsewhere — been applying to a lot and getting some interviews," she said. "But I'm hoping that I can get on my feet for a year or two and then maybe consider going to graduate film school," she continued.
While the Grinnell community will lose an outstanding person and swim team member in Smith when she graduates, she has been a great role model and will continue to leave a positive effect on the community for years to come.