Softball matches nationally ranked Coe College in doubleheader
Heading into their doubleheader against nationally ranked Coe College (29-5) on April 24, Grinnell softball was on a six-game win streak. After losing the first game 2-9, the Pioneers bounced back to win 5-2, earning softball their first win over a nationally ranked opponent since 2018.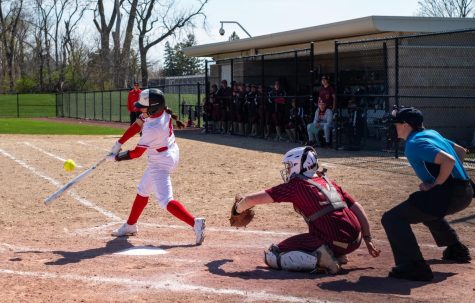 Going into the game, Emma Nelson `23, an outfielder, said the team knew it would be both special and challenging because Coe College was ranked 17th in the nation for Division III teams.
Despite playing at the Grinnell College Softball Complex, the stands were filled with Coe College parents and families, making it feel as if they were the true home team.
Grinnell took an early lead in the second inning of the first game with a run batted in from Alexa Okada `24, followed by another by Sofia Dicarlo `25 in the third. Coe College eventually came back to win 2-9, snapping Grinnell's 6-game win streak.
"We have been on a win streak, so we haven't had a loss like that in a little bit, so it's kind of a reality check," said Nelson. "But we lost 15-1 against Central [College] and came back in the second game, so I think we're able to compartmentalize those really tough losses and move on in the next game," she said, referring to the March 28 games against Central College.
In between games, Grinnell's coaches and players discussed the loss and how to bounce back and win the second game. Based on the fact that Grinnell initially had a 2-0 lead in the first game, Lexy Determan, head softball coach, emphasized the need to keep scoring runs and build on their lead in order to beat a good team like Coe College.
"We've done that against other good teams, too, like Simpson College, where we lost the first game and then came back and won the second game because we realized that we can beat them," Taylor Durak `24, another outfielder, said.
"
I think we're able to compartmentalize those really tough losses and move on in the next game."
— Emma Nelson `23
"I think realizing that wasn't our game, and that, you know, this [the second game] is going to be our game," she added.
The Pioneers showed no signs of demoralization in the second game, scoring five runs in the third inning. Durak had two hits in four at bats, Jasmine Oda `25 had two runs batted in on a single and both Okada and Emma DiGiacomo Zahller `24 brought runners on third home with single hits.
Christin Hartman `25 threw 104 pitches and had 4 strikeouts in what ended up being a 5-2 victory for Grinnell.
"We're learning from our failures and picking each other up as a team, we're very cohesive and really coming together," Durak said. "And also just having our new coach last season and getting used to her and her coaching style, and now we know what to expect."
Both Determan and Dalton Meredith, assistant softball coach, joined Grinnell in 2022. Last year, both were named to the Midwest Conference Coaching Staff of the Year. To Determan and Meredith, as well as to the players, the mentality of learning from their mistakes has been a key component in the success of this year and last.
Durak also explained that last year, there were no seniors on the team, allowing for the team to build chemistry.  
Grinnell softball is currently undefeated in conference play as of Thursday April 27 (10-0, and they faced off against Cornell College and the also undefeated Illinois College this past Saturday and Sunday, respectively. The results of those matchups can be found on the Grinnell Athletics website.)
Last year, Grinnell softball finished second in the Midwest Conference tournament. This year, Durak said they are hungry to return to the tournament and win it.