Chess Club sets the tempo with blitz tournament
As their clocks ticked down towards zero, Filip Matic `24 and Noah Holding `26 fired off moves in rapid succession, taking and losing piece after piece. The match had turned into a battle of attrition.
The round five matchup between Matic and Holding had become the pivotal match of the April 8 tournament hosted by Chess Club. Whoever managed to secure a victory in that match would most likely be crowned champion of the day. With at least a dozen entranced spectators, the match entered its final stage.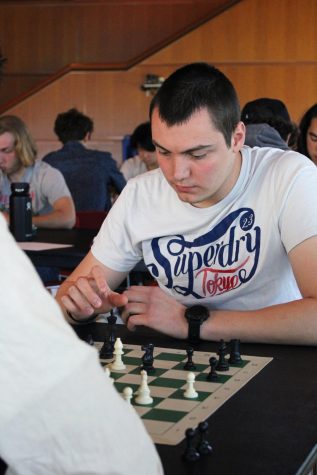 A last-minute offensive by Matic began stripping Holding of his pieces, and by the time Holding's clock ran out, only his king remained. A handshake sealed the result, and Matic ultimately remained undefeated, thus securing first place in the tournament. Holding would take second, only losing that one game to Matic.
Having played chess for over 10 years in his childhood, Matic is no stranger to competition.
Matic, an international student from Serbia, said he used to play more in elementary school at both municipal and national tournaments. He also said he played in a tournament in Russia.
Playing against Holding proved his most challenging match of the day. "He played very, very tough," Matic said.
While he has a long history playing chess all those years ago, Matic said that he only recently picked up the game again after a five-year break. As one of the organizers of Chess Club, he has had ample time to refresh his skills.
"We have our 8 to 10 people who might come every Saturday to just hang out, laugh and play some chess," said Oliver Wolfe `25, treasurer of the club. "It's a great environment."
Every Saturday, members of the club will meet to play chess in the Humanities and Social Studies Center (HSSC) room N2112 from 2-4 p.m. According to Wolfe, it is at these get-togethers where Matic, Holding and many other chess enthusiasts refine their craft.
"
We just wanted to bring life back to chess at Grinnell.
— Oliver Wolfe `25
"We just wanted to bring life back to chess at Grinnell," Wolfe said.
Since the club's official return in the fall of 2021, Wolfe said that he and Jack Connelly `25, president of Chess Club, have been working to begin hosting regular tournaments, with the April 8 tournament being the second this year. 32 players competed in a league system, and top-scoring players earned prizes. Following Matic and Holding was Gavin Felker `23, who placed third.
Wolfe said the club has been trying to expand to include more students, a goal that motivated him and Connelly to expand club leadership to also include Matic, Holding and Mike Eikmeier as club organizers.
An academic assistant at the College, Eikmeier got involved in the club after coming to some of their meetings. "It was fun that we were all students, and then there was a real adult who [was] interested in playing chess with us," Wolfe said.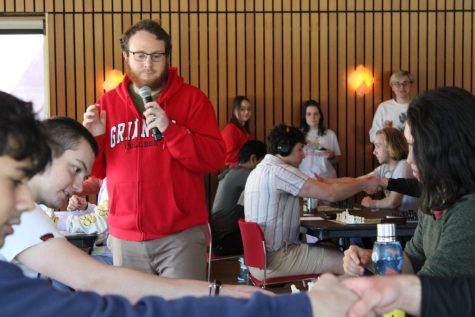 Eikmeier joined club leadership and served as tournament director for the April 8 event. Having grown up around chess, Eikmeier said that he had missed the presence of chess and chess clubs on campus. "I wish I had one when I was in school," he said.
The club has plans to continue expanding, according to Wolfe. In addition to trying to plan one more tournament before the end of the year, Wolfe said the club hopes to have a chess-boxing event in collaboration with the Boxing Club at Block Party this year.
"I mean, what could go wrong mixing chess, boxing and alcohol?" he added jokingly. "I think it's great."
Chess Club is open to all levels of experience. They meet weekly in HSSC N2112 from 2 to 4 p.m. and can be reached at chess@studentorg.grinnell.edu.
Editor's note: Oliver Wolfe is a staff writer for the S&B. Wolfe was not involved in the writing or editing of this article.