Ultimate frisbee hires coaches as team culture shifts towards competitiveness
After over a year of deliberation, Grinnell College's ultimate frisbee teams have formally hired two new coaches, Nicholas Culver and Rebecca Crown, in late February of this year. This was an effort made to relieve some of the responsibilities expected of the team captains on the growing teams and to strengthen their national competitiveness.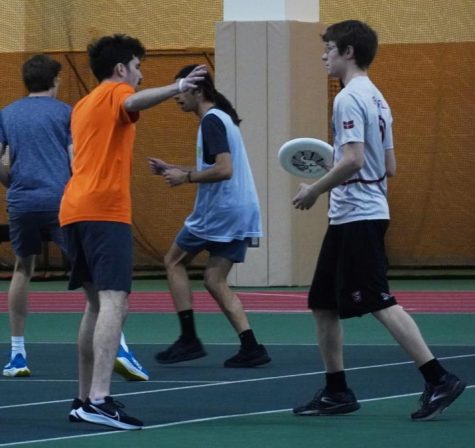 This is the first time the ultimate teams have had coaches, according to Jacob Cowan `23, co-captain of the open team, and Mallory Graham `23, co-captain of the women and non-binary team.
Both Cowan and Graham have been on their respective teams since their first year at the College. After quarantine, Cowan said he noticed an increase in the number of people attending open team practices, citing no less than 35 people attending compared to around 20 people in the fall of 2019. He also said that the average team member is "significantly more committed" this
year compared to previous years. This shift led Cowan and the other co-captains of the ultimate teams to more seriously consider the possibility of coaches during the 2021- 22 school semesters. In the fall of 2022, the teams held discussions, and later a vote, on this topic. A majority of team members who voted supported the team getting coaches. In late 2022, the teams got the positions approved by the athletic department and the College, and they sent out applications to ultimate frisbee club teams based in Iowa, like the Chad Larson Experience. Culver, 27, and Crown, 26, are a married couple who both participate in that mixed ultimate frisbee team. They had multiple interviews with the co-captains, the athletic department and human resources. Before hiring the coaches, the co-captains were responsible for not only planning and leading practices but also finding tournaments, getting paperwork in on time, coordinating transportation and other logistics. According to Graham, the new coaches have been "aware of the
culture of frisbee we have here." She said she and other team members disclosed in discussions some hesitations that come with hiring coaches and its potential to change the teams' culture. Cowan added that other team members expressed worries due to past negative experiences with sports with "some re- ally toxic and terrible coaching."
"Historically, we've really focused on being welcoming and inclusive to everybody," Graham said. "And we want to maintain that."
After working with them for a little over a month, she found that the coaches "only want to be as involved as we want them to be."
"The captains very much have the final say on what the teams do," Graham added.
"
Historically, we've really focused on being welcoming and inclusive to everybody, and we want to maintain that.
— Mallory Graham `23, women and non-binary team co-captain
The ultimate teams do not require prior experience, and they are led by students, deviating from how varsity sports teams typically function. Graham said that having ultimate frisbee be more relaxed than a varsity sports team is part of why she joined the team in the first place. Because many of the people who join the women and non-binary team come in with little experience in frisbee, said Graham, the coaches will be helping them develop those foundational skills.
While the co-captains who were interviewed said some team members were hesitant about a potential cultural shift in the team because of coaches, Cowan noted that the coach- es' current presence "is the result of a culture shift" with an increase of members and competitiveness for both teams. Notably, the open team is currently ranked sixth in Division III.
The coaches typically come to one practice a week and attend any tournaments the teams attend. Culver and Crown work more closely with the open team and women and non-binary team, respectively. The coaches are helping with "systems level thinking" during games and passing down "strategic knowledge," said Cowan.
Based in Des Moines and with over seven years of ultimate frisbee experience, both Culver and Crown graduated from the University of Iowa having played for the university's Division I teams throughout their time there. Culver is an actuary and Crown is a credit underwriter.
Crown said that she wants these athletes to be "the best version of themselves that they can be both on and off the team." She said while being on a Division I ultimate team, she noticed a "win-it-all mentality," whereas the Division III teams' coaches are about "lifting each other up."
Graham said that Crown, in particular, has offered insight into the various frisbee cultures she has been a part of and what the co-captain's options for participating in frisbee after graduation look like.
"Because it's just such a great group of people, they deserve to have somebody that wants them to succeed and is there to help them do it," said Culver.