Baseball clears their bases with spring break games
After a long schedule of competitive games over the past month, the Grinnell College baseball team is back on campus and ready for the second half of their season.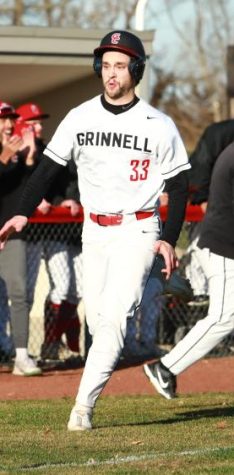 The beginning of the team's season has been marked by a spring break trip to Florida, where the team played 16 games over the span of 14 days, according to Tim Hollibaugh, head baseball coach. Prior to the spring break trip, the Pioneers faced Westminster College in a series of three games over the weekend of March 11.
Heading into the top of the ninth inning in their third and final game against Westminster, Grinnell was down five runs. Both teams managed to secure one win, so the threat of losing a second game, and thus the series, against Westminster loomed. With one out
and the bases loaded, the Pioneers began to make an offensive shift. After scoring four runs, the Pioneers still trailed by one point until Luke Porter `23 stepped up to the plate. Porter hit a home run, bringing in two other runners who were on base and helping Grinnell take the lead 8-6 for the first time all game. The team then racked up a total of 3 more runs during the top of the ninth alone, a total of 10 in 1 inning, helping them secure a series victory over Westminster.
"
Everyone was buying in and working hard in the fall.
— Ian Brown `24
This rally reflects a team atmosphere that the players said is very close-knit.
"We're trusting our teammates, we're trusting ourselves and we're really playing together as a unit. We're putting together really great games, and we've got tough opponents," Mac McCain `25 said about the team's energy in games.
Their time in Florida helped foster this team's energy and maturity from last year's season. Ian Brown `24 and Hollibaugh said the first- and second-year players have made great strides in the maturity of their game.
"We really played a better brand of baseball this year," Hollibaugh said when comparing this season's spring break games to last season's.
These improvements have been a long time in the making. Brown explained that the team's dedication even before the season started has helped them get to their current performance level, as well.
"Everyone was buying in and working hard in the fall," Brown said.
Along with developing a cohesive and mature team, the Florida trip helped identify the strengths and weaknesses they will be working with this year, according to Hollibaugh.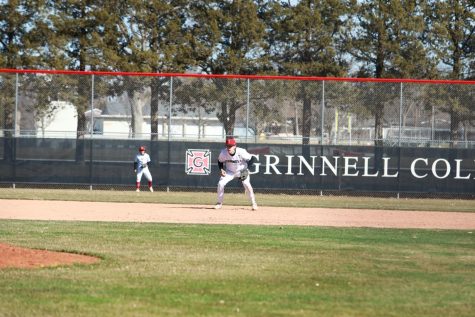 Brown and McCain both described the team's strong defensive skills, consistently making fewer errors on the field than their opponents and with quality pitching. Unfortunately, the team has experienced several injuries that complicate their training and performance.
"
We're trusting our teammates, we're trusting ourselves and we're really playing together as a unit. We're putting together really great games and we've got tough opponents.
— Mac McCain `25
"We've been battling some freak injuries, but it's also a testament like we're really pretty deep in every position," Hollibaugh said regarding the several concussions and other injuries that pulled players from the field.
These injuries have taken a toll on the pitching staff, McCain said. Despite this setback, the pitchers were still able to shut out the University of Wisconsin (UW)-Platteville in Florida on Mar. 20. Alex Love `23 pitched the first six innings, racking up five strikeouts.
Hollibaugh said he was particularly excited by Love's pitching performance during the UW-Platteville game. He said that Love's four years of hard work were truly highlighted in his pitching in that game.
The team is now looking ahead to the rest of their season with hopes to get into the Midwest Conference playoffs and perform well there, according to McCain.
The Pioneers played three games against Monmouth in Illinois this past weekend, and the results from those games can be found on the Grinnell Athletics website. They will next face Cornell College on April 13 at Pioneer Park at 1 p.m. and again at 3 p.m.